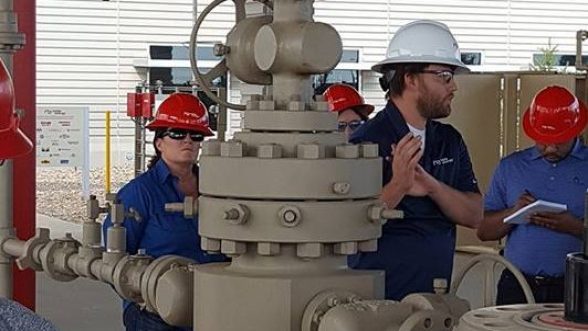 The room was tense as four teams worked diligently under great time pressure to study the geologic reports and seismic data of a large new oil and gas development area. Each team had $50 million and the opportunity to emerge as the production and financial leader, but each had to be fast, accurate, and efficient in their asset development.
My team had some nice wells and made a modest profit, but placed dead last! Fortunately, this was just a simulation: The Lifecycle of Oil & Gas Game during the CU Denver Business School Global Energy Management class of the same name. The game was engaging and competitive, and it allowed teams the chance to apply some of the lessons we had learned in earlier seminars. My team worked valiantly, but our performance earned us candidacy for a hostile takeover.
Witnessing the realities of the rig
The class was comprised of industry professionals from a variety of backgrounds and a diversity of seniority levels. Prior to playing the game, we toured an active rig drilling a multi-well pad for SRC near Greeley, CO. From the rig's doghouse, we watched the dangerous job of stringing drill pipe and lowering it into the hole. From elevated catwalks, we observed swirling drilling fluids coming from the well to be recycled and reused; and we saw cuttings from a mile beneath the surface being separated in the shakers for disposal. The sites, smells, sounds, and vibrations of the rig, a symphony to me, demonstrated the indescribable engineering and operating expertise required to build and maintain this vast and complex equipment.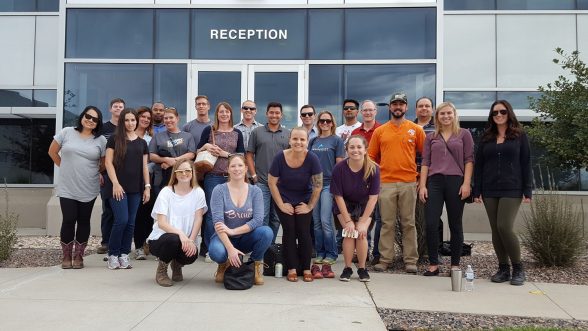 It also brought a level of humanity to the rig operations we pass every day along the highway without much thought.
Guiding our group through the indoor and outdoor engineering labs at Noble Energy in Greeley, Zach Huston shared his broad knowledge and passion for facilities. Production equipment is often depicted in a diagram or a video, but Zach's up-close and hands-on demonstration of typical a pumpjack, separator, tank battery, and other equipment solidified our understanding of the processing required to get petroleum from the wellhead to custody transfer. Tom Fisk of Whiting Petroleum added to this understanding in his discussion of environmental, health, and safety issues surrounding oil and gas development. All this equipment is engineered to convert product flow into cash flow, but foremost, it must do so in a manner that maintains the safety and health of the community, the workers, and the environment.
Working the financial side of oil and gas
After we learned how oil and gas are produced, and after the Lifecycle game hammered home the complications of upstream E&P, we then were ready to move into the third and final day of the class and focus on post-production marketing. After oil and gas has been produced, it enters pipelines and other physical distribution channels, and it also enters financial markets where it is traded. Here, we learned the fundamentals of buying and selling oil and gas as well as hedging against future price fluctuations. We had the opportunity to place a few simulated trades on a live exchange, and I think we came close to breaking even!
A class that shows the entire value chain
Overall, the class was a great experience. Instructors were all experienced industry professionals and skilled teachers. In an industry that can be stringently siloed and simultaneously unforgiving of inexperience, the Lifecycle of Oil & Gas class provided an excellent and safe opportunity to ask questions, learn about equipment and processes, and develop a better understanding of our role in the oil and gas value chain.