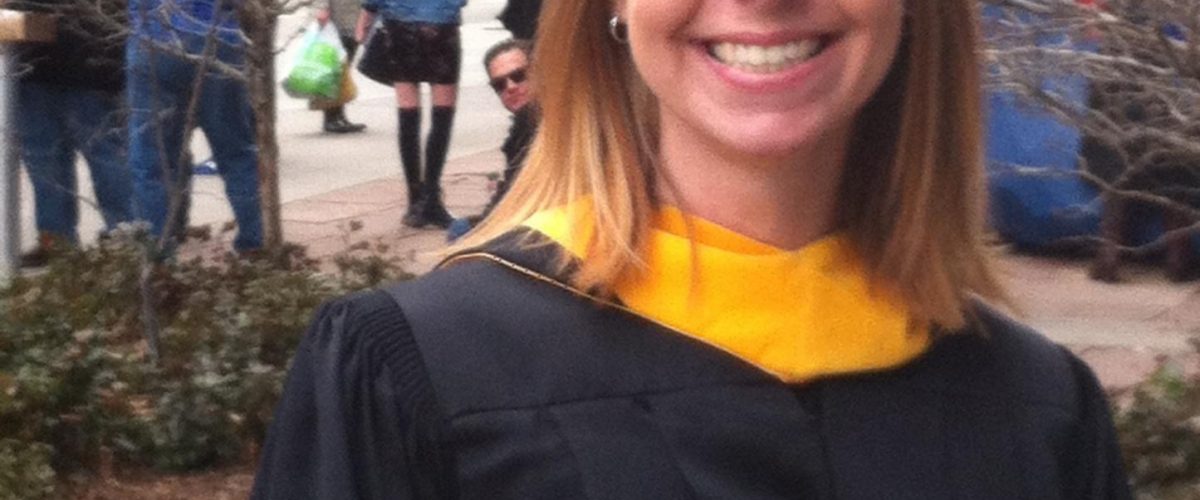 Last year the University of Colorado Denver Business School joined fifteen other schools nationwide when they decided to start offering a Master of Science in Taxation.  The high demand degree came as a result of Professor Eric Zinn reaching out to the business community to tailor the Certificate in Taxation, and soon realized the need for a comprehensive program offered through the university.
Flash forward to today and the M.S. in Taxation has its first graduate, Sara Arnold.  Not only is Sara the first to complete the coursework, but she was instrumental in the research and proposal efforts to implement the program alongside Eric Zinn and Dr. Michael Roberts. In addition, she was this year's recipient for Most Outstanding Graduate Student; an award given to those who maintain above a 3.9 GPA as well as make an impact in the community.
Ms. Arnold found her passion for tax through her volunteering experiences as an undergraduate at the Business School in the Accounting program.  During that period, she spent her spare time at Tax Help Colorado, a VITA program through the IRS that helps low income individuals file their taxes.
Upon her decision to enroll in a Master's program, Sara knew from her previous experiences that she wanted to study tax, however the schools in the area offered limited or no extensive program.  Although this seemed like quite the obstacle, Sara knew from her previous experiences at the CU Denver Business School, she could pursue tax as a viable path.
In her first semester as a graduate student, she took a class with Eric Zinn, the current Director of the Graduate Tax Program.  He soon became her mentor and through many conversations, Ms. Arnold realized there was a potential for the M.S. in Taxation to become a reality, noting, "I felt as if the universe through the Business School was giving me hope for my career dreams to come true."
Due to the fact that the business community is in constant demand for students in this field – with over 20% job growth in the next decade – Arnold, Zinn and Roberts all felt that the university could benefit from this program.  Currently, the program is the only one of its kind offered in the public school setting in Colorado, and is one of sixteen programs offered nationwide.  Additionally, because the faculty is influential in the community, students get unprecedented help networking with top companies and accounting firms.  That is what happened for Sara.  When the program was official, the Business School held an event introducing the program to the business community.  It was there that Sara met a partner at her future employer, Rubin Brown.  Rubin Brown is similar to the Big Four (Ernst & Young, Deloitte, KPMG, and PricewaterhouseCoopers), and is one of the nation's leading accounting and consulting firms.
Sara's future plans include taking the CPA Exam. What's more, she will be back on campus in the summer 2015 to create and teach a class on State and Local Sales Taxes.  Ms. Arnold is honored to be teaching alongside the team of faculty she learned from, "I am looking forward to sharing my experiences and knowledge with a group of students that may find themselves seeking a similar path to the one I found…I hope to share my experiences with other students that may be struggling to define their passion… and aspire to be a mentor."
Sara Arnold has a bright future in her chosen career path in tax thanks to her hard work in the M.S. Tax Program.  Due to her perseverance to see the degree implemented, her community involvement, and passion for her studies, it's no wonder that Sara was this year's Most Outstanding Graduate Student.
To learn more about the Masters of Science in Taxation, please visit the MS Taxation degree page or contact Graduate Advising.