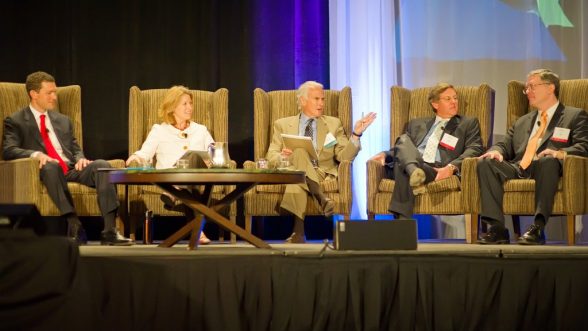 DENVER – Some of the nation's top energy leaders gathered Tuesday for a far-reaching series of debates and discussions on how to put the country on the road to a cleaner, safer and more energy independent future.
More than 400 people attended the first annual Energy – Moving Forward 2010 conference at the Sheraton Denver Downtown Hotel. The event, sponsored by the University of Colorado Denver Business School's Global Energy Management (GEM) program, featured panel discussions on renewable energy, fossil fuels, the quest for a national energy policy and whether energy development and environmental concerns could ever be compatible.
Participants like James J. Graham, chief executive officer of NFC Consulting LLC, which deals with nuclear fuel issues, tried to make the case for cleaner energy through atomic power. He said the U.S. gets 20 percent of its power from nuclear reactors while France gets 86 percent of its from atomic energy. Meanwhile, he said, China is building an average of one new nuclear plant each month. The technology to deal with nuclear waste is available in this country, he said, but the political will isn't.
Elise Jones, director of the Colorado Environmental Coalition disagreed. She said Colorado has no nuclear plants but does have 20 million tons of radioactive mine debris "that will probably have to be monitored forever." She also said mining uranium is dangerous and nuclear power requires massive federal subsidies.
Other panelists discussed the great potential of wind and solar power in Colorado while lamenting the failure of the U.S. to fully embrace it.
"In solar and wind the U.S. is not a leader and not even close to being a leader," said Blake Jones, president of Namaste Solar in Boulder. "We can catch up but lots of consumer beliefs have to change."
The discussions were civil and everyone agreed that the U.S. was at a crossroads in its energy policy. Some said the way forward would involve a bit of the old and new – traditional coal, oil and gas combined with increasing exploration of renewable resources.
The keynote speaker was John Boudreau, author and professor of management at the Marshall Business School and research director at the Center for Effective Organizations at the University of Southern California.
Boudreau focused less on policy and more on how energy companies should manage employees. According to the Wall Street Journal and Business Week, 50 percent of top managers at energy firms will retire in five years, leaving a major leadership gap in their wake.
He said employees tend to be less rigorously managed than other company resources. He also noted that companies should be looking for `great story tellers' who can make renewable and other forms of energy look `cool' to the public.
The event was sponsored by GEM, the only program of its kind that prepares students to work as managers in the energy industry. The 18-month course was a result of intense collaboration between business and the Business School.
"Nobody is doing what we are doing," Col. John Turner, executive director of the program, told the audience. "Our program focuses 100 percent of its efforts on providing leadership to the energy industry. If you are looking for talent, we have a whole pipeline of students for you."
The forum ended with Business School Dean Sueann Ambron pronouncing the event a success.
"Colorado is a great place for a forum like this. We have a wonderful opportunity to explore the issues of energy with all the stakeholders right here," she told the crowd. "This is a conversation that affects everyone. The need for education is paramount because the issues around energy are so dynamic. I look forward to seeing you all again next year at Energy – Moving Forward 2011."
Event sponsored by Global Energy Management program