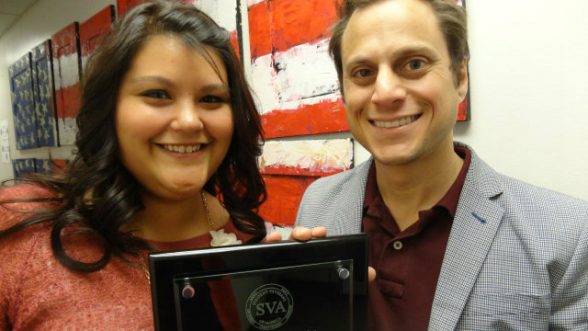 Thoughtful plan and snappy presentation impress judges
DENVER – Florida State University may have won the NCAA BCS National Football Championship but the school's veteran student organization had to settle for second best against the University of Colorado Denver— CU Denver took top honors at the 2nd Annual Chapter Business Plan Competition at the Student Veterans of America's National Conference.
Student Veterans of America (SVA) includes more than a thousand campus chapters worldwide. Each year dozens of universities apply for SVA grants by presenting business plans to improve the reach and sustainability of their veteran student organizations. Grants of $500 to $2,500 are awarded based on the quality of the plans. The top six business plans are presented at the national conference to a panel of judges, and the judges then choose just two to be presented to the entire conference audience.
VSO with a plan
The CU Denver Veteran Student Organization (VSO) created a plan with input from many of the organization's members. The plan included a mission statement, goals, objectives and strategies, a budget and a description of CU Denver's campus culture for student veterans. The plan is focused on organization continuity, addressing sustained revenue streams for core programs while maintaining and growing a diverse membership.
Objectives and strategies for increasing membership included tripling social media engagement and hosting a Veterans Week on campus to engage families. The plan also listed recruitment events such as a Denver Broncos opening day bash, bowling and outdoor movie nights.
Presenting the plan
CU Denver VSO President Michael Stack organized the business plan on Prezi software and made the presentation with VSO Secretary Amber Longoria — to an audience of nearly 400.
"Four hundred people is a lot," Stack said. "It can be pretty nerve wracking."
But, using his experience as a graduate student in information systems at the CU Denver Business School, Stack was able to pull it off. "Once you've made hour-long presentations like I have in my classes you have a lot more confidence for something like this."
Stack's success was no surprise to CU Denver professor Jahangir Karimi, director of the Information Systems Programs. "Michael thinks through problems to their logical conclusions and moves ahead," Karimi said. "Those of us who have worked with him have been impressed with his technical and leadership skills, communications skills, problem-solving capability and maturity."
And the winner is…
Longoria, a CU Denver economics major, described the full-conference presentation as "like being on Idol," referring to the television program "American Idol."
"When I heard them announce Florida State as the runner-up, I was kind of in shock," Longoria said. "I knew we had won. After that, I didn't hear anything else."
"I had confidence in myself and Amber," Stack added. "I thought we had the best plan and the best content. Plus, our programs for student veterans are really well developed."
The CU Denver difference
Stack and Longoria point to the physical office space, the student lounge and the bank of computers that's housed in the CU Denver Office of Veteran Student Services as some of the things that make the university stand out when it comes to student veterans. Another is the Boots to Suits classroom-to-career mentorship and internship program.
Pay it forward
Stack sat on a panel with other student leaders at the conference discussing innovative chapter solutions to veterans' successful transitions from campus to workforce. "Reintegration is an important topic. Boots to Suits is powerful and it seemed to strike a chord in everyone," he said. "I must have collected about 60 business cards."
"We already have the programs and the relationships that other veteran student organizations are striving for," explained Longoria. "Now, other organizations are asking us for advice. We haven't been able to breathe since the conference. We're kind of paying it forward, helping them become successful."
A helping hand
Community service is another top priority for the CU Denver VSO, so the student veterans plan to use it's some of the $2,500 dollars they were awarded for their winning business plan to make a difference. This spring the veterans are planning a weekend at an Easter Seals camp. They will invite other CU Denver student groups to join them for a day of service and leadership training.
And it all ties back to one of the main goals outlined in the winning business plan— work toward a diverse membership base by reaching out to other organizations on campus. Members of the University of Colorado Denver Veteran Student Organization are determined to stick to the plan.