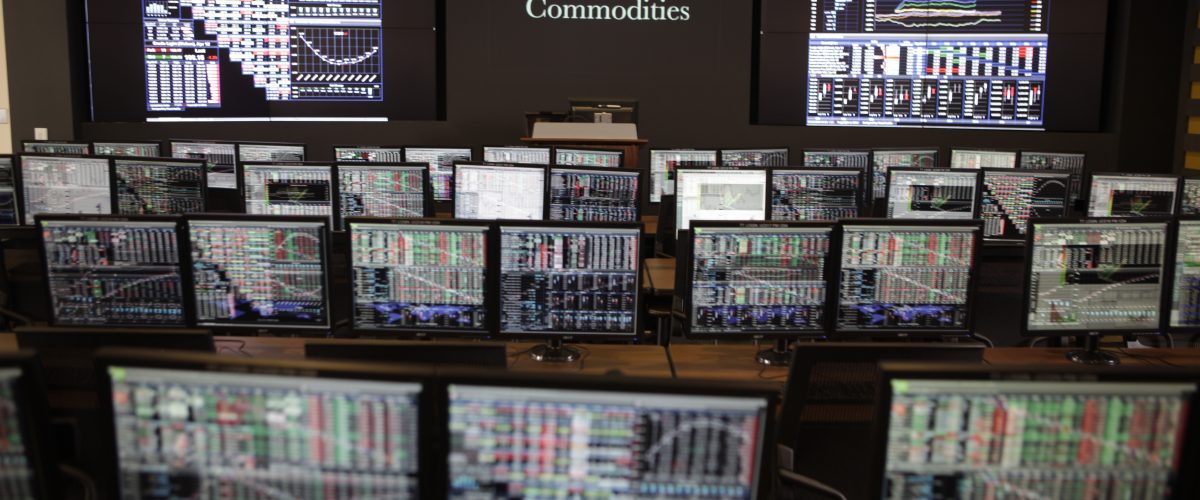 Students will trade futures contracts in corn, oil and gold in international competition
CU Denver Business School teams are back to test their skills in commodities futures and they're setting sights on strong finishes in the 2014 CME Group Commodity Trading Challenge.Last year was the first time CU Denver fielded student teams for the Trading Challenge, reflecting the rapid development of the Business School's J.P. Morgan Center for Commodities. The teams finished respectably and learned a great deal from their experience in the highly competitive 320-team field.
The Trading Challenge is a unique chance for students to learn hands-on techniques for trading futures. The J.P. Morgan Center for Commodities is an excellent resource for CU Denver students as it provides access to five Bloomberg terminals and more than 20 CQG professional trading platforms and Morningstar Direct stations.
This year the Business School has entered two undergraduate teams, five members each, in the competition.
"We spent the last six months testing strategies," said Kirill Buzinov, who, along with Blaine Stiner, is a returning participant in the Trading Challenge. "We will work pretty much as one large team to make sure we advance as a university."
Most of the CU Denver team members are finance majors, while several others are management majors. Last semester, they took the course "Trading in Financial and Commodity Markets" from CU Denver finance instructor Gavan Duemke, who serves as advisor of the two undergraduate teams.
"We learned that experience combined with long hours dedicated to perfecting our strategy make a big difference," Buzinov said. Both teams include officers of the CU Denver Finance Club, which works closely with the administration of the J.P. Morgan Center for Commodities (JPMCC) and the Business School.
The teams hope to advance to the Trading Challenge's final round and establish CU Denver's presence among the top-ranking universities in the competition. The preliminary round runs Feb. 4-Feb. 20, followed by the final round, Feb. 23-March 7. Each team gets a simulated account of $100,000 in the preliminaries, $200,000 in the finals. Top-finishing teams will be eligible for cash prizes and CME Group experiences.
Teams in this year's challenge get access to trading nine futures contracts, including corn, cattle, oil and gold. Teams are able to choose from commodity, equity, fixed-income and currency futures contracts.
"The primary goal is to implement statistical arbitrage strategies, which means to take advantage of mispriced futures contracts," Buzinov said. "We largely implement technical analysis. However, we make sure to follow the economic calendar and watch for important inventory and harvest data releases."
Undergraduate Team 1 — JPMCC1
Blaine Stiner
Dylan Maney
Michael Venter
Uranchimeg Olonbayar
Kirill Buzinov
Undergraduate Team 2 — JPMCC2
David Heisler
Jared Hofer
Christopher Kramer
Steven Ho
Will Kirk