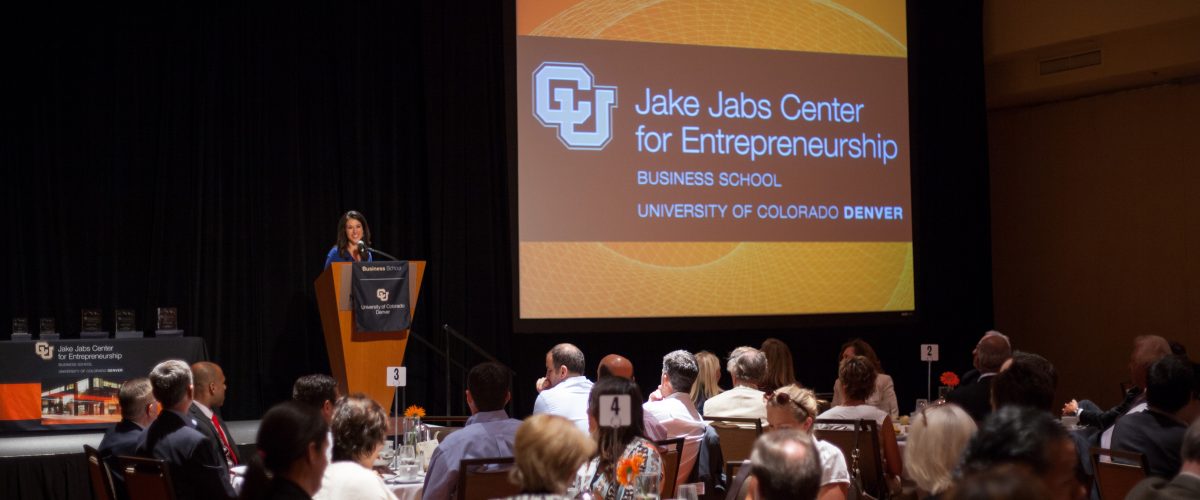 Firm that turns algae into ink takes top prize at Jake Jabs Center for Entrepreneurship Business Plan Competition
DENVER—Inspiration can strike in odd, even mundane, places. For biologist-turned-entrepreneur Scott Fulbright, it was in the greeting card aisle.
"I was getting a card for my grandmother," he said. "I thought, 'We could actually use algae as ink.' A month later we had algae growing in Steve's bedroom."
At the time, Fulbright and Steve Albers were both doctoral students in cell and molecular biology at Colorado State University. Their persistence led to co-founding Living Ink Technologies, a company that aims to disrupt the greeting card and computer ink-cartridge industries — and possibly other ink-based industries.
For their ingenuity and strong prospects, Fulbright and Albers won the $10,000 top prize at the Jake Jabs Center for Entrepreneurship Business Plan Competition hosted by the CU Denver Business School. More than 150 people attended the 14th annual competition's awards luncheon at the Denver City Center Marriott on June 10.
Fulbright told the audience how he and Albers, both scientists who are growing accustomed to their "entrepreneur" status, got started. They pursued the algae-as-ink idea in a Fort Collins laboratory in the wee hours — the only time they could squeeze in outside of school and home (both are married with young children) responsibilities. They overcame some pushback from fellow scholars who questioned their time- and cash-consuming venture. In the end, Fulbright said, the risk was worth it.
"We couldn't be successful without competitions like this," he said. "The resources we get, the funding we get, the people we get to talk to. … Thanks to all the judges, the organizers and Jake Jabs."
The competition began more than six months ago with 60 students representing nine universities in three states—Colorado, Wyoming and Montana. Thirty teams submitted business plans and went through an intense review process before six teams advanced to the finals.
As with other finalists' entries, Living Ink Technologies blends a savvy business plan with sustainable, forward-thinking products. During the presentation to judges, Fulbright explained that ink is the planet's most expensive liquid — $10,000 a gallon. Ink is also a potentially harmful product in that its pigments come from a carcinogen. But with algae, he said, nature offers a palette from which cheaper, healthier, renewable ink can be made.
Living Ink plans to shake up the $400 million U.S. high-end greeting card market with cards that, when placed in a growth-chamber sleeve and sunlight, magically reveal new lines of a message with each passing day — or even week. So far, Fulbright and Albers have raised $80,000 for their business, including a $50,000 top prize in a U.S. Department of Energy Clean Energy pitch competition and now the Jake Jabs Center for Entrepreneurship contest.
"This (greeting card) industry is craving something new, something buzz-worthy, something different," Albers said. "We believe our product can fill that segment."
Several finalists said the competition offered exceptional hands-on learning and mentoring from successful entrepreneurs. Derek Safko, whose Pronto Express Carwash finished runner-up ($5,000), said the Jake Jabs Center for Entrepreneurship startup incubator provided a place to "slave over" his plan. A military veteran and current CU Denver Business School student, Safko noted that it can be difficult to transition from the armed forces into civilian life. "Really, the center and CU Denver have provided mentors and opportunity to get me where I am today."
CU Denver Business School students Jose Mota and Brenda Gomez have an eye toward sustainability, customer service and social entrepreneurship. Their CREA+E Coffee plan, which strives to create a positive difference in the lives of everyone involved in the coffee-making process, from growers in Latin America to consumers in Colorado, took third place ($2,500). The remaining three finalists — also all representing CU Denver — each received $1,000 prizes.
Nile Travel (Derek Cann and Scott Brabson) offers the world's first "Social Atlas," which empowers travelers to crowdsource travel recommendations from friends and family as well as locals who know the areas they are visiting the best.
PetraFluids Energy (Adam DeRito, David Beeson and Matthew Jordan) taps Colorado's geothermal potential by converting waste energy from oil and gas facilities into baseload-capable electricity offered at competitive prices.
Gist Spirits (Jacob McConnell) is a craft distillery that produces high-quality clear liquors, taking advantage of proposed changes to Colorado's liquor laws allowing for on-premise production. The company will produce custom spirts for clientele at partner bars and restaurants.
Ana Cabrera, a Denver-based CNN correspondent, served as event emcee while Steve Swoboda, co-founder and COO of SpotXchange, an online video advertising marketplace, was keynote speaker. Jabs, founder of American Furniture Warehouse, spoke briefly, saying, "Entrepreneurship is alive and well… Whatever business they're in, entrepreneurs want to be the best at what they do. And they don't do it for the money; they do it because they enjoy what they're doing. They're contributing back to society."
Cabrera said Jabs's generous $10 million gift enabled the CU Denver Business School to "dramatically expand its entrepreneurship program, including this business plan competition (which now includes teams from across the Rocky Mountain West), and is on the path to becoming one of the best centers for entrepreneurship in the country."
Madhavan Parthasarathy, PhD, director of the Jake Jabs Center for Entrepreneurship, likewise praised Jabs for his hands-on mentorship and expertise at the school. Besides the "bigger and better" Business Plan Competition, he said, the center is blazing a path with new courses, relations with foreign universities and an undergraduate entrepreneurship certificate called Launchpad. Parthasarathy also highlighted the event's many sponsors and this year's judges: Sharon Alvarez (University of Denver), Joe Zell (Grotech Ventures) and Joel Appel (Moda Man).
Sueann Ambron, who in early July will retire as CU Denver Business School dean after 15 years, said Denver has become a national hotbed for entrepreneurs and startup companies. "It's a great place to have a business school, and it's a great place to have the Jake Jabs Center for Entrepreneurship," she said. "What an impact this is going to make not only on Colorado, but the nation — launching lots of new businesses."
[link-library categorylistoverride="901″]