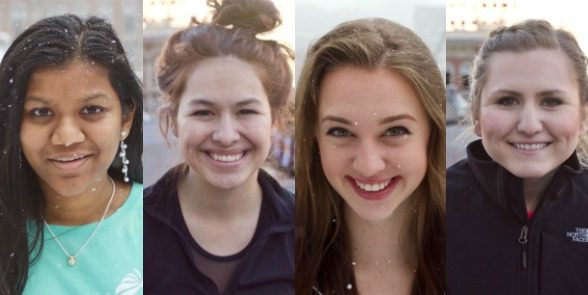 A new year brings a new start to the semester for our students. And for the Business School, this new year brings a new change! We would like to introduce four students to you, as they will be featured on our Instagram (@CUDenBusiness). Each student will have her own hashtag as each one of them shares their semesters in the life of a CU Denver Business School student. But before they take over our Instagram account, we thought an introduction might be necessary.
---
Ash Bauer: #AshInTheCity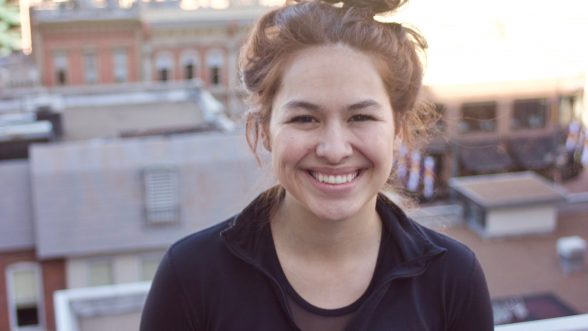 I am double majoring in finance and economics. I only have two semesters left after this spring. I am a Denver/CO native through and through. My parents moved here in the 1980s and enjoyed the opportunities the city had to offer, and then they had me in 1995. When I was a kid we would spend lots of time going up to the mountains and having picnics/walking our dog at Wash Park. I grew up doing gymnastics at the University of Denver and swim team at our neighborhood pool in the summers. My sister and I are 10 years apart, and as I've gotten older I've enjoyed showing her around the city and what CO has to offer, we like to get ice cream at Bonnie Brae or Sweet Action.
At first I didn't really have any choice in where I went to school. My parents are paying my tuition in full so that I don't have to have student loans nor do they have to have loans to pay for my school. I'm extremely grateful for that, because they've worked for everything that we have. But since they're paying they dictated where I went, they didn't want to send me to a University where I would just waste my time. Their goal was to teach me about the real world, because for many reality doesn't set in until after they graduate because they haven't had to grow up as fast. So ya, my parents 100% knew if they sent me to Boulder or USC that I would be really unproductive and probably take 7 years to complete my undergrad because I'd be too social. At first I genuinely hated it here, I was the only kid in my neighborhood who stayed in state and I didn't know anyone-now, so happy my parents chose what was best for me.
I don't really have that much free time between full time school, three jobs, PMG, and BSAC. It gets a little bit hectic. I usually leave at 7 and don't get home until 10 pm everyday. So on the off chance I can be completely by myself, I like to mostly just hang out with my family. It's nice to have my mom as my drinking buddy now that I'm 21; we usually hit up happy hours together. I have a passion for photography and music, as well. But the benefit of working a lot is that I can save a lot of money up and then go on a really nice vacation for 2-3 weeks. I travel quite a bit, and I'm super excited to take my family to Europe for a while in March.
What does the future hold? Hard to say. When I graduate I'm planning on backpacking South East Asia during the summer before grad school.  I'm definitely interested in going to grad school in California or East Coast. I'd like to get my degree in Financial Engineering. I geek out about stuff like that. After grad school, I plan on traveling for a year or so, mostly would like to see the Middle East and North Africa, and possibly live on the Southern coast of Spain. But after that I'd have to return home because CO is too beautiful to stay away from long term. After having a steady career, I plan to be a mom but a "cool" mom;) and start a foundation for empowering women who've been sexually assaulted.  
---
Sofia Mazo: #SofiaInTheCity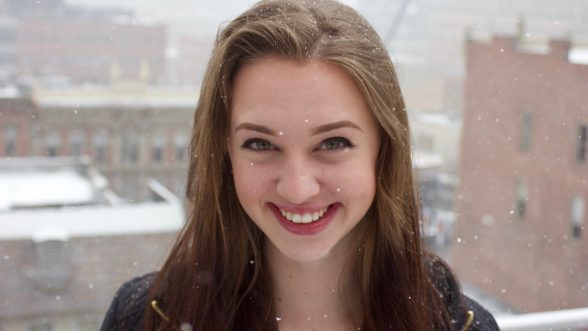 Born and raised in Melbourne, Florida, I spent the first eighteen years of my life with sand between my toes. I've always squeezed the most out of my educational opportunities. In high school, I was fortunate enough to participate in a program that allowed me to "dual enroll." I have been taking college classes since my sophomore year! My senior year of high school I went to college full-time, and I graduated with my Associate of Arts Degree a week before being handed my high school diploma. As I delivered my speech at graduation, I let everyone from my small town know: I was leaving the beach for a concrete playground with a mountain view.
Now, I'm a junior at CU Denver studying business management. Also minoring in sociology, I hope to use my experience at CU Denver to launch my career in the nonprofit industry. As a business student, people are usually surprised to hear about my passion for giving over receiving. I want to use my education, commonly stereotyped as being money-driven, to give back to the community. I love CU Denver! I love the working, or real life, attitude of our student body and faculty. I understand how I can use everything I'm learning in the workplace come graduation. Plus, there is no better feeling than walking through downtown Denver, a city that calls my name, to class every morning. I always wanted to attend a university that had a concept of the real world, rather than be isolated in a "college town."
I like to spend my mornings discovering coffee shops, my afternoons downtown by the business school, and my nights in the city (when I'm not studying, of course!). I've learned to adjust to a climate much different than that of Florida's. I laugh at how I can crunch through snow on Monday yet wear shorts the following Friday. More than anything, I love knowing I go to a school in a place I never want to leave.
---
Alexi Huppenthal: #AlexiInTheCity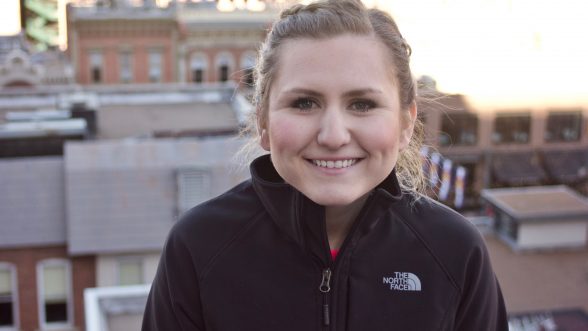 I am an undergrad information systems major in the Business School here at CU Denver. My interest in Information Systems started in high school when I took a multimedia technology class. My teacher had all of the students come up with a plan for a short multimedia class project and mine was chosen out of everyones to be completed. That was when I realized I wanted to do something in multimedia technology in my future career. I wanted to major in something that was in between using artistic skills to make graphic design and learning technical skills such as computer programming. The degree that fit this was Information Systems. With this degree I want to pursue a career in website user experience/user interface design. Eventually once I get enough experience I want to be a freelance web developer.
I originally chose CU Denver because it was in state (in-state tuition) and in the middle of downtown. I have always loved the energy of the city. I being around lots of people and being walking distance from tons of cool and new activities. The city aspect of CU Denver is what made me come here originally but what made me stay is how easy it is to get involved. If you have the motivation and drive to do something, CU Denver helps you make it happen. As an information systems major I applied to the Finance focused San Francisco career trek with no knowledge in finance. Because I was willing to put in the work and was motivated Business Career Connections (BCC) let me join. A semester ago I wanted to be an officer in the information Systems Association. I showed I wanted to be involved and was willing to work hard and the faculty advisor they let me have the position I wanted, currently I have moved to Vice President of the club. CU Denver given me the chance to show my personality rather than just looking at me as GPA on a piece of paper. In my case, I have always had mediocre grades but I have put in a lot of extra time in clubs, activities and networking.

I am self-appointed as world's best cat mom. I have a black cat, Muffy, whose pictures probably take up more storage in my computer than homework and work combined. When I am not at home cuddling with my cat, I'm at the gym. This past summer I finished three sprint triathlons, a half marathon and a couple of fourteeners. I love running, swimming, biking, hiking, dancing, kickboxing, and pretty much all sports. I am very competitive with just about everything, almost to the point where it can be a bit obnoxious to other people. My favorite desert is the mini fruit tart from the Market on Larimer. Probably just because of how they make a rainbow out of the fruit and I love pretty much anything with rainbows.
---
Navya Roy: #NavyaInTheCity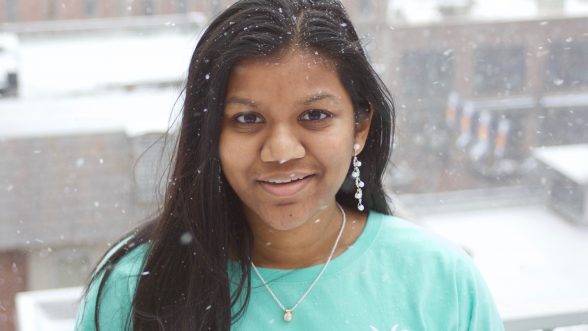 I am majoring in management with a minor in psychology with plans to graduate in May 2018. I was born in India but have been in America since I was a 3 month old baby. My 9-year-old brother was born here, though. My family loves how close-knit Colorado is, and so we settled here when I was two years old. Growing up, I always had a passion for healthcare. My extended family is all somehow in the healthcare profession. I grew up running around in their clinics when we went back to India every year. All through that time, I was devoted to becoming a doctor. That was my goal until my last year of high school when I had taken a business course. As a part of that class I, along with 10 friends, created a company selling air fresheners in our school. It was at that point that my teacher and mentor told me that she wanted me to use my leadership and management skills for healthcare.
I graduated high school in May 2015, and am on the track to complete my Bachelors by May 2018. I am really excited with my experience at the CU Denver Business School. Most of my high school friends went to Boulder, and when my friends and I talk, I realize that the Business School does such a good job when it comes to bringing its students networking events, career fairs, and just the resources to excel. I initially picked CU Denver, because it allowed me to stay with my family a little longer, and because their Healthcare Administration Masters program was ranked 7th in the nation. I already have my eye on that program for the future.
I am very involved at CU Denver Business School. I have not only gone to many prestigious networking events, including Ball Corporation's networking event and Griffith Foundation's networking event, but I have had the opportunity to work with their staff and get to know my fellow students at the school. I work as a Marketing Research Assistant under the staff. I am also the Social Chair for Business Student Ambassador Committee (BSAC).
For fun, I am a dancer and a dance teacher. I am very passionate about my dancing and love to perform whenever I can. I am also a singer. That being said, my family and I enjoy hiking when the summer comes around. Believe it or not, I am also allergic to the sun and its UV radiation, so as much of an outdoorsy person I am, it can be difficult to survive Colorado's sunny summers! I also love playing the piano and am the official pianist at my church. I love hanging out with my friends. I have three birds, Coca, Cola, (see what I did there) and Tweetie. I can't wait to share my journey.