Students enrolled in the First-Year Experience course, Leadership in Business and in Life, were joined during class by none other than CU Denver Business School Dean Scott Dawson. Dean Dawson offered leadership insights and advice on how to get the most out of their experience at CU Denver.
"Dean Dawson is so incredible," said first-year student Rohan Nipunge, who was in the class Dawson visited. "His perspective on his work and life itself is not something you hear very often from leaders. His passion for his work and the Denver community is inspirational and I am excited to connect more with Dean Dawson during my time here at the university."
First-Year Students Poised for Leadership Growth
The CU Denver First-Year Experience (FYE) program is designed to welcome and support new students as they adjust to their first semester of college. In any of the FYE courses they choose, first-year students acclimate to the rigors of college-level work, engage in the active social and intellectual life of our campus, work closely with faculty and peer leaders, and make close friends and study partners.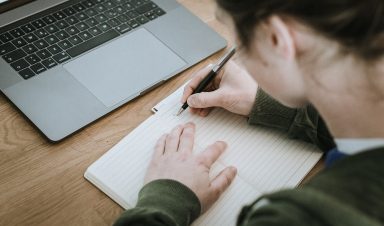 On November 10, Dean Dawson joined the Leadership in Business and in Life FYE course to share his insights and perspectives with first year undergraduate students from his own experience as a business leader. Dawson, who is the top leader of the Business School, encouraged the students to take on the mindset of a leader. "No matter what role you are in, you can exhibit leadership professionally and personally," he shared.
Dawson expanded on the lessons he's learned from a long career in leadership, including the Four Energies framework that helps professionals and organizations find balance among their analytical, empathetic, and productive strengths.
Helping Students Find a Career Fueled by Passion
Dean Dawson's leadership is fueled by his passion, something he urged the students to follow.
"Only three out of 10 of you is going to be in a role related to your major three years after graduation," he said. The Dean encouraged students to "let life happen," and know their careers can evolve over time as they develop their passions and expertise.
"You are going to do great work if you are doing something you care about," Dawson said.
"I have always placed significant value on my education and the surrounding community," said Nipunge. "During my time at CU Denver, not only do I want to continue building a solid foundation for my future, but I aspire to develop new passions and look forward to cultivating a positive impact on our community."
Dawson views the diversity of the CU Denver student body as an asset, with 49 percent of students being first-generation college students and 58 percent of first-years identifying as students of color. He states that "education is a potent way to address inequalities that society continues to face."
"The opportunity to play a role in the lives of students is a privilege, and spending time with them reinforces what gets me out of bed each day," Dawson said.
With Dawson's leadership and their education from CU Denver, these students will soon be ready to connect with top employers.
"When I see a name tag with 'CU Denver Business' on it, I know that I'm talking to a high-quality candidate," said a representative from TIAA.
If you're interested in attending the CU Denver Business School, you can request more information or connect with an enrollment specialist today.
Written with the contributions of Rohan Nipunge