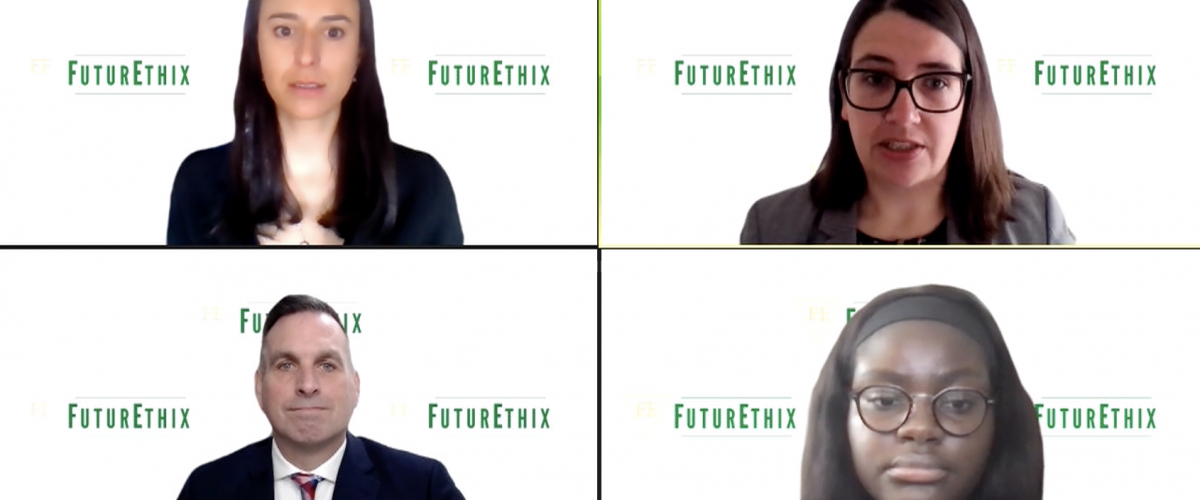 A team of four graduate students from the CU Denver Business School took third place at the Daniels Fund Ethics Initiative's ninth annual Collegiate Program Case Competition on Friday, April 16. This is the third time a team from CU Denver has placed in the event, with undergraduate teams winning second place in 2019 and third place in 2016.
The Case Competition exposes college students to a thought-provoking business ethics case and is designed to challenge students' ethical reasoning, give them tools for ethical decision-making, and raise awareness of the importance of principle-based ethics.
"This competition is designed to help students prepare for the real world by learning how to incorporate ethical decision-making into situations similar to what they might face in their professional careers," said Hanna Skandera, President & CEO of the Daniels Fund.
Since 2019, the event has included two separate competition tracks—one for undergraduate students and another for graduate students. After the 2020 competition had to be canceled due to COVID-19 considerations, for the first time ever, the competition was held in a live virtual format, with students participating from 11 schools across Colorado, New Mexico, Utah, and Wyoming.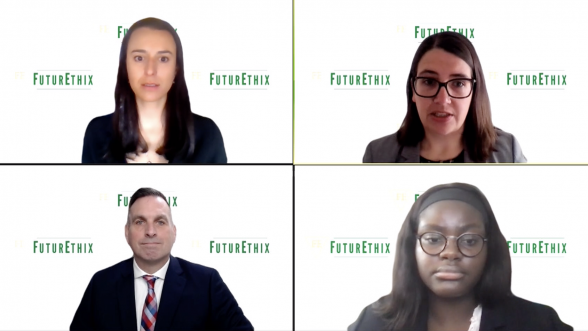 Students who represented CU Denver in the graduate track during the competition were Serwaa Adu-Tutu, John Nolte, Becca Norman, and Jean Schulte. The undergraduate team was comprised of: Abigail Giannou, Abigail Goodgion, Tasfia Jamil, and Rohan Nipunge.
"I really enjoyed the competition," said graduate student John Nolte. "The case was fascinating and working with my fellow students allowed me the opportunity to dissect the issues and have compelling conversations with my colleagues in a way that class does not always allow. It was a lot of hard work but worth every moment of it."
In advance of the competition, teams were provided with Part A of a business ethics case involving a fictional defense industry technology company specializing in artificial intelligence and biological experiments. Students take on the role of an ethics consulting firm hired by the company's board of directors to help deal with ethical issues and risks at the company.
Each team analyzed the ethical issues involved and presented their prepared recommendations to a panel of judges. After their presentation, the teams received new information in Part B of the case–an exercise in crisis management. They had just four hours to develop a crisis management strategy and then make a second presentation to the judges incorporating the new information.
"The entire process of preparing for the case competition was a fun and engaging way to collaborate with other business students on a hands-on, in-depth application of what we learn in the MBA ethics curriculum," said graduate student Jean Schulte. "My favorite part was working with the team on the second part of the case—the twist—where we were given four hours to develop recommendations in response to a new crisis. It was exciting and invigorating to think on our feet and quickly come up with a response!"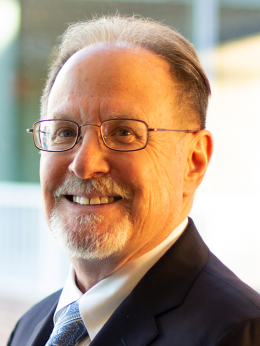 Ira Selkowitz, CU Denver Business School Senior Instructor and Daniels Fund Ethics Initiative Collegiate Program Director, was the faculty advisor for both teams.
"I am incredibly proud of our teams' performance. Our students thoughtfully navigated a challenging ethical dilemma and demonstrated remarkable understanding of principle-based business ethics," Selkowitz said.
"This was my first time participating in anything like this, but because of Prof. Selkowitz's continuous support and encouragement, I felt confident in my knowledge and prepared for the competition," said graduate student Serwaa Adu-Tutu. "I loved that we were able to practically apply everything we learned from our business ethics and law classes to real life scenarios, and that it prepared us to be better ethical leaders in the future."
In the graduate track, students from Colorado State University College of Business placed first and University of Utah David Eccles School of Business placed second.
In the undergraduate track, students from University of Northern Colorado's Monfort College of Business placed first, University of Utah's David Eccles School of Business placed second, and University of Wyoming's College of Business placed third.
Panels of judges were comprised of business and community leaders who played the role of the company's board of directors. Judges evaluated presentations against established criteria, including the Daniels Fund Ethics Initiative Principles: integrity, trust, accountability, transparency, fairness, respect, rule of law, and viability.
Ethics at CU Denver Business School
The Daniels Fund Ethics Initiative at the CU Denver Business School is a grant awarded by the Daniels Fund aimed at strengthening ethics education for business students and extending ethical behavior beyond campus and into the community. The Business School uses the grant to instill a deep and unwavering ethical foundation through course curricula, events, and community collaboration. Explore more ethics-focused opportunities for Business School students here.