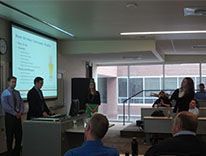 In May, 11-Month MBA students at the University of Colorado Denver Business School were given the exciting opportunity to meet with lead strategists from Molson Coors and provide the leaders with recommendations to be incorporated in the global brewer's strategy. The collaboration, spearheaded by Assistant Professor of management David Chandler, was designed to not only provide students with insight into corporate responsibility at a global company, but also engage students and business leaders in a dialogue on the role of responsibility in strategy.
Students completed extensive research on topics ranging from shareholder engagement to public policy to prepare for presentations to Chief Corporate Strategy Officer Bill Waters and Chief Corporate Responsibility Officer Bart Alexander, key players in strategy at Molson Coors. The students explored Molson Coors' current corporate responsibility strategy and how the strategy has shaped the company's business and culture throughout the international markets in which it operates. Then, with these strategies and existing programs in mind, students designed corporate responsibility recommendations and presented them to the Molson Coors representatives to be considered for future company priorities.< "Sharing our recommendations and having the opportunity to engage with leaders at such a well known, global company was a great experience" said Stella Polycarpou, an 11-Month MBA student.
Student recommendations ranged from creating new environmentally friendly, "fun" packaging, to expanding alcohol responsibility programs both locally and globally. Along with receiving feedback from Waters and Alexander on their recommendations, students were also able to engage with these Molson Coors thought leaders and ask questions about the company's strategy and proactive approach towards corporate responsibility. The opportunity proved to be both a great learning experience for students and an opportunity for Molson Coors to hear new, fresh ideas related to its strategy.<
For more information about the 11-Month MBA program at the CU Denver Business School, visit the program's website.