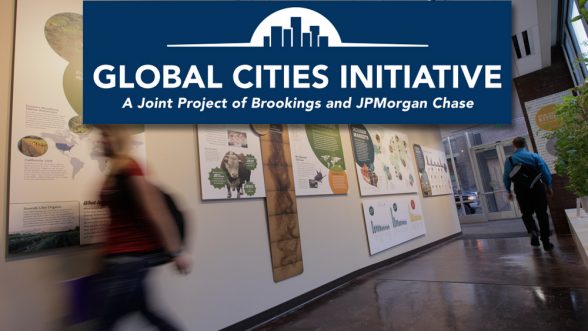 Business School highlighted during Global Cities Initiative
DENVER – The talk around Denver this week was about global economies, global commodities and global cities.  Denver is the latest great city to host the JPMorgan Chase and the Brookings Institution's Global Cities Initiative.
It's only fitting that the two-day event aimed at helping metropolitan leaders around the world maintain and strengthen their position within the global economy would stage its invitation-only kick-off program at the J.P. Morgan Center for Commodities at the University of Colorado Denver Business School.
Photo: Panel discussing "Denver: The Commodity City", moderated by CU Denver Business School Dean Sueann Ambron (far right)
Business School Dean Sueann Ambron jumped at the chance to host the event with J.P. Morgan that brought university, government and business leaders together to discuss the city's future in 21st century global markets. The event included an afternoon program titled "Denver: The Commodity City" followed by dinner and speakers on the same topic.
"We are almost never able to bring these sectors together to talk back and forth," Ambron explained. "Commodities feed the world. They power the world. And they build the world," she continued. "In this setting, we are able to highlight the importance of commodities education through our J.P. Morgan Center for Commodities."
The event also marked the official opening of an impressive traveling exhibit from the American Museum of Natural History in New York which will be featured in the lobby of the CU Denver Business School for the next six months. "Our Global Kitchen: Food, Nature, Culture"includes large-scale educational panels, an interactive touch point and a unique vertical garden. JPMorgan Chase helped develop the original exhibit in New York and was instrumental in bringing the re-creation to Denver.
Ambron noted that the Business School is used to doing things for the first time and added that to her knowledge this is the first time a business school has hosted a major museum exhibition. "Our Global Kitchen is a model for a different kind of education," she said. "The exhibit is a great educational opportunity for students, families and tourists where they can browse and learn. We would like to follow this exhibit with additional exhibits focused on energy or minerals."
After guests visited the global kitchen, Chancellor Don Elliman helped provide a welcome to the dinner and turned the focus back to the subject of the day, stressing the importance of providing an educated workforce for Denver's evolving leadership as a global commodity city. "From business to engineering to everything out at the Anschutz Medical Campus, we are proud that our campuses are providing career path degrees," Elliman said.
Denver Mayor Michael B. Hancock, an alumnus of the CU Denver School of Public Affairs, referred to the Business School's innovative commodities center in his dinner remarks, calling the public-private partnership between CU Denver and J.P. Morgan impressive.  "This is the stuff greatness is made of. It reflects the ingenuity of the Business School and the leadership of Dean Ambron and Chancellor Elliman."
He described Denver as a city that yearns to play competitively on the global stage. "Cities that are connected globally will survive and thrive. It is necessary for us to look beyond our borders to find bold opportunities for generations we will never meet," Hancock said.  "We will keep beating the drum for the Mile High City."
Mayor Hancock shared the microphone with former Chicago Mayor Richard M. Daley, a longtime friend and mentor, and currently a senior advisor with JPMorgan Chase. Hancock recalled their first meeting when he was still a Denver city councilman. "Anyone who's mad about me being mayor should blame Mayor Daley," Hancock said. "Meeting him in his office inspired me. He showed me how to serve for the right reasons."
The former Chicago mayor was the dinner's co-host along with Bruce J. Katz, vice president and founding director of the Brookings Metropolitan Policy Program. Daley is credited with helping to create the Global Cities Initiative, based on his own global vision and efforts for Chicago during his time in office.
The subject "Denver: The Commodity City", was explored from a variety of perspectives during the afternoon presentations.  Colin Fenton, global head of commodities research with J.P. Morgan spoke about the global context of the commodity city, detailing macro trends in commodities globally and their impact on metro Denver.
Roy J. Salamé, global head of commodities sales and structuring with J.P. Morgan moderated a conversation with George H. Solich, president and CEO of Energy IV, LLC, which focused on the business perspective of the commodity city.
Discussing oil and natural gas, Solich told the audience that the energy sector "is in an absolute renaissance, there is a massive amount of opportunity." He added that Colorado is poised to be in the forefront.  "We have an educated workforce, great engineering schools and a great quality of life," he said.  "Denver has always been a great, independent, producing energy city."
Before breaking for dinner, Ambron moderated a diverse panel which discussed the talent it takes to power a commodity city. Antony M. Bahr is executive vice president of CoBank's Banking Services Group, Peter A. Dea is president and CEO of Cirque Resources LP, William Dowling is the Colorado Department of Labor and Employment's employment and training director and Ledy Garcia-Eckstein is the director of workforce development at the Denver Office of Economic Development.
Garcia-Eckstein pointed to the importance of the state and industry working in tandem to train and provide the workforce needed to compete successfully. Dowling added that Colorado is a leader in looking at the needs of the industry, at looking beyond just one company and creating an education pipeline.  He called it, "growing our own workforce."
The Global Cities Initiative is a joint project of Brookings and JPMorgan Chase and the discussion and exchange of ideas would continue on day two of the forum with participation from a much larger audience at "Going Global: Boosting Metro Denver's Economic Future". With that in mind, Tom Clark, CEO of the Metro Denver Economic Development Corporation and executive vice president of the Denver Metro Chamber of Commerce, helped close out the evening and keep the anticipation high. "Each community and each generation has the opportunity to have an impact for the next 50 to 100 years," he said. "Brookings and JPMorgan Chase are here in Denver because they recognize that we think that way."
For more information about the Global Cities Initiative, read a story and watch a video here