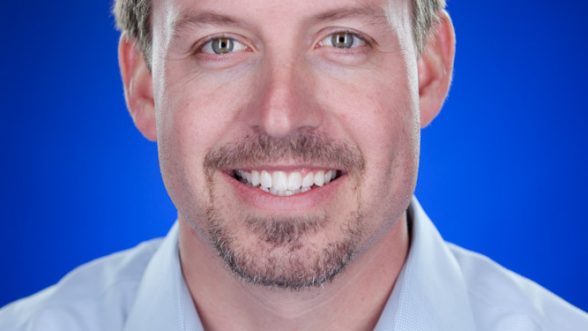 Adam Boushie has come a long way since earning his MBA at the CU Denver Business School. University Communications recently had the opportunity to catch up with Boushie, Enterprise Territory Manager at Google, who elaborated on his career, the importance of the CU Denver Professional MBA program to his current job, and his advice to CU Denver Business School students.
Boushie said that when he earned his bachelor's degree (Wabash College, Indiana) he felt certain his classroom days were over. His view changed, however, during the Great Recession of December 2007 to mid-2009. Boushie's career had taken off—he rose from sales development manager to regional sales manager to director of enterprise accounts for Iron Mountain, an information and data management company—but the downturn got him thinking about how a bachelor's degree isn't really a differentiator anymore in the business world.
"I started thinking about my long-term prospects and being competitive in a tough economy," he said.
While still working full time, Boushie enrolled in the CU Denver Business School Professional MBA program in summer 2009. He enjoyed the program's flexibility; each semester he took one online course and one in-classroom course. "Also, the downtown campus was convenient for me," he said. "The program has great access to professional business people who come speak to the classes. That was important to me."
At the same time he started the MBA program, Boushie and his wife launched a small business, Little Monkey Bizness, a full-service coffee house with play areas for children. "From the small business perspective, the MBA program really helped me understand all the different functional aspects of running a business," he said. "It really helped me get perspective on the full spectrum of business operations."
And the MBA was essential to landing his job at Google. As enterprise territory manager he helps large organizations implement Google's technology. "It's not easy to get a position at Google, so I'm certain the MBA was really important in the hiring process."
In giving career advice to CU Denver Business School students, Boushie emphasized the importance of developing a robust professional network. "Just sending resumes out, the odds are really small in getting the job you want," he said. "It really comes down to the people in your network."
Boushie also recently participated in a panel discussion event sponsored by the CU Denver MBA Student Organization (MBASO). Read more about the event
Find out more about graduate degrees at the CU Denver Business School at the school's homepage.