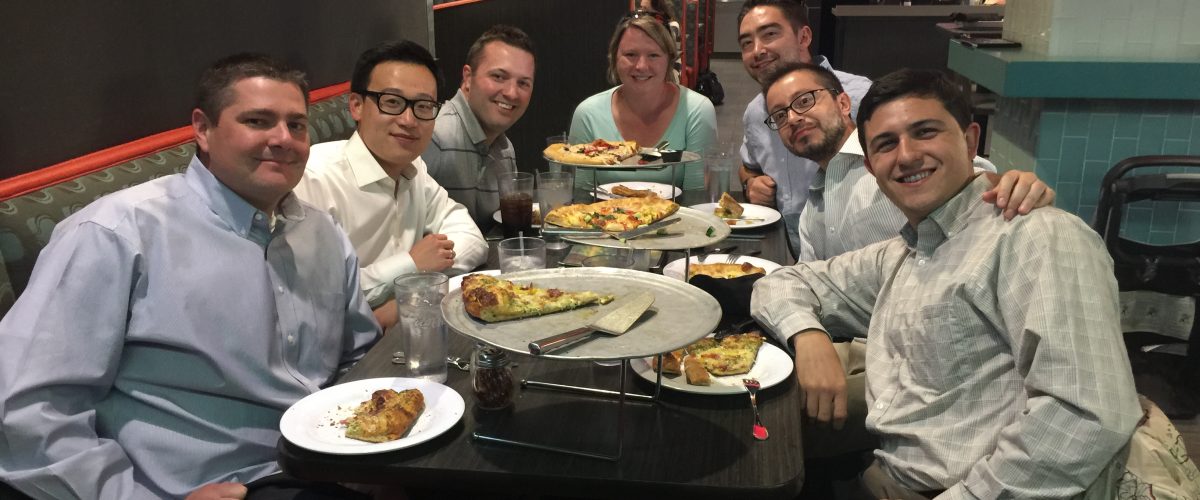 Students in the 11-Month MBA program participated in a business collaboration over their fall term break in mid-October. Program Alumni and International Business Owner Dan Sigrist worked with the group of five students, who developed international market strategies for one of his clients. The project included tactical and strategic recommendations for a Colombian beverage company to expand into the US and China. The student group (pictured l to r: Dan Mitchell, Chris Yang, Dan and Laura Sigrist, Brian Rogers, George Gazis, and Hamza Wells) was able to leverage their skills and knowledge to provide insights and value to Sigrist's company and his client. Following the final presentation for the project, Sigrist took the students out for a celebratory dinner.
Sigrist and his wife, Laura, are owners of Helix Solutions LLC, an international import-export consultancy. For more information about their company, visit http://www.helixsol.com/
Business Collaborations are project-based opportunities that allow students to gain new skills and experiences while completing their full-time MBA. Partnerships are made available to students in a variety of industries, and allow individuals to build their network and knowledge.
For more information about the 11-Month MBA program, visit the 11-month MBA page.