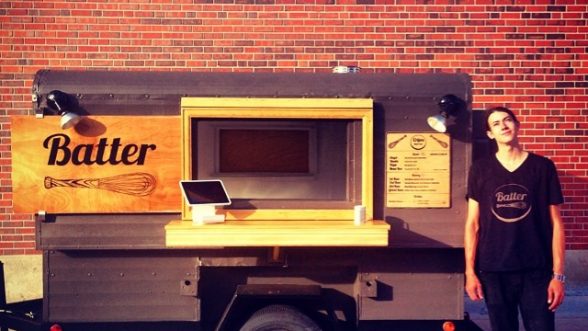 Want to find a Business School student with a strong entrepreneurial spirit? Look no further than Bachelor of Science in Finance student Travis Page. With the help of his roommate, Page started the crêpe-making food cart Batter in 2013.
The summer following high school graduation, Page went on a trip through Europe with his high school orchestra class. Throughout the 12-country trip Page tried crêpes every place he could; Paris, he decided, had the best.
After returning to Denver, Page noticed it was difficult to find crêpes. "You could find them in sit-down restaurants, but nothing on-the-go." It was in instructor Francisco Conejo's Product Development course where Page saw an opportunity in Denver. With a combined 10 years of food service experience, Page and his roommate wrote a business plan and developed a menu for a mobile crêpe-making facility.
"The name, Batter, and logo are symbolic," says Page. "Of course, you whisk the ingredients into a batter for crêpes. It's also for my grandfather; he was really into baseball."
Although he didn't have any startup experience before Batter, Page had lots of help:
He drew some inspiration from famous restaurateurs, like Chef Gordon Ramsey: "He always talks about having a concise menu. It doesn't benefit the consumer to have that many items. I think it's better to avoid a sea of mediocrity and just make a few fast, delicious items."
In David Ruderman's Principles of Entrepreneurship class, Page was given the opportunity to interview his idol, Jason Mendelson. A venture capitalist from Foundry Group, Mendelson provided some great insight into how to pitch an idea to investors.
"I read, a lot," says Page. While writing his business plan, he would spend whole days in the library reading up on how to start a business.
Page wanted to focus on what makes crêpes great for his menu: they can be savory meals or sweet desserts. The sweet-side has fillings like Cinnamon Apple or Banana Foster while the savory side has combinations like Tomato, Mozzarella, and Basil or Sliced Ham, Egg, and Cheese.
The future for Batter looks bright. Page hopes to have a second food truck operating during their second year. "There are lots of things to consider when making a food truck. Like, you don't realize until you start driving that everything needs to be tied down. Thankfully, we have this heavily detailed checklist to go through before leaving the lot. The first truck taught us a lot."
To find out more about Batter, visit the Batter website or email Travis Page.
Click here for more information about the Business School's Certificate in Entrepreneurship.