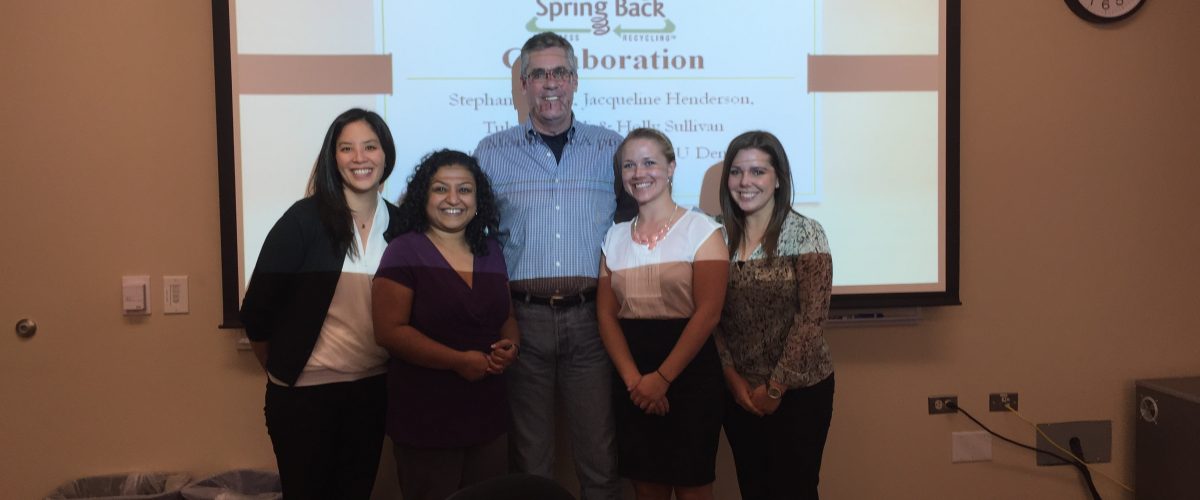 What do you do with all the non-recyclable materials found in a box-spring? This was the question posed to four 11-month MBA students 8 weeks ago.  Originally intended as a Managing for Sustainability (M4S) Program field study project,  Graham Russell, who is responsible for outreach for the M4S Program,  offered it to 11-month MBA Manager of Strategic Outreach Jill Lohmiller. The 11-Month MBA students took the project for additional experience  as part of the program's business collaboration opportunities– no academic credit was given for this project.
Working with Spring Back Colorado President Christopher Conway directly, Stephanie Eyler, Jacqueline Henderson, Tuhina Nandi, and Holly Sullivan took a tour of his facility and analyzed the whole operation. Addressing issues with recycling discarded box springs, Conway asked them to complete two objectives: determine what to do with the pine frame and determine what to do with the "dog cloth," the fabric stapled to the underside of box springs. He added a stipulation: he wanted the outcomes to create jobs, too.
Conway started the non-profit Spring Back Colorado in August 2012 when he realized how many box springs and mattresses were thrown into the dump each year. "I was immediately drawn to the many possibilities that this social enterprise concept presented." He was inspired to create an organization that not only provided sustainable recycling, but also offered a transitional work experience for disenfranchised men. With this Business School project, Conway was looking for ways to assist disenfranchised women.
Eyler, Henderson, Nandi, and Sullivan presented their findings to Conway on December 12 at the Business School. Sullivan and Nandi ran through limitations, uses, and competitor research on the pine; Eyler and Henderson focused on the features and possible uses of the "dog cloth," identified as cambric fabric. With each suggestion, the students were clear to point out how many jobs Conway could expect to create. Both Russell and Lohmiller attended the presentation.
Following the 40 minute presentation, Conway had nothing but positive things to say: "I can tell you, I am going to be able to enact your ideas." He said he was going to look more closely at wood-pelleting machines and the suggestions for the cambric. "The Business School is such a great asset for business owners thanks to projects like these."
For more information about the Managing for Sustainability Program, click here.
For more information about the 11-Month MBA program, click here.