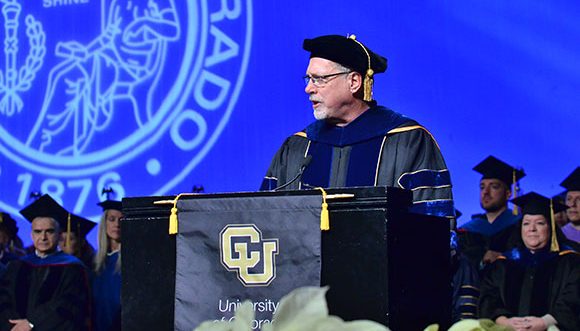 Family and friends joined hundreds of CU Denver graduates for the Fall 2014 Commencement ceremony at the Colorado Convention Center. Many dedicated students, like Rob Bingham, 29, graduated Saturday, December 13 from the CU Denver Business School.
Rob Bingham
In war-torn Iraq, during his second deployment in the Army, Bingham one day found himself scanning a U.S. map. He was looking ahead, contemplating where he'd go to start a new chapter as a university student.
Being from the upper Midwest, he scanned westward for warmer locales. His finger went up to the Pacific Northwest. Seattle? Portland? Too rainy. He traced backward, along the spine of the Rockies.
Colorado. Denver. Bam. "I had no family, no friends here," Bingham says, "But, definitely, it was the best decision of my life."
Bingham graduated with a BS in Marketing. The musing with the map might qualify as Bingham's last random move. Since arriving at CU Denver four years ago, he has taken a focused and determined course: earn a bachelor's degree, first and foremost, but also serve the greater community—the same drive that led him to the military.
"I think public service is very important, and people stepping up for the right causes is essential," he says. Taking action comes naturally to Bingham. For instance, he noticed that Denver has a large veterans population, but in some ways its vibrancy—especially in the area of public awareness—was lacking. Bingham was dismayed, for instance, that the Denver Veterans Day Parade annually drew a paltry 100 spectators.
He combined the skills he's learned in the Business School with his strategic military background to coordinate a turnaround. Now the celebration, which takes place on the Saturday before Veterans Day, is a full day of activities starting with a fun run, followed by the parade and capped by a festival of food, music and fun. The tag line for the slate of family-friendly events—the festival was new this year—is "Run. Rejoice. Remember."
"We took over the Veterans Day Parade this year, working with the Mayor's Office, and an estimated 8,000 people attended," Bingham says.
"We" is the nonprofit organization Colorado Veterans Project that Bingham founded as a CU Denver student. The organization's mission is to build a supportive community around veterans, enhancing pride and patriotism in the process.
Similarly, when Bingham four years ago took the reins of the Veterans Day Run, the event began to take off. The run has grown from 109 participants to 721 runners this year, making it the largest annual event on the Auraria Campus. The event this fall added a 10K run to its usual 5K.
"I used the skills I learned in my marketing classes (at CU Denver) and began working on strategies to market the run better to the community," says Bingham, who serves as race director. The run is annually dedicated to Army Capt. Russell Rippetoe, a Colorado soldier who was killed by an improvised explosive device in Iraq in 2003.
The funds that the run has raised—they've doubled each year—flow back into the community. Colorado Veterans Project is the first organization to write a check to the Colorado Fallen Heroes Memorial Commission, which is planning a memorial wall at the State Capitol. Another beneficiary is Operation TBI Freedom, which helps soldiers and their families who've been affected by traumatic brain injuries. Funds also support ROTC activities that give Colorado ROTC members leadership training ahead of their deployments.
"I definitely think there's more work to do in terms of recognizing veterans," Bingham says. "There are so many veterans organizations that aren't getting as much public awareness as they should."
At the time of graduation, Bingham will take another step in his military career. As an ROTC member and member of the Colorado National Guard while at CU Denver, giving him 11 years of service, including seven years of active duty, Bingham on Dec. 12 was commissioned as a second lieutenant in the Army. He and his wife—they married in August—will travel to Alabama in September 2015 as Bingham begins an 18-month training at Fort Rucker to become a helicopter pilot. He will serve in the 2-135th Aviation Regiment of the Colorado Army National Guard, a unit often dispatched to fight Western wildfires.
Meanwhile, his nonprofit, Colorado Veterans Project, will continue operations as normal. His marketing degree and military background will offer him plenty of career options. He says the Business School is "top-notch. I like all the real-life experiences that the classes offer. The teachers are very professional, and you're downtown with future potential employers and business associates. It creates a good environment."
He also likes the mix of students—traditional and non-traditional—at CU Denver. "I think you learn more in this kind of environment," Bingham says. "People directly out of high school haven't had those experiences yet."
His experience at CU Denver might not be over. Bingham is considering one of the Business School's many MBA programs. He just knows he'd like to continue doing work that has a positive impact, whether through a nonprofit or a national campaign of some sort.
As the first member of his immediate family to earn a college degree, Bingham reflects on how he wanted to attend a school in the heart of a city, like CU Denver. As he looks over Denver out a fifth-floor window in the Business School, Bingham says, "The city is kind of a visual reminder that there's more out there. It gives you a bigger picture."
Click here to read more profiles of exceptional CU Denver graduates.