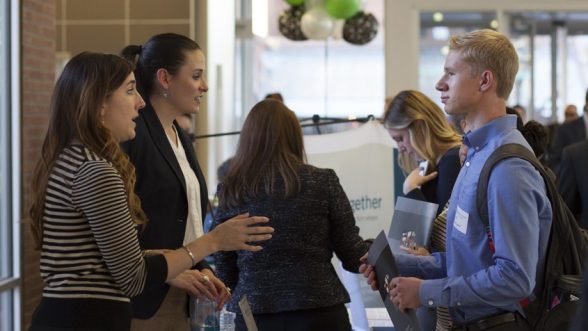 Students broke out the professional attire and companies brought out their top recruiters in this year's spring Career Fair. The Career Fair was organized by the CU Denver Business School's Business Career Connections (BCC)  and featured 24 employers and two professional organizations.
This year's career fair had the most attendees sign up – which totaled 250 students. Students sought out the opportunity to meet with potential employers. One student, Jennifer Deepa, a graduate student in Information Systems, loved the opportunity to network with top companies in the Denver area. Additionally she stated, "It's nice to be able to introduce myself to recruiters, and put a face to my resume."
Companies particularly in finance and investment services have increased their hiring initiatives in the past year, according to Sue Wyman, Director of Business Career Connections. She adds, "Particularly those who have a large customer base of baby boomers need employees to fill in the upcoming surge of business initiatives."
The career fair also welcomed its first ever start up, Ibotta. Ibotta is a mobile app taking over the coupon industry that benefits both consumers and businesses. Consumers get cash back in their pockets, and businesses get access to pertinent data that they would otherwise miss with print coupons. The reasoning for pairing with CU Denver Business School? According to Glenna Barron, a Senior Account Associate for Ibotta, "The CEO is passionate about keeping and growing the business in Denver. He sees having the relationship with the business school as a great way to give new talent an opportunity as well as keep the economic development close to Colorado."
Other notable businesses were CoBank, a company that has had a long standing relationship with the business school, Oracle, Covidien, Comcast, and Charles Schwab, among many others.
Did you miss the career fair? There are still plenty of opportunity-rich events to attend this semester. To find out more, visit the Business Career Connections Events page. If events are difficult for your schedule, contact Sue Wyman, Director of Business Career Connections to understand how you can get the most out of the Business Career Connection resources. Business Career Connections is available to all undergraduate and graduate students as well as alumni of the Business School.