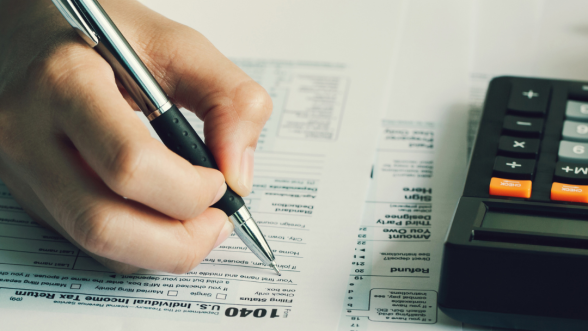 If you are in the accounting field, you've probably considered taking the Certified Public Accountant (CPA) exam. But chances are that you're wondering if it's worth it given its difficulty.
With the expectations for business being higher than ever, professionals are required to deliver lasting results while earning and keeping the trust of multiple stakeholders every day. For this reason, becoming a CPA seems to be a significant credential given that it offers accountants many opportunities in the industry.
To learn more about this certification and why it matters, the Business School met with Dylan Croom BSBA '19, MS '20, tax associate at PwC. Croom received his CPA license in May 2022 and was awarded the prestigious AICPA Elijah Watts Sells Award in recognition of his outstanding achievement. As he caught up with the Business School, Croom reflected on his experience with the CPA examination.
Benefits of the CPA
When asked what inspired him to get a CPA license, Croom said that it had always been his ultimate outcome. "The credential illustrates your capacity to do the work and willingness to persevere through something difficult and achieve it. This cements the longevity of your career. It makes you employable in numerous fashions, gives you the freedom to pivot in different areas of accounting, and learn about the in-depth functions of a business," Croom stated.
One of the biggest advantages of being a CPA is that the credential is a symbol of trust and professionalism in the world of business. It's a highly challenging professional track, but the reward is the trust garnered from obtaining the certification.
However, Croom believes that it "doesn't make you any better of an accountant than you are capable of being. You can have a perfectly beneficial career without the CPA license but more opportunities come your way if you have the license. Being a CPA gets you into the spaces that you need to be in in order to develop those opportunities and grow your professional network to the point where you can create the outcome you want."
CPA: A Doorway to Multiple Opportunities
Being a CPA is more than running numbers and filing taxes. "If you get into a space where you have the opportunity to do consulting, you're really seeing tax from the standpoint of how it impacts financial statements, how it impacts your tax returns and what are the opportunities for your business. It takes you to a strategy and planning space as a possible career outcome."
Croom said the CPA made a difference for him in many ways. It gave him increased career stability, and the successful completion of that challenge bolstered his confidence. "Brilliantly passing that examination helped me recognize that I was capable of the hard work," he asserted.
Moreover, the reception of the Elijah Sells Award opened up doors that he did not expect. Croom shared that he was positively surprised to receive phone calls from investment banks to perform equity research.
Hard Work and Perseverance: The Tools of Success
While the CPA examination is said to be extremely challenging, Croom confided that hard work and perseverance can help in the process. "You have to work very hard, harder than you initially tell yourself you're capable of."
For Croom, the CPA exam was a personal endeavor. For that reason, he approached the coursework with the intention of winning. "I treated every class as if it was the most important thing to my career." This made a significant difference because it helped him build the right habits to perform high-intensity work and allowed him to get the value out of the exam. "You can make the course more valuable for yourself than the content itself when you ask questions and engage with your classmates."
Ultimately, this exam is "all about one's ability to learn and exceed their expectations. The CPA may be an incredibly difficult endeavor but it is incredibly rewarding," Croom stated.
Advice to Students and Accountants
CU Denver students need 120 credit hours to graduate. But, in order to test for the CPA license, an additional 30 credit hours is required. According to Croom, the first step for those interested in getting a CPA license is to ask themselves if spending that extra time is feasible.
Once that decision is made, the next thing he emphasizes is to accept that it is going to be difficult and approach it with the tenacity needed. "Set yourself up for success by taking your education seriously and engaging with your coursework as it matters to you. When you do that, you give yourself the background and the skills necessary to do well on the CPA exam. It's a matter of practice not so much of knowledge."