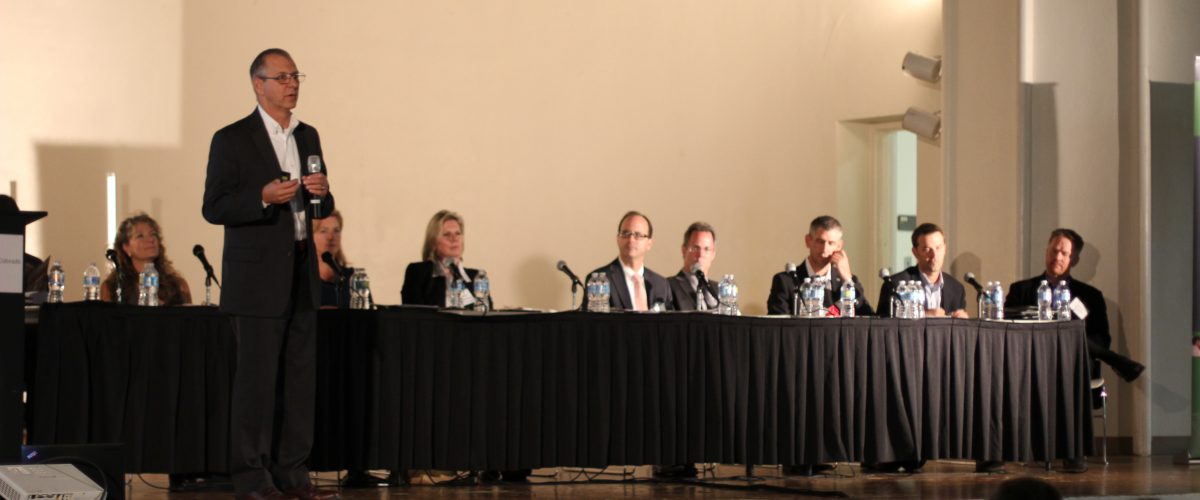 The Center for Information Technology Innovation and Information Systems Association hosted the 10th annual Business Leaders with an EDGE Executive Panel event. The business leaders from some of Colorado's premier companies discussed Information Technology industry outlook and how information technology is an integral part of every aspect of business and what they see as the future of business and information technology. The event was focused on careers in IT and relevant inputs from the experts in the field.  The panelists included
Randy Gutherie, Microsoft
Ted Hellmuth, Comcast/NBC Universal
Mark Bell, Managing Director in Advisor Services Technology, Charles Schwab & Co
Sherri Hammons, CTO, IQ Navigator
Albert Kendrick, CIO, First Bank
Brad Cowdrey, CEO, Clear Peak Holdings
Dave Landy, CIO, Janus Capital
Molly Rauzi, CIO, Gagen MacDonald
Tim Rod, GSL, Cisco
Steven Stewart, VP, Product Development IT
The panel was moderated by Rina Delmonico from Lockheed Martin.
Randy Gutherie provides a snapshot of job prospects and environment in Microsoft, and what is needed to apply to IT jobs. Ted Hellmuth highlighted the Colorado tech hiring market. Colorado has the 3rd largest concentration of technology workers. Unemployment for the tech market is at 2% compared to 6% for non tech workers.
Answering to the questions from the audience, Tim Rod from Cisco mentioned that there is a wave now to lead innovations with global issues, such as internet of things, connectedness of information to solve problems, challenges and make good decisions.  The panel discussed about the various IT roles in solving everyday challenges, such as healthcare issues, data integration to everyday lives through mobile devices, monitoring and predictive analysis etc.  Panel also provided a list of requirements for different job levels in different companies, the required skillsets, certification needs, and soft skills and how to tackle interviews.  A common theme emerged in the panel discussion that companies need more people who have both IT skills and business problem solving understandings.  Speakers in the panel highlighted the need for succinct communication, respect, listening skills, accountability, acceptability, knowledge, research and receptive to change as the attributes that are important to make a successful IT career, amongst many others.
Over 300 undergraduate and graduate students, and members of the community squeezed into St. Cajetan's on the Auraria campus on October 20th. The number of attendees is the most in the history of the event.  This year marks the 10th anniversary of the panel event.  Rina Delmonico felicitated Ms. Linda Theus-Lee for her continued contributions in supporting the event for the last 10 years.
For more information about the Information Systems program, visit the program page.
Check out the Information Systems Association page for more information about this student organization.