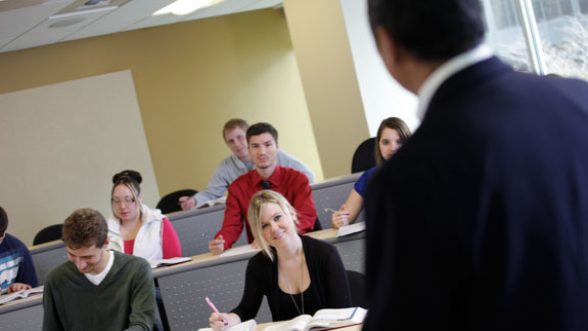 It's smart to be HIP, at least when it comes to engaging students, enhancing their college experience and keeping them on track to earn a degree.
Building off the success of last fall's Undergraduate Experiences Symposium titled "Learning with Purpose: Quality HIP Programs for All Students," CU Denver has awarded nearly two dozen grants to facilitate the integration of HIPs (High-Impact Educational Practices) into numerous CU Denver degree programs and courses.
HIPs – the 10 best teaching and learning practices, according to the Association of American Colleges & Universities – are shown through national research to be beneficial for college students from many backgrounds, said Jeff Franklin, PhD, associate vice chancellor for undergraduate experiences. The practices take many forms, including undergraduate research, internships, capstone projects and community-based learning. To spur the adoption of HIPs for the betterment of CU Denver students, Provost Rod Nairn, PhD, along with several other administrative offices, colleges, and schools, came together to make available nearly $128,000 in grant funds for the University's HIP initiative.
"There is substantial and growing evidence that students who participate in HIPs are more likely to have richer learning experiences and to stay in school and finish their degrees, and that's what we want," Franklin said. While most degree programs at CU Denver already offer one or more HIPs informally, he said, the idea is to both increase their availability to students and to make them a more systematic part of the educational experience the university offers.
The Business School's, Bachelor of Science in Business Administration (BSBA) degree program was recently awarded an HIP grant. Coordinated by Ronald Ramirez, Ph.D., Director of the BSBA program, the Business School submitted an HIP proposal that calls for the integration of diversity concepts, when appropriate, in the areas of course pedagogy (teaching method) and course content. The following Business School faculty are participating in the grant and are leading the charge for HIP adoption in the Business School:
Kyle Ehrhardt, MGMT 3000 – Managing Individuals and Teams
Wendy Guild, Management, MGMT 6830 – London Calling
Ronald Ramirez, Information Systems, ISMG 3000 – Technology in Business
Mary Lee Stansifer, MKTG 3000 – Principles of Marketing
"Diversity is a strategic initiative of the Undergraduate BSBA program, the Business School, and the University. We must encourage and sustain an environment that welcomes and embraces all students, faculty, and staff. Within the Undergraduate program here at the Business School, our teaching methods must evolve with the changing student population to enable success for students of all cultures and perspectives. Through the HIP grant, we look to evolve our teaching methods to do just that. The participating faculty selected the specific set of undergraduate courses due to their wide touch and potential impact. In addition, we look to incorporate diversity issues and topics within course content, when appropriate, in order to prepare future business leaders for the diverse business workplace and diverse product marketplace here in the U.S. and around the globe," said Ramirez.
To learn more about High Impact Practices, click HERE.