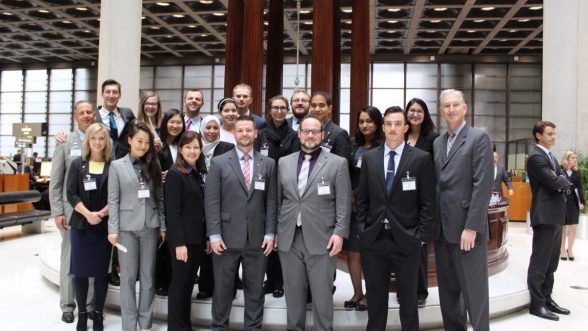 The Excess and Surplus Lines (E&S) niche of the global risk industry continues to grow, as the world becomes ever more complex and intertwined. Emerging risks such as cyber, super strain pandemics, and global warming are complicated, impact us all, and require creative and experienced risk professionals to develop solutions to protect businesses and individuals.
Since 2014, The CU Denver RMI program has offered a unique Global Risk Management Maymester course to develop the expertise to understand and contribute to challenging risk solutions. This June, 17 undergrad and graduate RISK students participated in the two-week intensive coursework at CU Denver Business school. For the third week, students travelled to London, where they met with global insurance leaders and companies, such as Lloyd's of London, AIG, JLT Specialty, Bloomberg, and Capsicum.
The Surplus Lines Association (SLA) of Colorado has been the generous financial and intellectual sponsor of this specialized Global Risk Management program for three years, with the intent to prepare students for the non-traditional insurance industry growth. The Surplus Lines Association of Colorado sponsors most of the cost of student travel to London. This year, students were especially fortunate to have SLA of Colorado board member Troy Sibelius, of Keller-Lowry Insurance, Inc., travel with the students and mentor them in their applied E&S learning. "This was my first trip to Lloyd's of London, and was a marvelous learning experience for me," said Troy. "It is exciting and rewarding to be a part of student development in this dynamic industry."
Students prepared for London through intensive coursework, where they heard from industry leaders such as Troy Sibelius of Keller-Lowry Insurance, Inc., John Wethey of Surplus Lines Association of Colorado, Tim Turner of RT Specialty, Rich Magrath of Lloyd's of London, Bobby Hinds of Ch2M, Greg Ball of AIG, and Fletcher Rosenbach of Marsh. In London, students participated in an industry networking evening where they socially interacted with London E&S senior executives.
As a result of this experience, many RISK students are interested in launching their careers in the E&S segment. "Since the trip I have decided that I want to work in the E&S side of insurance," said one undergrad student. "The trip to London really solidified my reasoning on why I want to pursue a career in insurance." "The CU Denver RMI program is the only institution in the US to offer both undergraduate and graduate degrees in RMI specializations, plus specialized coursework in the E&S area," said RMI Program Director Dr. Ajeyo Banerjee. "CU Denver students are being recruited from around the country, and this exposure to global markets enhances students' prospects. We greatly appreciate the generous support of the Surplus Lines Association of Colorado for enabling RMI students to experience the Lloyd's market in person."