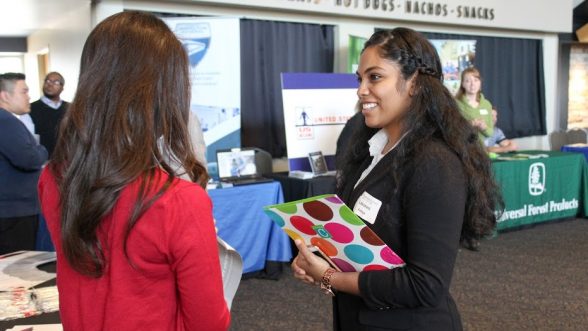 The third annual Colorado Business School Career Fair was held at Sports Authority Field on Thursday, September 29th. 165 employers attended this year's Career Fair – up from 150 from the 2015 fair. Virtually every industry was represented and sponsors included Level 3, Penske, Charles Schwab, Fidelity, Great-West Financial, Janus, Oppenheimer, TIAA, T. Rowe Price, Zillow, Businessolver, Coyote Logistics, EY, FourPoint Energy, and Wiland.
The Career Fair is a collaborative effort between the business schools of the University of Colorado, Colorado State University, and the University of Denver. Business Career Connections represented the CU system on the Career Fair planning committee. Business School students from 13 Colorado and Wyoming attended the fair.
93% of the employers surveyed felt that career fair attendees were more prepared and presented themselves better than students and alumni from other career fairs that they have attended. One employer commented "This was an excellent event, again this year! The attendance seemed higher than expected and we were very impressed with the caliber of students. Well organized, productive and fun! Nicely done and thanks so much! Another employer said "Great event. It's the only job fair we attend. We will definitely keep coming back."
The companies were interested in students for both full time positions and for internships. It was a great opportunity for students to network with multiple employers in a short amount of time. Many recruiters asked for resumes from students they were interested in, and some conducted interviews in the VIP suites.
Students were provided with both a mobile app and hard-copy lists. Companies were listed according to the majors they were interested in, whether they were looking for interns or full time employees, undergraduate, graduate, or alumni status, and the company's industry. This provided those attending an easy way to discover which employers may be interested in hiring them. There were several companies looking for each major, giving students from each field many employers to talk to.
Business Career Connections provided 10 student and alumni workshops prior to the Career Fair. Multiple students commented that the preparation helped them target employers and present themselves in a very professional manner. Many employers were very complementary about the quality of our students, their professionalism, and their knowledge of their particular company.
"The Business School's participation in the event couldn't have happened without the support of our student and staff volunteers. Fifteen students and six staff members volunteered on the day of the event. We had a great show of support and thank everyone who helped us make the event successful." said Sue Wyman, Director, Business Career Connections
Check out the photos below to see what this business-only career fair was like.
---