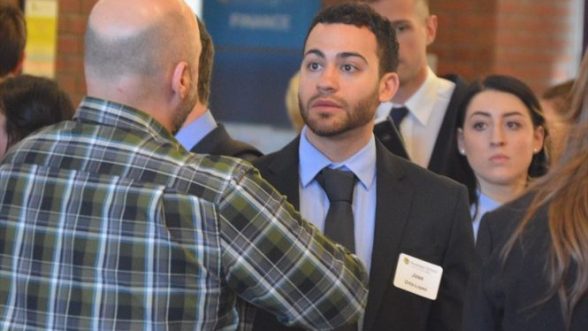 Completing an internship has become a hallmark of the undergraduate experience, given its ability to provide students with real world work experience in their chosen career field. For Jose Ortiz-Lopez, a Finance undergraduate, the journey of finding an internship began with a conversation and ended with an offer.
It all started at the annual Colorado Business School Career Fair, recalls Ortiz-Lopez. "I attended the fall 2016 Career Fair that was held at Sports Authority field, with a list of five target companies I wanted to talk to while I was there. I also did some research on the firms and prepared some questions to ask the representatives." After chatting with two other firms on his list, Ortiz-Lopez headed over to the TIAA table, one of the five firms he had hoped to connect with while at the fair.
"The conversation I had with the TIAA representative lasted for about thirty minutes. During that time, she answered all of my questions and introduced me to a couple of her colleagues. When we finished talking, she wrote down her email on a business card, and I went on to send her a thank you email a couple days later."
The response Ortiz-Lopez received made it clear that he had made an impression at the fair. "In her response email she advised me to contact a recruiter via email and apply for an internship position once it was available on their website. After some time went by, I saw that an internship position had opened up. I then proceeded to email the recruiter and apply. A couple weeks later, I received a call from TIAA for an interview." Shortly after the interview process was over, he was extended an offer.
Ortiz-Lopez will be completing a 10-week program with TIAA as institutional financial services intern, where he will collaborate with various departments within the company, to learn more about how their interactions and individual roles help TIAA reach its organizational goals.
Looking back on the interview process, Ortiz-Lopez says that TIAA was really interested in knowing how he was involved on campus, to which Ortiz-Lopez explained his student club affiliations and also his participation the Business Career Connections (BCC) office's Career Trek. "Without attending the Career Trek or being a part of a school club, I don't think I would have been able to distinguish myself from other candidates." Which leads to Ortiz-Lopez's biggest piece of advice for those wishing to secure an internship: get involved.
"Be involved on campus. There are many clubs and events that allow you to network with fellow students, professors, and industry experts for free! Those connections are invaluable when it comes to seeking opportunities in business—use them."