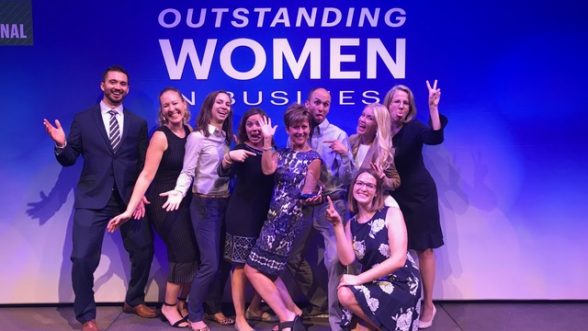 Two exemplary University of Colorado Denver Business School alumnae earned spots in The Denver Business Journal's 20th edition of its annual "Outstanding Women in Business" awards, recognizing women for their innovation, entrepreneurship, professional accomplishments, and community leadership.
Kelly Brough: Winner, Education, Government and Nonprofits category
Kelly Brough, Professional MBA '89, President and CEO of the Denver Metro Chamber of Commerce, took home top honors in the Education, Government and Nonprofits category.
For the past 21 years, Heinzeroth has directed SageRiver Consulting, which offers innovative strategic consulting services to clients ranging from national nonprofits to Fortune 500 companies to government agencies. She founded her Denver-based firm after growing a medium-sized national consulting firm with five other partners. Heinzeroth gravitated to consulting early, joining Coopers & Lybrand, one of the "Big 6" firms of its day, soon after completing her CU Denver MBA. Today, in addition to leading her firm, she mentors and educates emerging leaders as a faculty member in the management division of the University of Colorado at Denver's Business School and she is also on the faculty of the Institute for Career Advancement Needs.
Heinzeroth shared, "Whatever our individual visions, I believe each of us, in our businesses and lives, can lead change and shape the world around us for the better."