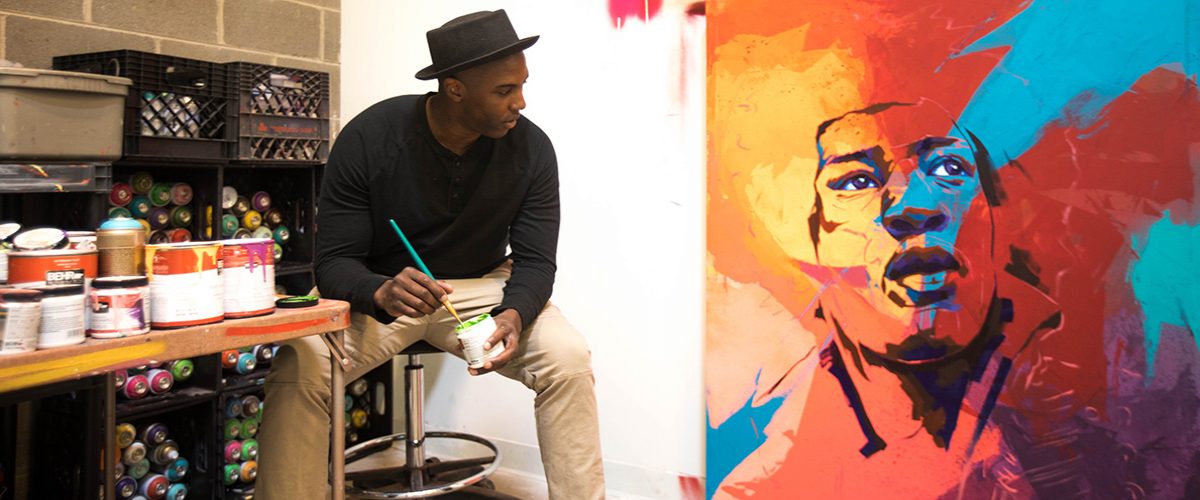 Thomas Evans (MBA '12) has always been an artist, but he studied business at CU Denver and took a job at a marketing agency after graduation. When he discovered advertising wasn't quite for him, he planned to follow his family's footsteps into the military – until, that is, he tore his ACL in a martial arts class and instead went on a volunteer trip to Tanzania.
You could say he took a few detours. When Evans returned from Africa, he followed his true calling and became a full-time artist.
For the past four years, Evans has been a professional artist, working under the name Detour, a name inspired by the title of a breakdancing VHS tape he'd bought while living in Germany. He's created pieces for companies including Red Bull and Sprite. Most recently, he's painted portraits of David Letterman and Jay-Z for a Netflix marketing campaign.
His CU Denver Business School education, which included an emphasis in marketing, helped him turn his passion into a career.
"Marketing is one of the biggest things right now. With the internet, you can find your own collectors, find your own buyers, find your own places to show," said Evans. "We still need galleries and museums, but you have a lot more control than you used to, and my college career really helped me in that."