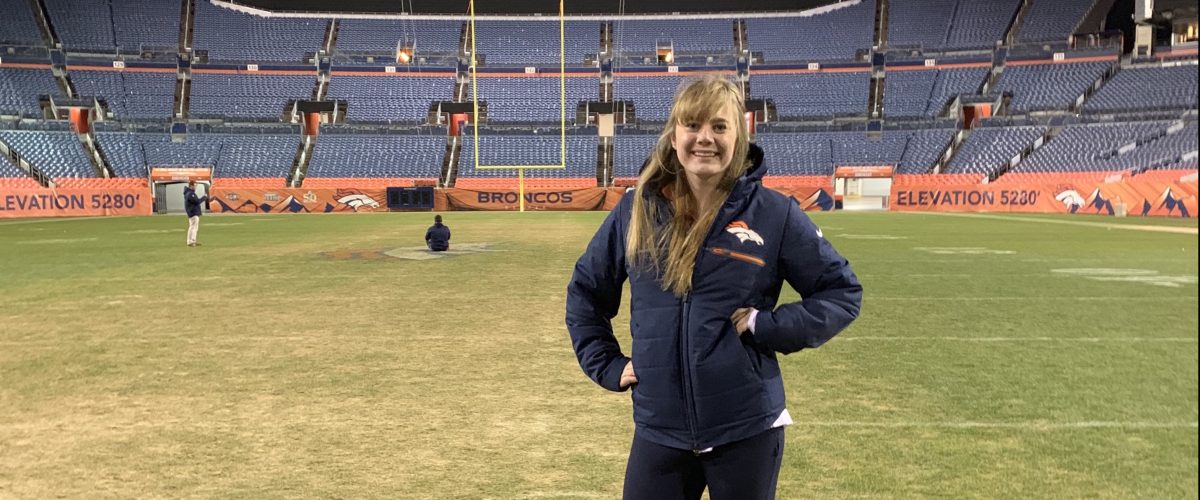 Taylor Hunt has walked through several paths during her six-year college career. After switching her major three times and becoming medically ineligible to continue swimming collegiately, Taylor discovered the world of sports business at the CU Denver Business School.
Being a Denver Broncos intern has helped Taylor experience the world of sports business. As a first-generation student, she has made it her mission to set an example for her family.
Taylor is happy knowing she's on the right path to land her dream job and looks forward to graduating this spring.
Change of direction
Sports have always been a big part of Taylor's life. With her mom passing away at the age of five, Taylor has used sports to overcome difficulties throughout her life, including her mother's death.
She always dreamed of swimming collegiately from a young age. It was a sport that made her happy and made her feel as if she was flying. The first race she ever won was the only race her mother saw and that memory lasted throughout her career. She was an Arkansas High School state record holder and an Arkansas state champion in the 100 and 200 freestyles.
Unfortunately, at the age of thirteen, Taylor was struck by a hit-and-run driver, which resulted in five knee surgeries. Because of this, the doctors told her she'd never be able to swim again. That didn't stop Taylor from trying. With hard work and determination, Taylor graduated from high school with a full-ride scholarship to swim collegiately at William Jewell College in Kansas City.
Two years later, she transferred to the University of Northern Colorado to be closer to home. However, that same year, Taylor's knees had gotten to the point where she couldn't attend classes, practice, or even walk. She was eventually deemed medically ineligible to continue swimming after her last knee surgery. Devastated, Taylor knew it was time for a new path.
She knew she had to choose a school that would give her a quality education—CU Denver Business School. After transferring to three different schools she decided to pursue a major that she was passionate about, sports business. Even though she couldn't swim anymore, she dreamed of becoming a sports marketing manager one day.
Life-long lessons
Throughout her time at the CU Denver Business School, Taylor appreciated the real-world experience professors brought to the classroom. One professor in particular, Darrin Duber-Smith, an adjunct CU Denver professor, helped Taylor understand the reality of the sports industry. "He's very knowledgeable of the industry and is brutally honest with us because sports business is such a sought-after industry," shares Taylor, "He gives you a perspective from the sports world that sets you apart from everyone else."
Taylor also acknowledges the critical thinking, time management skills, and cultural perspectives she's learned throughout her time at CU Denver as an important aspect of college. "We all have different backgrounds but understanding how anyone's background can be extremely influential to any group project is critical," said Taylor. She uses this set of skills daily and knows she'll utilize them throughout her entire career.
Becoming a Broncos intern
Wanting to dive deeper into the world of sports business, Taylor took it upon herself to seek out current professionals in the industry. She found one professional through her father's friend, the current marketing manager for the Denver Broncos.
Taylor asked him if he'd be willing to do an informative interview of his day-to-day duties and he accepted. As she learned more about his story, she was fascinated by his climb up the Broncos ladder. He suggested that she apply to an open internship position they were currently hiring for, which was how he had gotten his big break with the team.
That same day, Taylor fervently turned in her resume and cover letter. Within 24 hours she had a formal interview, and within a week she received the good news that she was the new marketing and promotions intern for the Denver Broncos.
"The BCC office has been instrumental in helping me be the type of employee I want to be. " – Taylor Hunt
Thrilled, she knew how lucky she'd been to land a once-in-a-lifetime internship with Colorado's football team by just networking. "I always wanted to work with athletes. I thought it was a pipe dream to someday work for them," shared Taylor, "I'm really blessed to be in the position I'm in."
On the job, Taylor has a number of different responsibilities. She is in charge of making sure sponsor's booths are set up during games, participating in promotional events, giving tours of the stadium, and participating in marketing campaigns.
The Denver Broncos marketing team is in a unique situation. They don't have to worry about selling individual tickets, so they spend more time coming up with creative marketing strategies to each of their six target markets.
Knowing that this is a once-in-a-lifetime opportunity, Taylor wanted to take full advantage of it. She knew no one more qualified for career advice than the Business Career Connections (BCC) office.
At the end of each yearly internship, four Broncos interns are offered the full-time Marketing and Sponsorship Seasonal Associate position post-graduation. Taylor wanted to be one of the four. With that in mind, the BCC advisor focused on developing Taylor's personal brand as a long-term strategy to help her be a become a better employee.
An example of this is when the BCC advisor noticed Taylor would fiddle with her hair when she was nervous. She advised her instead to tie her hair up until she wasn't nervous anymore. Other words of advice were to bring a purse to her internship instead of a backpack while always dressing professionally. The number of tips Taylor received went on and on.
"The BCC office has been instrumental in helping me be the type of employee I want to be," shared Taylor. "Having them in my corner has been so helpful." These tips later paid off when Taylor landed the full-time Marketing and Sponsorship Seasonal Associate position where she will be working full-time next year.
Future plans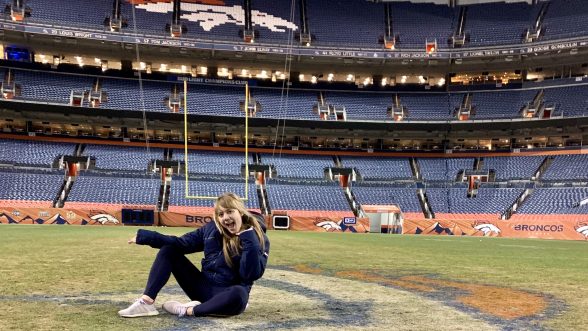 Being the first person to go to college is adventurous and scary for any first-generation student. Taylor pinches herself every day knowing that she's interning with the Broncos. From day one, the Broncos have always been her team.
"We live in a city where we have more sports per capita than the entire nation. If there's a place to do it, it's Denver, in the heart of the city," shared Taylor.
"We live in a city where we have more sports per capita than the entire nation. If there's a place to do it, it's Denver, in the heart of the city." Taylor Hunt
Looking back, Taylor saw how important it is was to network and find the rare opportunities that are out there. Taylor looks forward to starting her full-time internship with the Broncos after graduation.
Taylor's biggest advice for anyone who's in the sports industry is "network the heck out of yourself, take advantage of the BCC and the clubs here."
________________________________________________________________________________________________________________
If you're interested in knowing more about our BSBA in Sports Marketing degree click below!