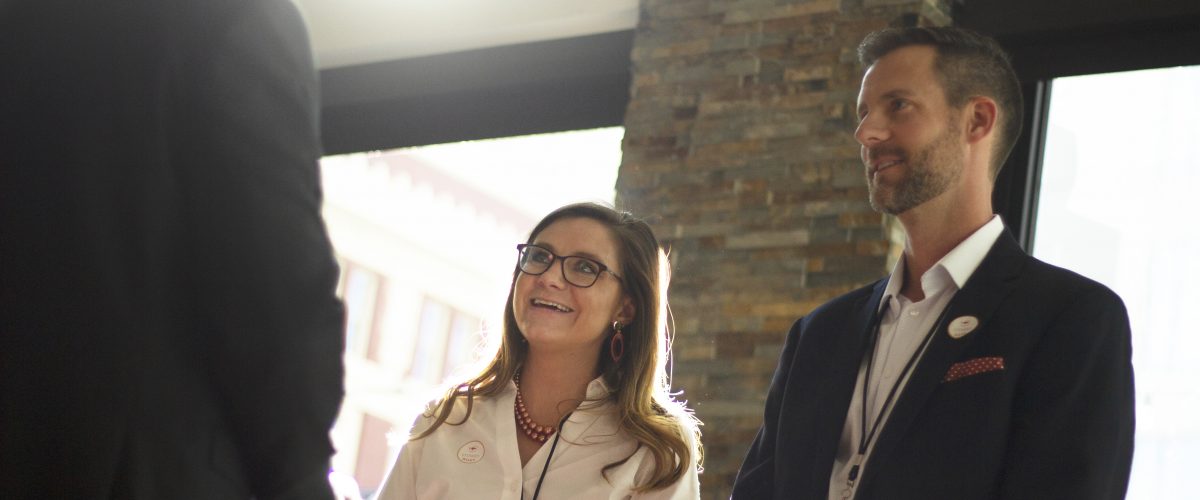 DENVER (April 26, 2019) – More than 180 attendees packed the Curtis Hotel's Four Square Ballroom on Thursday to watch aspiring collegiate entrepreneurs compete for cash prizes. Hosted by the Jake Jabs Center for Entrepreneurship at the University of Colorado Denver (CU Denver) Business School, THE CLIMB | Pitch Night showcased six finalists and their business ideas as they presented to a live panel of judges. Four teams came out as winners, receiving more than $10,000 in award money and in-kind prizes.
STOWED, a peer-to-peer (P2P) storage marketplace, took home the $7,500 first-place prize. Its mission is based on an opportunity CU Denver students Peter Boardman, Whitney Setterberg Pappas and Daniel Thompson identified to disrupt the self-storage industry. Capitalizing on the same sharing economy as Uber and Airbnb, STOWED connects users "seeking affordable, customized and convenient storage solutions with people that have extra space" and want to earn additional income.
"We are so excited for what's next for STOWED," said Boardman. "This year, we plan to take what we learned from THE CLIMB and launch a limited market release in Boulder. From there, we'll optimize the platform and hone our marketing strategy to grow into other areas throughout the country."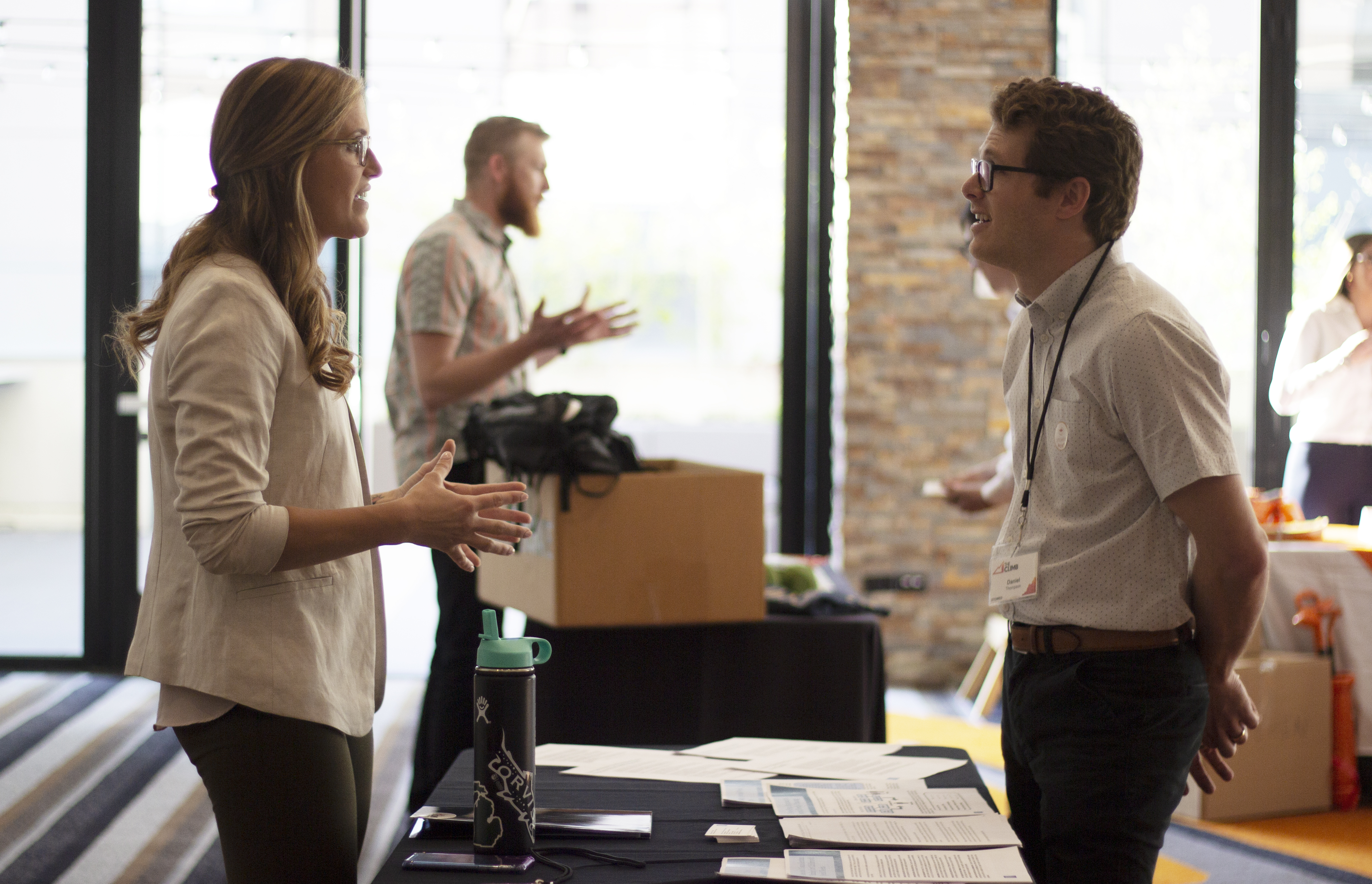 Taking second place ($5,000), FulPHILing Financial is a full-service financial firm specialized in serving the special needs community. CU Denver student Kathleen Phillips was inspired to launch the business by her family's 18-month experience in probate court after losing her father. She said she is determined to ensure that "no one has to go through that kind of financial trouble after a loved one passes away." Families with special needs individuals specifically face strict regulations to qualify for government benefits. FulPHILing Financial is meant to be a one-stop estate and financial planning solution to address those needs.
CampCrate won the $1,500 Dean's Innovation Award. Led by Regis University student Mason Gravley, CampCrate offers rentable, all-inclusive kits for backpacking trips, camping and festivals delivered right to customers' doors. The service targets those who want to have a self-guided wilderness backpacking experience but lack the gear and/or knowledge to take on such an adventure.
Winning the $1,000 People Choice Award, Trevele secured the most votes from attendees via the mobile application, BrainSpire. The all-in-one travel booking platform uses artificial intelligence and dynamic feedback to learn users' preferences and generate itinerary recommendations.
The remaining teams, Kurë Skincare and Denver Sparkling Water Company, each received $750 in microfunding at the end of the night, a new recognition at THE CLIMB this year.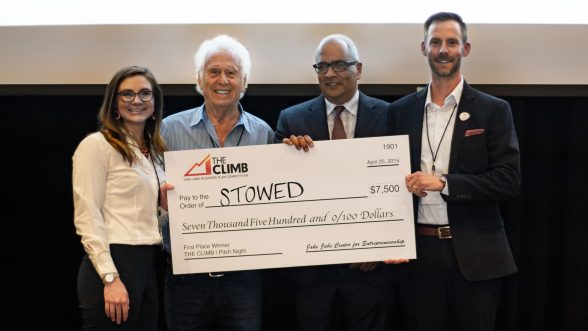 The event also featured a special guest speaker. Caleb Carr, president and CEO of Vita Inclinata Technologies, returned to share his venture's success since winning THE CLIMB in 2018. The growing aerospace company develops stability solutions for helicopter hoisting and sling load missions, including its premier product, the Load Stability System.
In the last year, Vita has secured three Department of Defense contracts (plus two more in the works), submitted seven provisional patents and became a formal U.S. Army partner. Most recently, the company bested 41 other competitors in the 2019 Rice Business Plan Competition and won nearly $700,000 in cash and prizes.
"We started with $0 in my bank account last year," said Carr. "And this week, we closed our series A round of funding at $80 million. We couldn't have done this without CU Denver."
Judges for THE CLIMB included event namesake, Jake Jabs, president and CEO of American Furniture Warehouse; Michael Potts, managing partner of Advance Wave Partners; Stephanie McCoy, COO of Wazee Street Capital Management; and Tyler Coates, senior vice president of enterprise at Zayo. Lauren Whitney, CBS4 meteorologist, emceed the event.
About THE CLIMB | Jake Jabs Business Plan Competition
Ascend to new heights. THE CLIMB | Jake Jabs Business Plan Competition is a business development challenge for collegiate startups based in Colorado. Backed by the Jake Jabs Center for Entrepreneurship at University of Colorado Denver and infamous entrepreneur, Jake Jabs, THE CLIMB is an event series that helps future business owners transform concepts into viable companies through mentorship, education, financial support and real-world industry exchanges. Pitch Night, the series's finale, invites these future business owners to pitch their ideas to a LIVE panel of judges and compete for cash and in-kind prizes.
With more than 500 mentor hours shared and $1 million awarded to date, THE CLIMB celebrates more than 18 years of guiding entrepreneurial thinkers to greatness and empowering them to blaze their own trail.
Presenting Sponsor: Zayo
Platinum Sponsors: American Furniture Warehouse, Launchpad LLC, Tortle
Gold Sponsor: Michael Best & Friedrich LLP
Silver Sponsors: Concept2Exit, Dorsey, Oakbay LLC, Posner Center
Bronze Sponsor: Crestone Capital
About the Jake Jabs Center for Entrepreneurship
The Jake Jabs Center for Entrepreneurship (JJCE) is an entrepreneurship-focused resource center at the University of Colorado Denver Business School. Emphasizing real-world experience, JJCE is dedicated to educating and empowering undergraduate and graduate students to think and act entrepreneurially. Through the Center's advanced certification programs, undergraduate major and graduate specializations, students learn and apply real-world business disciplines in an open and diverse environment.