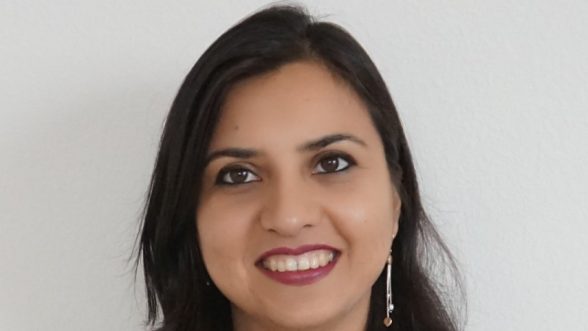 One of CU Denver Business School's biggest sources of gratitude is the opportunity to meet amazing scholars. Every day, the school is honored to connect with brilliant individuals and help them achieve their goals by setting the stage for extraordinary possibilities.
Recently, the Business School caught up with CU Denver alumna Shivali Arora, MS in Business Analytics, director at RayzeBio, and founder and director at Knowledge Isotopes. As a woman, immigrant, and expert in the medical field, Arora has an astounding journey and inspires others by sharing her story.
A Long-Time Passion for Science and Healthcare
Arora reflects on her life as a journey back to science. Since childhood, she was fascinated by the subject and vividly remembers her youthful excitement in exploring it. Her excitement grew into a passion throughout her schooling and culminated in a science degree.
After getting a Ph.D. in molecular biology from the India Institute of Medical Sciences (AIIMS) — the largest medical school in India — Arora worked for Novartis Healthcare as a senior scientific writer and later founded Knowledge Isotopes, a bootstrapped medical writing, communications, and consultancy in India.
When reminiscing about her memorable experiences, Arora recalled working with The Inclen Trust International, an international clinical epidemiology network of 30 countries doing studies of public importance. With other researchers, she had the chance to work on studies on the integrated management of childhood illness as well studies on anemia in women of reproductive age. Her studies in anemia provided a pathway for these women to obtain vital iron supplements. Her work created significant and lasting change, empowering her to continue her research. This ability to improve lives is what gives Arora a sense of satisfaction and drives her to excel.
With 15+ years of professional experience in medical writing, medical communications, and medical affairs, Arora is also passionate about developing clear ways to communicate complex science principles to diverse audiences. She firmly believes in the potential of medical writing to improve patients' healthcare.
When asked what inspired her entrepreneurship, Arora said, "During my tenure at Novartis, I noticed the potential of medical writing and medical communications in India. Science education used to be Indian students' first interest, but there were not many industries where these students could make a career. This demand, coupled with my interest in entrepreneurship, led to the inception of Knowledge Isotopes," To this day, Knowledge Isotopes has completed 400+ projects within medical writing/medical communications for major pharmaceutical companies across the U.S. and Europe.
With this success, Arora plans to establish a base in the U.S. where the market continues to grow exponentially. In fact, according to Grand View Research, the medical writing market is expected to expand at a Compound Annual Growth Rate (CAGR) of 10.41% from 2022 to 2030. Likewise, the communications market was valued at USD 1.35 billion in 2019 and is expected to expand at a CAGR of 18.0% from 2020 to 2027.
Education: A Lifelong Journey
Despite her doctoral status, Arora made the decision to pursue a Master's in Business Analytics at CU Denver in 2020. She exemplifies the Business School's motto of a lifelong learner, "I don't think I have reached success yet; there is always a scope for improvement."
Moreover, her favorite part of her job is the opportunity to learn new things. "I'm always working on multiple projects and interacting with many field experts. This allows me to expand my knowledge."
She confidently said that with the recent completion of the MA in Business Analytics, she is now able to make data-related inferences in her job and feels many steps closer to her dream.
Breaking the Barriers to Success
The road to success can be particularly strenuous for some individuals compared to others. As a woman and a first-generation immigrant in the U.S., Arora encountered many hurdles but she had the extraordinary ability to self-sponsor for an EB1 visa, an employment-based green card.
Despite her achievements, Arora was often underestimated. "I also got asked questions like, "Is your husband also in the medical industry?", or "Is your husband involved in decision making for the company?" she noted.
Fortunately, after some time, these questions became less frequent and people started recognizing Knowledge Isotopes for its services and quality. Arora believes there is no exact recipe to overcome gender-based stereotypes, but small and meaningful strides: "…be persistent, keep progressing towards our goal, and support other women along the way."
With this in mind, Arora feels immensely grateful to be surrounded by many other women. She also feels encouraged to see many women entering the medical writing field. "It is my personal goal to give women a work environment where they can work comfortably, this is why Knowledge Isotopes is a majority-women enterprise." Arora invites more women to enter the STEM field and encourages company leaders to further support women. "As a woman, I draw inspiration from every working woman because they overcame many hurdles to get where they are," she asserted. Arora looks forward to leading the charge for bright women of science to live their dreams and make a difference in their communities.