Ethics OnSite Applications Due
Event Navigation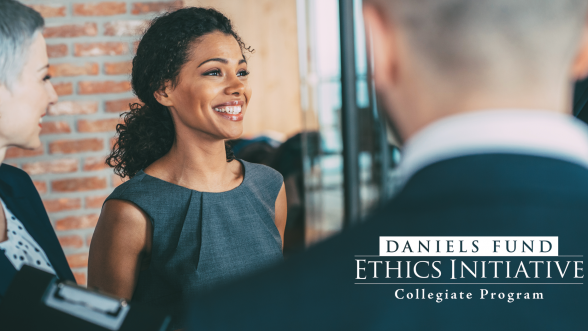 Ethics OnSite takes learning beyond the classroom — and to a whole new level. Successful applicants will spend time on-location exploring ethical challenges and opportunities from some of the nation's leading organizations. Travel expenses will be paid by the Daniels Fund Ethics Initiative at the CU Denver Business School.
Dates and Locations:
Monday-Tuesday, March 9-10, 2020
SAIC
Defense Contracting & Cybersecurity
Reston, VA
Wednesday, March 11, 2020
The World Bank
International Finance
Washington, DC
Thursday, March 12, 2020
BAE Systems
Defense Contracting
Arlington, VA
Requirements:
Applicants must be a CU Denver student.
Applicants must have at least a 3.0 overall GPA.
Applicants for SAIC and BAE Systems must be U.S. citizens. Applicants for The World Bank do not need U.S. citizenship.
Applicants may apply to participate in one, two or all of the programs, however, there is not an option for students to participate in the SAIC and BAE Systems programs without participating in The World Bank program as well.
Please note that to ensure broad participation among the CU Denver student body, many students will only be selected to participate in one of the three Ethics OnSite programs.
Deadline to apply: Wednesday, February 5, 2020 at 11:59pm. Spots are limited and early applicants will receive preference. Apply here: http://bit.ly/ethicsonsitespring2020
Questions? Contact Ira Selkowitz at ira.selkowitz@ucdenver.edu or 303.315.8409.