Nominations deadline for Ethical Leader of the Year
Event Navigation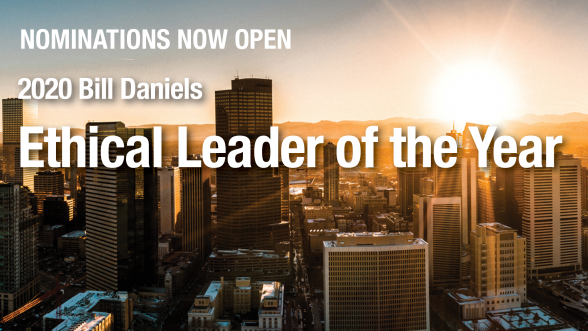 We're looking for inspirational leaders that are committed to ethics and integrity in our community. 
These are exceptional times in which we are living and an unwavering commitment to principle-based ethics in business is as important as ever.
We know the Denver area is home to many extraordinary business leaders who share Bill Daniels' commitment to ethics. Please help identify and recognize these leaders by nominating someone you know for the 2020 Bill Daniels Ethical Leader of the Year award. Previous award recipients have at least one thing in common: they all consistently use ethical principles to guide their personal and organizational decision-making. Does this sound like a business leader you know? Nominate them today!
Nominations are due no later than Friday, September 4, 2020 at 11:59pm.