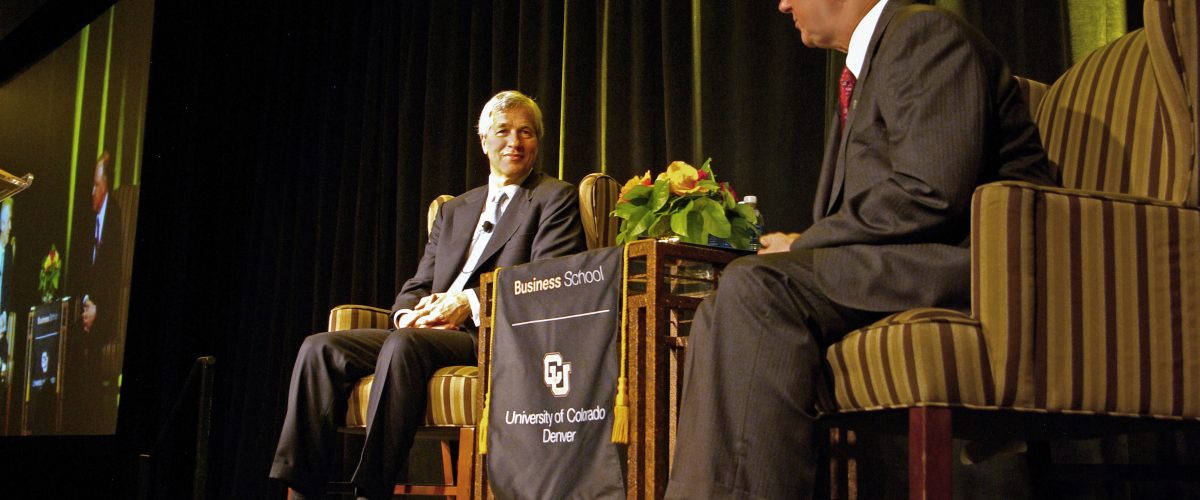 DENVER – JPMorgan Chase & Co. chief Jamie Dimon headlined the Business School's 13th – annual Celebration of Success dinner Thursday evening, May 19, where he warned of  economic catastrophe if the U.S. defaulted on its loans, a scenario he predicted would `dwarf' the collapse of former banking giant Lehman Bros.
"Think of Lehman times ten," he told the packed audience at the Grand Hyatt Denver downtown. "It would be immoral for the U.S. to stop paying its debts."
While his message was somber at times, the mood inside the room was decidedly upbeat. Some 650 people turned out for the dinner, one of the most prestigious events in the Denver business community. And thanks to their generosity, the Business School raised over $270,000 for scholarships. Over the years it has generated $3.5 million.
The scholarship winners met privately with Dimon before the event for a free-wheeling question and answer session. One student, Elizabeth Escobar, asked if he ever imagined that he would someday be running a $2.2 trillion company.
"I wanted to build something great but I didn't think it would be this great," he replied.
Fellow student Karly Porter asked how he handled failure and disappointment.
"I was fired once and then I realized that it was okay," he said. "You have to deal with failure, in fact, how you deal with failure is more important than how you handle success."
Before Dimon's talk, Escobar, a Reisher Scholar, took the stage to tell her story, a story of violence, poverty and ultimately deliverance.
Born in a politically volatile Guatemala, Escobar knew she was a good student but had little chance to shine. Meanwhile, she routinely dealt with random violence. One day her bus was hijacked by armed men who kidnapped a girl on board and Escobar herself was targeted on another occasion.
"I felt trapped," she said.
Her mother finally got the family a U.S. visa and they arrived here in 2008. Escobar now works three jobs and is studying at the Business School to become an accountant.
"Thank you for celebrating my success by helping me achieve my dreams," she said.
Dimon came on stage, sitting opposite guest moderator Tom Petrie, vice chairman of Bank of America Merrill Lynch, who asked questions and handled queries from the audience.
Open and forthright, Dimon rejected the idea that Wall Street bankers were inherently greedy and have paid little price for the economic collapse that ushered in the current recession, the worst economic downtown since the Great Depression.
"We have dealt with an onslaught of anger. Our people get death threats, they get white powder sent to them in the mail," he said. "I once had a congresswoman tap me on the shoulder and say, `You are the devil.'''
On the contrary, he said, his employees are dedicated, hard working people who try to do the right thing. He said his company took federal TARP money only because it was essentially forced on them and paid it back soon after.
"We got $25 billion but lent the government $200 billion," he said.
Petrie reminded Dimon that the New York Times had described him as America's least hated banker.
Dimon said the nation was two-thirds through the recession and the housing market was slowly stabilizing.
As for the current debate in Washington over whether the U.S. should raise its debt ceiling, Dimon warned that failure to act by August would be disastrous.
"I am sympathetic to all those who want to use this moment to take tough action but all this partisan fighting is not good for the economy," he said.
Still, he said America has been through tough economic cycles before and remains the most powerful economy on earth with the best universities and best companies. But without real leadership, he warned, that would not be true in 30 years.
Asked if he would run for president, Dimon issued a firm, `No.'
After his talk, University of Colorado President Bruce Benson announced a gift from Business School alumnus George H. Solich, CEO and Tad Herz, CFO, of Cordillera Energy Partners for a Wall Street-style commodities trading center on the first floor of the new Business School building.
Unlike trading facilities in other universities, this one will provide a comprehensive education in a broad array of commodities, including energy, minerals, agricultural goods and other products. Solich not only provided the lead gift toward creating this center; he also played a pivotal role in its development.
The Business School had considered a finance training center for years, but Solich suggested a commodities focus to leverage the school's core strengths in risk management, finance and energy while building on Colorado's rich energy, mineral and agricultural heritage.
"This will allow our students to receive a comprehensive education in a wide array of commodities trading," Benson said.