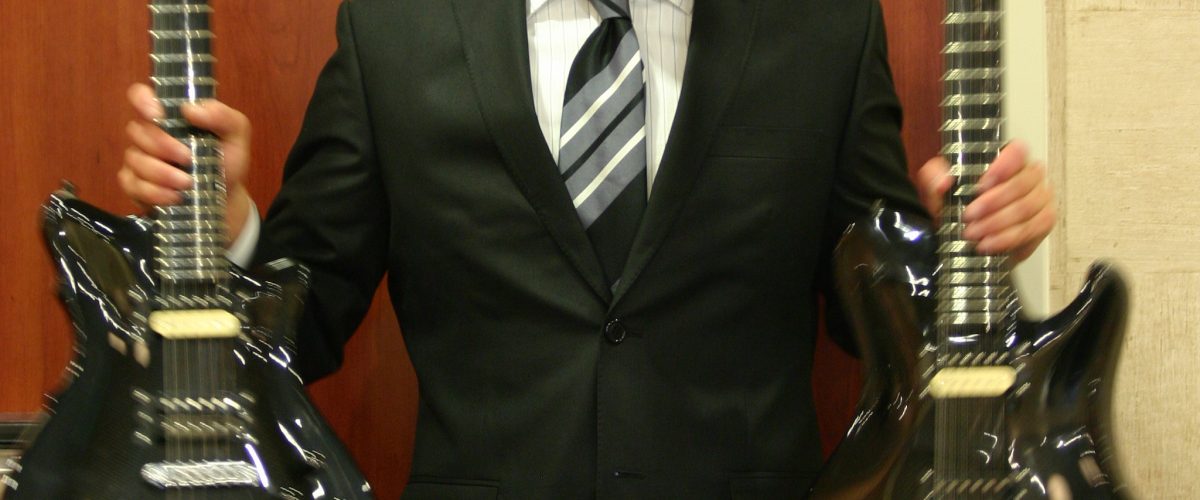 Viktorian Guitars wins $10,000 in contest
DENVER – The makers of a high-tech, carbon fiber electric guitar walked away with first place Thursday in the 10th annual Business Plan Competition sponsored by the University of Colorado Denver Business School's Bard Center for Entrepreneurship.
"I'm elated to bring this new technology to Denver," said Josh Jacobson, CEO of Viktorian Guitars which won $10,000 for its first place showing. "I graduated in 2009 with an MBA from CU Denver but this is really the beginning of my career."
Microscopy Learning Systems, which hopes to improve the teaching of microscope-based subjects, took second place with $5,000.
RoomCycle, a business that aims to provide bicycle fleets to hotels, came in third, winning $2,500.
The three were among six finalists who presented their plans Thursday to a panel of three judges –   Chris Onan, Appian Ventures; Nim Patel, iSherpa Capital & Mobile Accord; and Dave Ryan of Green Spark Ventures.  The competition was held at the Hilton Garden Inn in downtown Denver.
After each presentation, the judges quizzed the entrepreneurs on the financial viability, projected growth and profitability of their idea. The winning plan was chosen on its completeness, management team, research, and the ability to actually carry it out.
A confident Jacobson told the panel that he had been playing guitars since he was 14 and had experienced nothing but problems. They broke, they warped, the sound changed. He noted a worldwide shortage in the kind of wood – tonal wood – needed to produce guitars. So his company devised a carbon fiber composite electric guitar that he said sounded better than wood, was extremely difficult to break and lasted far longer.
"Yo Yo Ma uses a carbon fiber cello because it sounds better," Jacobson told the judges. "And we are looking to capture the high-end guitar market."
Jacobson also said that famed guitar designer, Boaz Elkayam, works at Viktorian. The company currently produces three kinds of guitars. More information is available at www.viktorian.com.
The Business Plan Competition is designed for early stage companies that have received no Angel or Venture funding and that have generated little or no revenue to date. The competition provides these early stage ventures with an opportunity to test their ideas and receive meaningful feedback from a panel of judges. It also provides exposure to an audience of business leaders.
CU Denver Business School Dean Sueann Ambron said building entrepreneurial skills is a major focus of the school.
"I came out of Silicon Valley and I didn't know there was any other kind of business except entrepreneurship," she told the audience shortly before the winner was announced. "We have built unique programs in risk management insurance, health care management, energy and we will soon be launching a commodities trading center in 2012."
The keynote speaker was Stephen Katsaros, a former Business Plan competition winner who founded Nokero, a company that produces solar-powered light bulbs. Katsaros has sold more than 100,000 solar bulbs in 70 countries in an effort to reduce the carcinogenic effects of burning kerosene.
He told the finalists that they needed to network and stay connected to the Bard Center.
"This is the hub of entrepreneurship in Denver," he said.
All six finalists were University of Colorado graduates.
The bottom three won $1,000 each along with access to Bard Center incubator programs and other benefits. They were Clubhouse Executive Coaches, a luxury commuter bus service; The Ski Lift, a website offering ride shares to ski resorts and other services and Vanguard Medical Systems which is creating a device to curb the symptoms of Parkinson's disease.
The Bard Center for Entrepreneurship was established in 1996 as part of the CU Denver Business School and aims to help students start successful businesses. The center is unique in providing classes, scholarships, internships, access to mentors and alumni networks to enterprising business leaders.
Located on the University of Colorado Denver's downtown campus, the University of Colorado Denver Business School is the largest accredited graduate school of business with more than 21,000 alumni in Colorado. The school serves 1,450 graduate students and nearly 1,700 undergraduate students each year. Students and faculty are engaged in solving real-world business challenges as they collaborate on more than 100 projects with area businesses every semester through classroom work, guest lectures and research projects. Full-scale renovations are underway at the Business School's future home at 1475 Lawrence St. in downtown Denver. The doors will open to the first students in January 2012. We are building a great Business School in the heart of a great city.