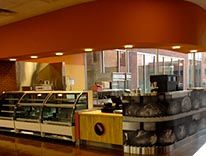 Beyond the new location, the newest Udi's represents a new concept for the company, as none of the company's other locations include a juice bar. In addition to providing fresh fruit juices and smoothies, Udi's will serve coffee drinks, salads, and sandwiches, and pastries. Udi's will bake the bread and pastries served at the Juice Bar, Café and Bakery on-site, something not offered by the company's other five cafes, ensuring patrons have access to extraordinarily fresh baked goods. Beginning January 22nd, Udi's Business School Building location will be open Monday-Friday 7am-3pm.
Udi's began business in 1994, founded by Udi Baron and his wife Fern as "Udi The Sandwich Man." Since then, the company has grown to include has grown into six thriving family businesses: a local artisan bakery, a catering company, five cafes, a new middle eastern restaurant called Pickled Lemon, and national companies Udi's Gluten-free and Udi's Granola.
Read the Westword article for a menu and more information.