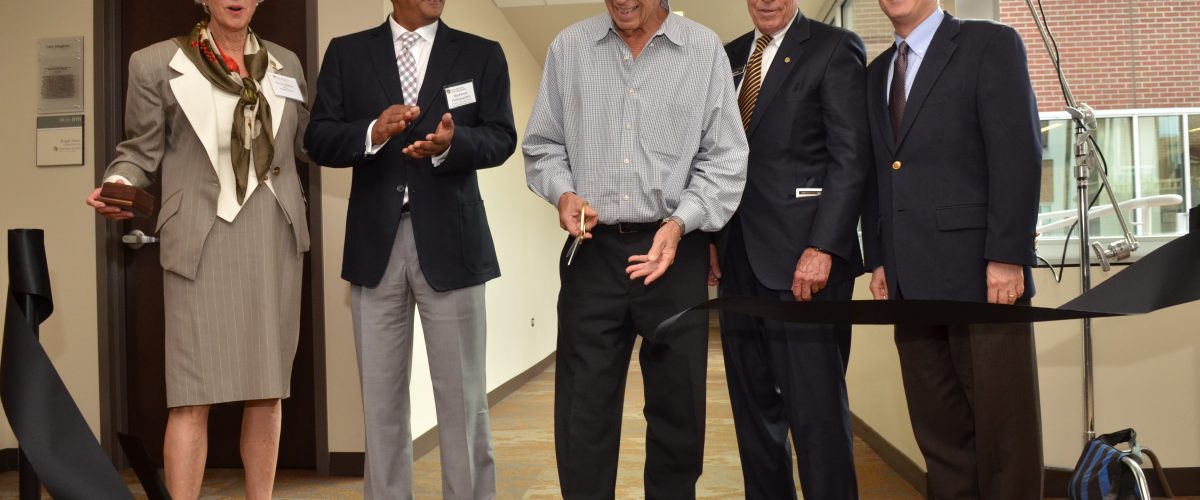 Center to dramatically expand entrepreneurship education, research, programmatic reach and caliber
Jake Jabs' vision to provide students in the Rocky Mountain region with an unrivaled education in entrepreneurship became a reality on Aug. 29 when the Jake Jabs Center for Entrepreneurship officially opened in the CU Denver Business School.
More than 150 people — including faculty, staff, students and local business and political leaders — gathered on the Business School's fifth floor to cut the ribbon on the Jake Jabs Center for Entrepreneurship. Speakers included Business School Dean Sueann Ambron, University of Colorado President Bruce Benson, U.S. Rep. Mike Coffman, Madhavan Parthasarathy, director of the Jake Jabs Center for Entrepreneurship, and Jabs, president and CEO of American Furniture Warehouse.
In May, the Business School announced that Jabs made a $10 million contribution to dramatically expand entrepreneurship education, research, programmatic reach and caliber.
"Thanks to Jake, students across the Rocky Mountain West will have access to the best entrepreneurship education, mentoring and learning about how to launch successful companies," Ambron said. "It will make a huge difference in our world. … With Jake's vision and the new Jake Jabs Center for Entrepreneurship we will grow companies and play a key role in growing the economy of the region and the nation."
Jabs' up-by-the-bootstraps personality infuses the new center, which was previously named the Bard Center for Entrepreneurship. Music from one of his CDs played in the background before the speakers took the podium, and Jabs placed one of his guitars in his fifth-floor office. The center includes a wall featuring Jabs' '39 Keys to Business Success.'
The fourth of nine children raised in a poor family, Jabs got his business start by operating a music store in Montana.
Benson said that Jabs is to be commended for his business acumen and willingness to give back. Benson noted that Montana State University, Jabs' alma mater, is also a beneficiary of Jabs' generosity. "He's been mentoring and teaching students here at CU Denver for a long time," he said. "So, Jake, you're the kind of person we need here doing entrepreneurship."
Coffman, who has likewise run a business, lauded Jabs' success and recommended that everyone read Jabs' book, "An American Tiger." "It outlines his career as an entrepreneur and it tells you that if you believe, if you work hard, if you're willing to take the risk, that you can make that American dream come true."
Parthasarathy said Jabs has been mentoring CU Denver Business School students for seven years and he can't think of a better person to name the entrepreneurship center after. "He made it the good old-fashioned way," Parthasarathy said. "And those are the very values that we at the Jake Jabs Center for Entrepreneurship want to instill in our students."
Before the music came back on and guests — who included members of CU Denver and CU Foundation leadership, as well as the Business School's Entrepreneurship Council — began touring the new center, Jabs stressed that being an entrepreneur is about finding your passion.
"Money is a byproduct of giving value and service, and hopefully I can instill that message here — don't do it for the money," he said. "Do it for the ride, the journey, that you're doing something good, that you're giving back."
With his gift, the Jake Jabs Center for Entrepreneurship will expand its annual Business Plan competition to encompass universities throughout Colorado and the West.
He also made a point to highlight his favorite part of the last seven years: working with the students. "One of the things I've learned about the kids who go to school here is that they really listen and pay attention," Jabs said. "They're really interested in being entrepreneurs."
Jabs' gift is one of more than 275,000 gifts made during Creating Futures, a $1.5 billion fundraising campaign to enhance University of Colorado education, research, outreach, and health programs benefiting citizens throughout and beyond Colorado. Visit cufund.org for more information.
(Photo at top: Cutting the ribbon to celebrate the grand opening of the Jake Jabs Center for Entrepreneurship in the CU Denver Business School are, from left: Business School Dean Sueann Ambron; Madhavan Parthasarathy, director of the Jake Jabs Center for Entrepreneurship; Jabs, president and CEO of American Furniture Warehouse; University of Colorado President Bruce Benson; and U.S. Rep. Mike Coffman. Photo by Casey Cass.)