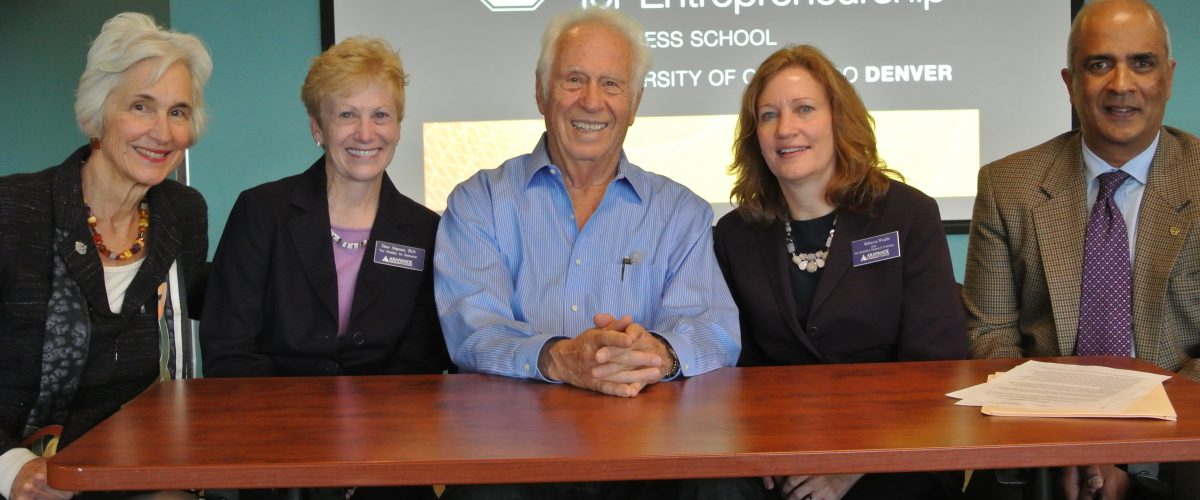 Jake Jabs Center for Entrepreneurship collaborates with Arapahoe Community College on innovative program
Pathways to success come in many forms. Entrepreneurial-minded students are just as interested in reaching their potential as anyone, but they often seek alternative educational paths.
Enter "Launchpad," a new Entrepreneurship Certificate pioneered in collaboration between the Jake Jabs Center for Entrepreneurship and Arapahoe Community College(ACC). The aptly-named program builds on the technical education students receive in community college and gives them added educational fuel for a possible launch—into business ownership or a bachelor's degree program.
A major advantage of Launchpad, besides its academic rigor, is the easy access it provides a variety of aspirants—be they community college students or advanced-degree holders, said Madhavan Parthasarathy, Ph.D., associate professor and director of the Jake Jabs Center for Entrepreneurship at the CU Denver Business School. Students in the south metro area, including those attending ACC, will also benefit from the option to complete the certificate at the new CU South Denverfacility at the Liniger Building in Parker.
Pictured from left are Sueann Ambron, dean of the CU Denver Business School; Diane Hegeman, vice president for instruction at Arapahoe Community College (ACC); Jake Jabs; Rebecca Woulfe, Business dean at ACC; and Madhavan Parthasarathy, director of the Jake Jabs Center for Entrepreneurship. Woulfe is signing the memorandum of understanding between the Jake Jabs Center for Entrepreneurship and ACC.
No prerequisites are needed to enter the innovative five-course program. ACC offers an Introduction to Entrepreneurship class that can apply to the certificate, which is accredited by the Association to Advance Collegiate Schools of Business (AACSB).
"The Launchpad program will give students the spark, the pathway they need to look into starting their own business, regardless of whether they use it as a portal to our bachelor's degree programs," Parthasarathy said. "No other university is doing this. It's an inexpensive trial of university courses and an excellent introduction to fundamental entrepreneurial concepts."
He added that students take no risk in exploring the program, which can be completed in one semester. If they like the certificate curriculum, students can simply roll the five entrepreneurial courses into CU Denver Business School coursework should they continue toward a bachelor's degree.
Launchpad students will also enjoy access to the speaker series, special programs and the Jake Jabs Center for Entrepreneurship Startup Incubator that are open to other CU Denver Business students. The Best of Colorado Speaker Series brings in the state's most accomplished entrepreneurs to share their experiences, while the annual Jake Jabs Center Business Plan Competition allows students to develop high-caliber business plans and compete against entrepreneurs from across the Rocky Mountain region. The capstone of the certificate program is the Business Plan Competition class.
Through the partnership with ACC, the Jake Jabs Center for Entrepreneurship will pilot two Launchpad classes this spring—Lean Startup and Leadership in New Ventures. Both are condensed, hybrid courses offering a combination of classroom and online instruction. The full program will kick off in summer 2015 with cohorts at the CU Denver Business School in downtown Denver and at CU South Denver.
Launchpad ties in directly with ACC's goal of providing students with avenues to success. "We are committed to helping our students progress easily from one level to the next in their academic pathway," said ACC President Diana Doyle, Ph.D. "Also, being in close proximity (to the Liniger Building) we're hopeful we can engage in a number of articulations to ease the transference of students from our programs to CU Denver's programs."
Diane Hegeman, ACC vice president for instruction, shakes hands with Jake Jabs after signing an MOU on the Launchpad program.
ACC Vice President for Instruction Diane Hegeman, Ph.D., said ACC's programs provide students technical skills in a wide spectrum of fields, such as multimedia graphics, interior design and automotive technology. Launchpad's coursework builds on those skills, she said, giving students information on how to launch a business.
Parthasarathy expects the program will draw interest, and subsequent scholarship support, from foundations and companies that champion higher-education access for students from a variety of backgrounds.
The Launchpad concept sprang out of several brainstorming sessions, including with ACC. Parthasarathy said he informed other Denver-area community colleges about the collaborative effort, and several have expressed interest in exploring a similar program. "The hope is that this program can grow and benefit other community college students as well," Parthasarathy said, "but the cohort at the Liniger Building at CU South Denver will be exclusively with ACC."
He noted that Launchpad's hybrid classes will offer another element of flexibility for today's busy students, many of whom hold down jobs and family obligations. "Students get to hear the entrepreneurial experiences of the many speakers and mentors who come to class, and then they also have the convenience of the online coursework," he said. "By making it an undergraduate certificate program we open the doors to a very wide spectrum of people."
If you would like more information contact Sarah Engel.
(Photo at top: Pictured from left are Sueann Ambron, dean of the CU Denver Business School; Diane Hegeman, vice president for instruction at Arapahoe Community College (ACC); Jake Jabs; Rebecca Woulfe, Business dean at ACC; and Madhavan Parthasarathy, director of the Jake Jabs Center for Entrepreneurship.)