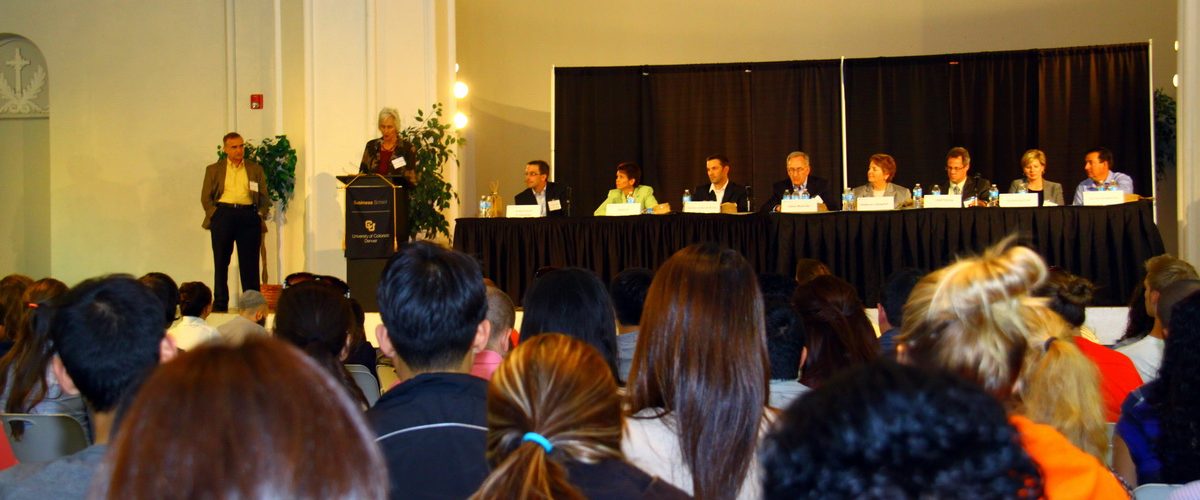 Nearly 300 alumni, undergraduate and graduate students, and members of the community squeezed into St. Cajetan's on the Auraria campus on October 21. The Center for Information Technology Innovation and Information Systems Association hosted the 9th annual Business Leaders with an EDGE Executive Panel event. The business leaders from some of Colorado's premier companies discussed Information Technology industry outlook and how information technology is an integral part of every aspect of business and what they see as the future of business and information technology.
"The event caught my attention when the moderator started the discussion about the unemployment rate of IT professionals. I was surprised to learn that the rate was merely 1.75%.  I could only imagine the amount of hope and joy that my fellow students may have felt after hearing those numbers."
Ted Hellmuth from Robert Half Technology moderated the event. He began by mentioning some startling news from the U.S. Bureau of Labor Statistics about the third-quarter 2014 unemployment rates for select technology positions. The unemployment rate for
Computer and information research scientists: 0.5%
Chief executives (includes CIO): 1.2%
Network and computer system administrators: 1.8%
Computer systems analysts: 2.2%
Computer programmers: 2.3%
Information security analysts: 2.6%
Software developers, applications and systems software: 2.6%
Database administrators: 2.7%
Computer network architects: 3.1%
Web developers: 3.7%
Computer support specialists: 4.6% .
He added that you can practically write your own tickets by having IT skills.
Panelists this year included:
Mark Bell, Managing Director in Advisor Services Technology, Charles Schwab & Co
Alan Cullop, Chief Technology Officer, DaVita
Sherri Hammons, CTO, IQ Navigator
Albert Kendrick, CTO, First Bank
Mary Anne Leach, Certified Healthcare CIO, Children's Hospital Colorado
Wendy Pobirk, Vice President Strategic Planning, Oracle
Randy Weldon, Director of Supply Chain Management, Johns Manville
"The discussion about the professional networking, and internship/job search tips, made me understand the importance of online/offline networking for successful career outlook."
One topic stressed were interview skills. One panelist commented prospective employees are so stressed about knowing skills for the job, they forget how to act in an interview. "Do your homework on the company," continued another panelist. "It's not enough to know how to do the job; there are just some things you won't know how to do until you work with us for a while. Do your research on the company before the interview. Make sure the company is a fit for you."
"One of the things I liked hearing the most from the panelists was the idea that integrity is paramount to success. That goes for all outlets of business not just security. Without integrity and trust you don't have much."
"Become a Business Leader with an EDGE" was sponsored by CLEAR PEAK, Robert Half Technology, and the Student Government Association.
For more information about the Information Systems program, visit the program page.
Check out the Information Systems Association page for more information about this student organization.