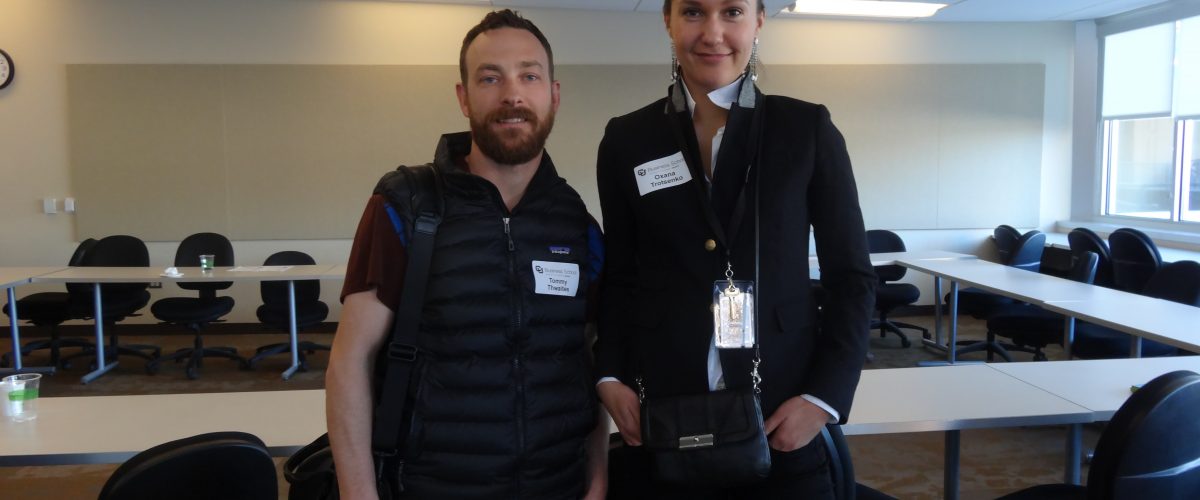 The best way to learn about sustainability is working with a real, local company and using classroom theory to improve that company. What if you had the opportunity to present your findings to not just the company owner, but a boardroom full of sustainability professionals?
CU Denver Business School students Oxana Trotsenko, Albert Bryant, and Justin Steck worked with Coda Coffee Company during the Fall 2014 semester as part of their Managing for Sustainability (M4S) specialization. On Tuesday, February 3, the group presented their findings to Coda co-owner Tommy Thwaites and a boardroom full of professionals on the M4S Advisory Council.
Through the Sustainable Business/CSR Field Study course (MGMT 6824), Trotsenko worked with Coda Coffee in the Fall 2014 semester. As an MBA student with an M4S emphasis, she says this was a great opportunity to get hands-on experience, network, and work in a team setting. It also lead to a great relationship with the owners:
"Tommy and Tim did an excellent job in collaborating with us and giving us an 'insider' look and an overview of the business. It was very interesting to learn how their business was structured, and how it operated. I gained so much knowledge about coffee, the coffee roasting industry, coffee farming, supply chain, and coffee distribution."
Trotsenko and her team assisted Coda with reapplying for B Lab certification through B Corporation, a non-profit that measures the social and environmental impact of for-profit organizations. B Lab certification requires measuring performance in four indicators: governance, workers, community, and environment; it can take several months to collect enough data. This is especially hard for small businesses like Coda.
"They really helped motivate us to finish the recertification," said Tommy Thwaites about working with Business School student groups. "It's really daunting, collecting all this information. We knew we needed to finish because their course grade depended on it."
It paid off. Coda originally worked with a Business School student group in 2013 for their first B Lab certification. Following the completion of the Fall 2014 group, Coda was recertified for another two years.
"I love coffee," says Trotsenko. "From a coffee connoisseur perspective, I hit the 'jackpot.'"
For more information about the Managing for Sustainability specialization, click here.