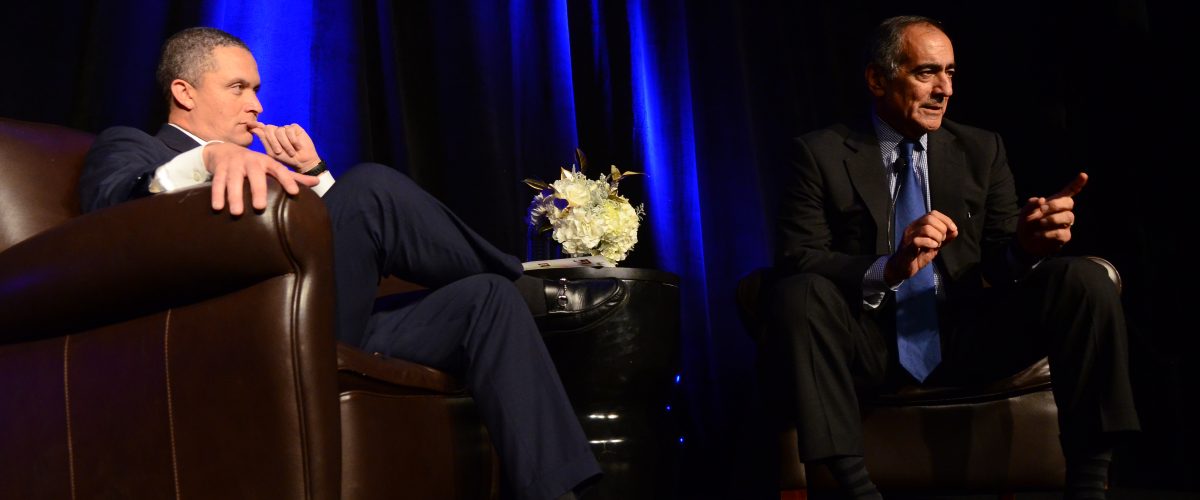 'Ambron Knowledge Exchange' conference room, interim dean announced at fundraiser gala
The financial crisis of 2008 was characterized by panicked politicians, bankers and regulators. During the global meltdown, John J. Mack, chairman and CEO of Morgan Stanley, stayed calm.
Mack, regarded as one of the most distinguished and influential leaders in the global finance industry, had been through plenty of pressure-cooker moments during his career. "By the time of the crisis, I had enough experience and hits and wins and losses that I was much cooler and calmer. I didn't feel the same stress," he said. "The issue to me was to get financing for the firm."
Mack, senior advisor, former chairman and CEO of Morgan Stanley, candidly discussed that tumultuous time as well as a range of topics—leadership, geopolitical concerns, technology and entrepreneurship—as featured guest speaker at the CU Denver Business School's 2015 Celebration of Success on April 28. A sellout crowd of 650 people attended the scholarship fundraising event at the Imperial Ballroom of the Grand Hyatt.
Over the years, Denver's business community has joined with the Business School to raise more than $3.5 million (including an estimated $400,000 this year), benefiting thousands of students. Also, several deserving faculty members have been awarded fellowships.
In addition to the many Business School scholarship recipients, the spotlight also shined onBusiness School Dean Sueann Ambron, who will retire in early July as CU Denver's longest-serving dean. Chancellor Jerry Wartgow said Ambron, who became dean in 2000, integrated the CU Denver Business School into the region's business community, launched innovative programs and established one-of-a-kind research centers. He also lauded her leadership in transforming the Business School from a "1980s-era corporate office building to a first-class educational facility." Wartgow said that during the building's renovation, Ambron had hoped that someone would name a space the "Knowledge Exchange," reflecting the school's design of openness and collaboration.
"Well, Sueann, your wish has been granted and I'm happy to announce the 'Sueann R. Ambron Knowledge Exchange' conference room," Wartgow said. "More than 150 people—including faculty, staff, community members, board of advisors, advisory council members and other friends of the school—contributed to the cause of naming this space after Sueann. How's that for a legacy?"
Wartgow said Ambron leaves "very big, big shoes to fill" as the university continues its national search for a new dean. He announced that Gary Kochenberger, PhD, (at left) professor and co-director of Business Analytics, has graciously agreed to serve as interim dean.
Also speaking at the dinner was Connie Jimenez, the Business School's honored scholarship recipient. In her first year of studies, Jimenez helped create a marketing strategy for KOTA Longboards, and worked on an international business strategy for a Denver-based brewery. She will serve as a student ambassador for CU Denver to establish an international student network. Jimenez thanked the generous donors who made her scholarship, the Dean's Super Merit Scholarship, and others like it possible. She explained that, when she was 13, her family fled their native Venezuela to seek political asylum. Losing everything caused her to see things differently, Jimenez said.
"The Super Merit Scholarship gave me exactly what I needed to succeed," she said. "That was time. With time, instead of having to focus on my financial situation, I could actually stop and think and innovate."
During his talk, Mack gave insights into some of the dark days of 2008. He said a blend of quick thinking, strong international relations and firm leadership pulled Morgan Stanley through the crisis. Mack told of a tense conference call he had with Hank Paulson (Secretary of the Treasury under President George W. Bush), Ben Bernanke (then-chairman of the Federal Reserve) and Timothy Geithner (then-president of the Federal Reserve Bank of New York). He said he was being pressured to sell Morgan Stanley at a deep price-per-share discount to another financial firm. "I said, 'The three of you are patriots and I'll always respect what you've done for this country, but I won't do it. I'll take the firm down first (before selling),'" he said. "And I hung up on them. It took me two years to realize how stupid that was. It worked, though."
Relationships Morgan Stanley had forged through the years with financiers in Asia paid massive dividends as they played a key role in re-capitalizing Morgan Stanley. "People talk about the banking business as dollars and cents and crossing t's and dotting i's, and clearly it's that," Mack said. "But it's also about relationships and trust, and it's about doing the right thing."
Mack retired from Morgan Stanley in 2011 and currently serves on numerous boards, both domestic and abroad. During a dialogue with moderator Harold Ford Jr., Morgan Stanley managing director and former U.S. Representative, Mack also addressed these topics:
Leadership: "It's about how you treat people. I think business should be personal. I get engaged in it, and I want people to know that I've got their back."
Advice to college graduates: "Take some risks … The ability to create and build, to me, is very exciting. If I were 21 or 22, that's exactly what I'd be doing."
Biggest risks to economic growth in the United States and globally: "Terrorism … To me, it's the biggest issue. The second issue is cyber security. I think we underestimate how important cyber security is to how we run our businesses and the information we have."
Politics: There's a disturbing lack of will to compromise and find middle ground, by both Republicans and Democrats, he said. "We have a country that's beginning to grow again economically, but you don't see the leadership coming out of Washington." Addressing young people and why they should vote: "You've got to get out and try to create change, and get political leaders who know how to compromise and get things done."
He received applause for the latter remark, as well as his upbeat view of today's young business talent, many of whom he met on a tour of the Business School on Tuesday. Mack works closely with young entrepreneurs through his focus on technology start-ups. "To be around these young men and women is one of the most exhilarating things I've done," he said.
Young professionals have a "different view" of the business world, Mack said. "They want to be successful, they want to build business and they want to make money, but they don't look to take the last penny off the table," he said. "Clearly, I think we have a new generation of entrepreneurs that have the right vision, have the right goals and really want to make a difference in how … the world lives and how it works."
Mack also complimented the entrepreneurial instincts of Ambron, who has hinted that she doesn't exactly plan to retire in her retirement. "I said to (Ambron), 'When you go on to do whatever it is, I want you to call me. I want to be your partner.'"
Denver community and business leaders have lent consistent support for the Celebration of Success by acting as dinner chairs. This year's presenting sponsor was Morgan Stanley and diamond sponsors were The Anschutz Foundation and Bow River Capital Partners. Gold sponsors were: Ellen Balaguer & Mark Chase, Reynolds & Maureen Cannon, Charles Schwab & Company, Inc., Citywide Banks, Colorado Rockies Baseball Club, FirstBank, FourPoint Energy, MDC/Richmond American Homes Foundation, PwC, and The Northern Trust Company.
2015 Celebration of Success In the news
[link-library categorylistoverride="899″]