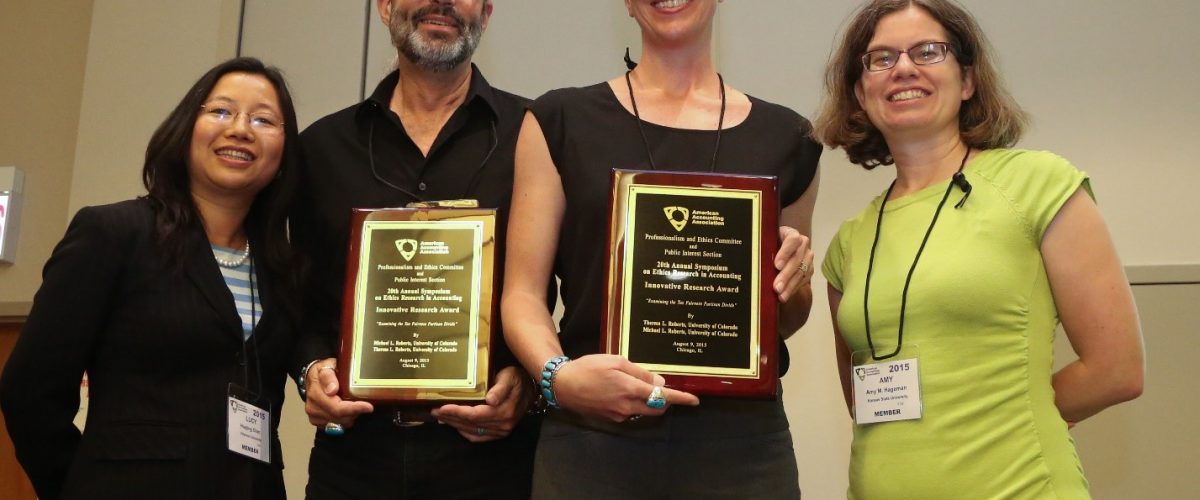 In August, Accounting Professor Michael Roberts and Theresa Roberts, an MS in Accounting student, won the Innovative Research Award for the 20th Annual Symposium on Ethics Research in Accounting, presented by the American Accounting Association (AAA).  The award was made jointly by the Professionalism and Ethics Committee and by the Public Interest Section of the American Accounting Association.  Over 70 research projects were submitted, however, Dr. and Ms. Roberts' innovation with research methodology and design, together with a surprising finding of fairness differences compared with many national polls on this subject, resulted in this award.
Dr. and Ms. Roberts' research, "Examining the Tax Fairness Partisan Divide," focuses on attitudes about tax fairness and how they relate to the partisan differences that are acted out in the federal government.  In other words, how a liberal or conservative attitude may affect a person's outlook on the fairness of different families' income taxes compared to their overall incomes.  Currently, there are two major, competing solutions offered by politicians: the liberal solution of a steeply progressive tax (higher tax rates on higher incomes), and the conservative solution of a flat-rate tax (taxes that are proportional to income).
This research makes a number of contributions.  First, it expands upon justice theory work that has been used previously in examining tax fairness.  Second, it incorporates political ideologies. Third, the research develops a new measure of tax ideology. In addition, the research examines how tax ideology can predict judgments of tax fairness.
According to Prof. Roberts, the Business School played a major role in facilitating the research, from providing a place to conduct the research, to providing participants.  Many faculty and MBA students assisted in the research.
This is not the first notable research from Dr. Roberts this year. In May of this year, his research on sales and excise taxes was featured across many accounting sites.
To find out more about the many opportunities in the MS in Accounting program, please follow this link.