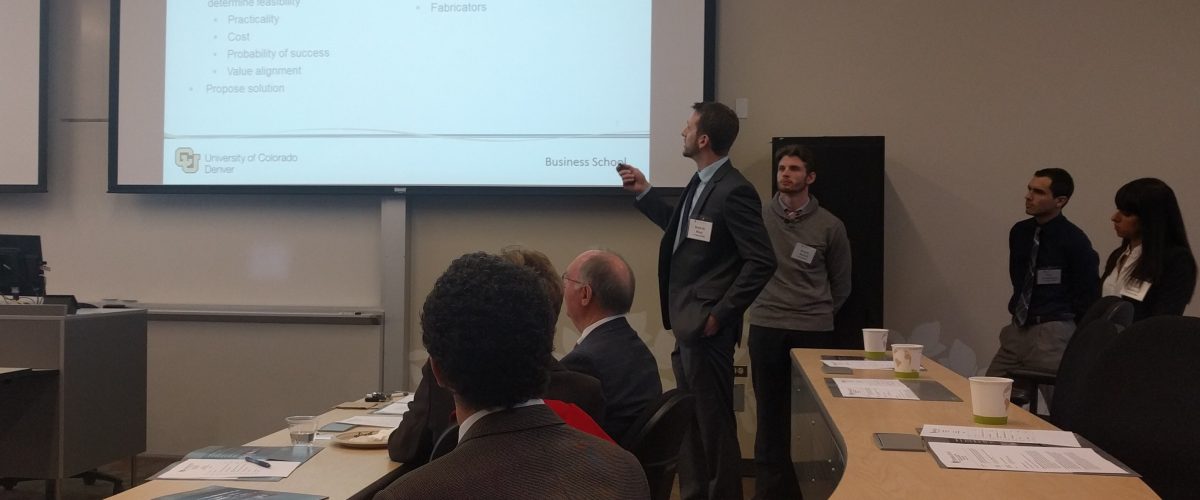 During the fall term, a team of 11-Month MBA students partnered with executives from Larimer Square to develop new business ideas for enhancing the amenities offered to the growing downtown workforce and population. Students were challenged to recommend cost-effective solutions for waste management from existing and prospective new businesses in downtown Denver, along with investigating the option of adding new amenities such as bike storage and facilities to the area.
Larimer Square, Denver's first and oldest downtown shopping, dining and entertainment district, is a one block area on Larimer Street located between 14th & 15th. Larimer Associates is the management and investment company that operates Larimer Square, and has been integral in the rejuvenation and success of this block. The Larimer Associates team has been visionary in revitalizing downtown, and making Larimer Square a "must visit" destination for visitors from all over the world.
The CU Denver Business School building shares an alley with the southeast side of Larimer Square, making it an attractive and convenient destination for students. This project partnership came out of conversations between Larimer Associates and the CU Denver Business School regarding opportunities for leveraging the shared alley space.
The outcomes of the collaborative project were positive, generating a variety of new ideas and fresh perspectives. The Larimer Associates team will be using the insights they gained from the group to further shape the growth of this area, including the implementation of a waste management solution recommended by the student group.
"It was a great opportunity to collaborate with the CU Denver Business School students to generate new ideas to enhance the visitor experience on the block," said Jeff Hermanson, chief executive officer of Larimer Associates. "We think it is incredibly important to keep things fresh on Larimer Square, always thinking about who or what should be added into the mix. We were impressed with the enthusiasm and professionalism of the student team as well as their creativity to bring new ideas to Larimer Square."
The 11-Month MBA is a full-time, accelerated program that allows students to earn their degree in less than a year. Given the fast pace, students are not able to participate in summer internships that are common in traditional MBA programs. The Business Collaboration projects are an opportunity for students to develop skills and gain exposure to new industries, while in class. For this particular project, students partnered with recent alumni, local civic groups, CU Denver leadership, and international businesses in these industries.
Of the project, student Ken Greenbaum said, "Working with Larimer Associates was a great opportunity to gain experience in a field outside of my past work experience, apply some previous skills to a novel situation, and be responsible for delivering meaningful results to a client. Also, this particular project afforded me the opportunity to form new relationships within the University and collaborate with my classmates on something outside of our coursework."
For more information on Larimer Associates, please visit their website.
For more information on partnering with the 11-Month MBA students on Business Collaboration projects, please contact Jill Lohmiller at jill.lohmiller@ucdenver.edu