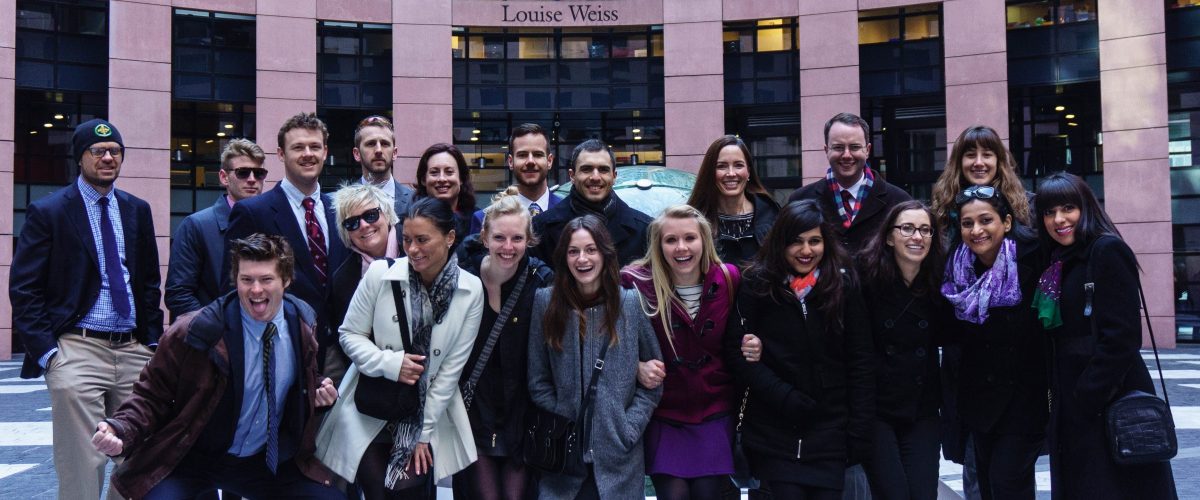 As current and future business leaders, it is incumbent upon us to recognize how our worldview is different from others and expand our perspectives through new and different experiences.  The CU Denver Business School's  11-Month MBA cohort had the opportunity, as part of our degree, to travel to Europe to do just that.   In February, about halfway through the program, we traveled for two weeks through parts of Germany, France, and Belgium.  Our itinerary included site visits and tours of traditional businesses and industries: factories, banks, wineries, and the EU.  But the experience went far deeper. The course provided unexpected interactions and raised some profound questions.
Coping with Complexity
The paradox of the challenges of large organizational decision-making and the incredible accomplishments they can achieve was at the forefront of our visit.  Visits to production plants of Mercedes and John Deere showcased the ability to produce incredible order out of immense complexity.  The Mercedes plant, for example, produces up to 450 trucks from 3.6 million individual parts per day.  The level of operational and logistical technology and value-chain management was truly a testament to what large organizations can do.
And yet, our visit to the European Parliament and European Commission in both France and Belgium was a reminder of how large organizations can be challenged by complexity.  Amidst the immigration crisis, we witnessed debate on the Parliament floor as to how to best handle the situation with views from across the cultural, political, and national spectrum.   In every region our trip visited, there was a new opinion to be heard or perspective to consider.
Universal Challenges
Another pervasive theme was that of gender pay equity.   Because our cohort brought our own broad perspectives from across the US, Canada, India, and Iraq, it was incredibly informative to discuss such issues with European business leaders.  At Kuhn, a high-tech farm equipment manufacturer based in France, our hosts spoke frankly about gender pay equity gaps that exist nation-wide.  Business Europe, a pro-business lobbying group, presented specific legislative initiatives that had undertaken with their partners in order to address related issues.  It is clear that the business community, among others, must continue to address this issue both in the US and abroad, but with each society having to do so in different social contexts, government structures, and business environments. The differences in maternity leave regulations, for example, illustrate the different business and cultural norms within which such progress is made.
We also attended two lectures at the EM-Strasbourg Business School with which the 11-Month MBA program has a partnership. Through these discussions we learned more about the differences in government social welfare programs, how taxes impact business and daily life, different interpretations of privacy and human rights, and how educational structures have a profound impact on careers and employment. And while the differences of these institutions between nations can be stark, the conversation as to their role in a society is universal.   If one is to engage in international business, they must understand each distinct national conversation, and also how those values interact across borders.
Labor, Labour, and Management
Perhaps the most profound business-specific difference learned on the trip was that of labor relations.  Between conversations at Business Europe, hosts at the large manufactures that we visited, and our culminating expert panel of European and American business-people, we learned in great detail how labor unions, works councils, and management leaders have a very different relationship in European countries than in the US.  While there are differences between the European countries, in general the level of institutionalized and mandated cooperation stands in stark contrast to typical labor relations in the US.  And while the reasons and implications of such differences can be debated, the experience served to push and grow our perspective of a business issue of incredible importance.
Asking Questions
What role in society should large organizations have?  As we lead, how do we ensure a positive impact?  How does the business community address labor relations, pay equity, and other important challenges?  What does this mean for us as business people?   True learning is not answering questions, but learning what questions to ask.  As business students, we must learn what questions to ask of ourselves in order to become more effective and responsible leaders in business.   The international trip abroad provided such a learning space and will no doubt allow us to continue to ask the right questions, learn, and grow.