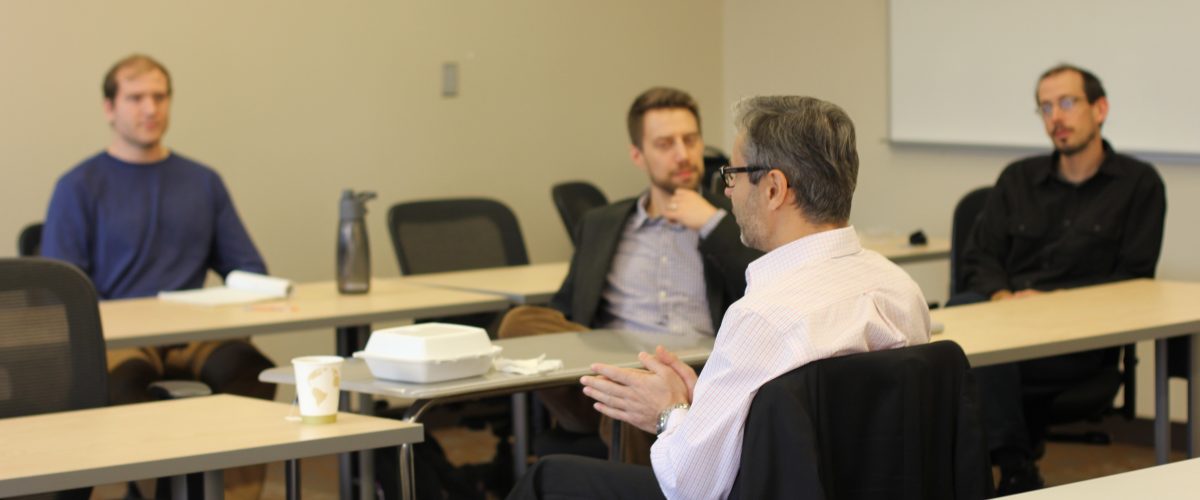 Dr. Rossen Roussev, Executive Director of Quantitative Research with J.P. Morgan's Global Commodities business in New York, visited the University of Colorado Denver Business School this past week to teach a new three-day Commodities Center Professional Education course. To further connect with students on campus, he held a discussion for interested Master of Science and PhD students from the hard sciences and mathematics on November 10.
Dr. Roussev comes to the Business School with more than ten years of experience developing commodity market modeling techniques for Wall Street firms. He specializes in broad application of mathematical methods for pricing and hedging derivatives, favoring analytical approximations to complex problems and the use of machine learning for calibration and relative value. He received his PhD in Physics from Rutgers University.
At the interactive seminar, he communicated J.P. Morgan's hiring message regarding quantitative research to those students that have the qualifications compatible with the J.P. Morgan profile and are interested in commodities. He gave an overview of his role at J.P. Morgan and the skills needed to be successful within his field.
He touched upon hard skills, like programming languages common within the field. Dr. Roussev talked generally about the role quantitative research plays in developing risk management models. He also opened up the conversation to allow for any questions.
Through the Business School's industry-specific programs and urban location, our students are often presented with these unique opportunities to personally connect with professional experts.
The J.P. Morgan Center for Commodities (JPMCC) focuses on a broad range of commodities, including agriculture, energy, and mining. Established in 2012, this innovative center provides educational programs and research in commodities markets, regulation, trading, financial fundamentals, investing, risk management, and ethics. Professional Education courses provide working professionals and executives the opportunity to keep themselves current with the latest developments in the commodities marketplace. To learn more about the JPMCC, visit their website.