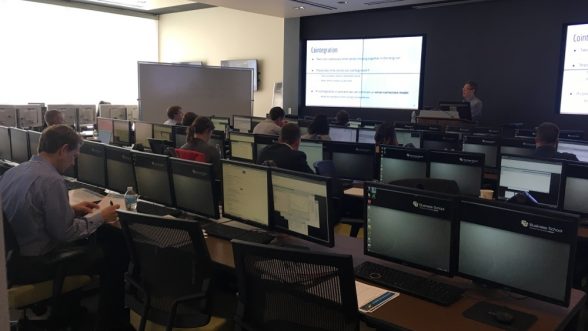 Participants in the new Commodity Data Analysis course offered by the J.P. Morgan Center for Commodities (JPMCC) at the CU Denver Business School, traveled across the globe to gain valuable skills in quantitative reasoning this past week.
The new three-day intensive course, held from November 9 to 11, was offered as a part of the JPMCC's Professional Education courses. It was designed to provide commodity industry professionals with basic quantitative skills related to time series statistics, forecasting, and forward curve dynamics. Participants received a certificate issued by the Center for Commodities and were certified by Global Association of Risk Professionals (GARP) for 24 credits and by CU Denver for five continuing education credits.
The JPMCC's Professional Education courses are directed by Content Director Thorvin Anderson,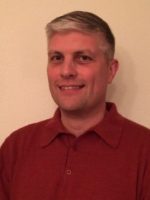 CFA. Thorvin has extensive experience in the energy industry. In roles that have crossed individual commodity boundaries, his past assignments have helped JPMCC create courses beneficial to a wide range of industry professionals. "The Center pulls academia and industry together, and in doing so, allows students access to the vanguard of thinking on certain topics. There are areas in which academia is at the lead, and there are many cases in financial development and market development where the industry is actually ahead of academia," Thorvin said.
The Commodity Data Analysis course was taught by several Subject Matter Experts (SMEs), who are veteran industry practitioners with years of experience. Dr. Daniel Jerrett, regional economist for the Denver Regional Council of Governments and adjunct professor for the University of Colorado Denver, was one of the SMEs.

Dr. Jerrett has years of experience teaching forecasting topics to students from a variety of backgrounds. When speaking about the benefits of the PE program he said, "You will be exposed to people who have done this for a really long time. We are seeing success in students translating this information and being able to take away knowledge and apply it immediately after the three-day course."
While Dr. Jerrett focused on econometrics, the other SME Dr. Rossen Roussev, Executive Director of Commodities Quantitative Analysis at J.P. Morgan, brought a derivatives angle to commodity data analysis. Focusing on forward curve analysis and dynamics, Dr. Roussev stated, "Derivatives are not driven by data analysis, but volatility. Volatility can be very misleading because the term means many things. I'd like to clarify what volatility is and is not, and relate it to data analysis."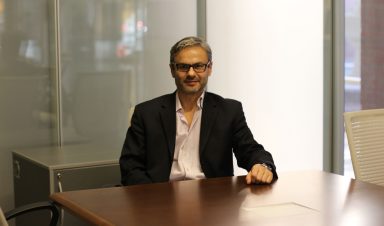 The CU Denver Business School partners with GARP through their established Academic Partnership Program. By aligning with GARP, the Business School is placed within a network of the world's top risk practitioners and academics to establish better curriculums that reflect the latest international standards.
Michael Sell, a Senior Vice President at the Global Association of Risk Professionals (GARP), flew in from New York City to attend this session. Sell agreed that the biggest benefit to the program was his ability to apply the knowledge he gained from the course immediately to his job.
"I've enjoyed learning about new model building techniques and the promises and potential that those hold," Sell stated. "I'm looking forward to being able to see additional techniques rooted in solid foundational theory, so I can then go back to my job and implement new levels of forecasting accuracy."
With over fifteen years of experience in risk management, Sell said this JPMCC course content can be integrated into a larger Energy Risk Professionals (ERP) certification program hosted by GARP. Risk is a growing market, yet one that students are not aware exists. Sell stated that is one of the reasons why GARP is partnering with the University of Colorado Denver Business School. "The practical benefit for students is learning about the opportunities and the skillsets required for a career in risk," Sell commented.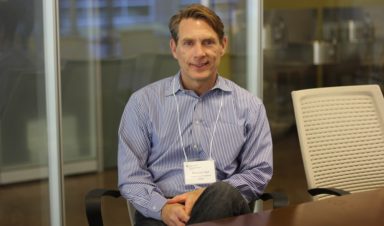 The next Professional Education course, Foundations of Commodities, will be held this March 20-21, 2017. For more information about the course and how to register, please visit the JMPCC website.
The J.P. Morgan Center for Commodities focuses on a broad range of commodities, including agriculture, energy, and mining. Established in 2012, this innovative center provides educational programs and research in commodities markets, regulation, trading, financial fundamentals, investing, risk management, and ethics. Professional Education courses provide working professionals and executives the opportunity to keep themselves current with the latest developments in the commodities marketplace. To learn more about the JPMCC and the courses they offer, visit their website.