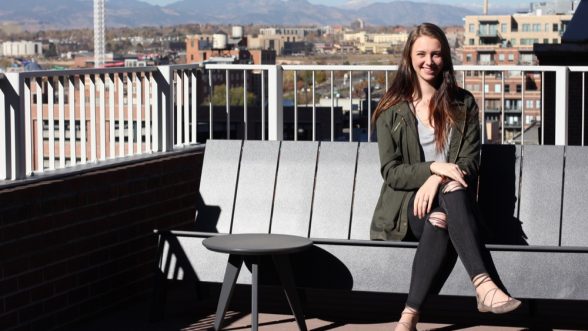 Sofia Mazo, an undergraduate studying business management and sociology, was awarded the Esteemed Business Student Scholarship. As the most prestigious scholarship offered by the University of Colorado Denver Business School, the award is designed to attract the best and brightest graduating high school seniors and bring in talented students like Sofia from across the country.
The Esteemed Business School Student Scholarship is extremely competitive and awarded to incoming freshmen based upon ACT/SAT scores, high school GPA, class rank, and an essay response. Award amounts vary from $4,000 to $20,000 and are based upon a combination of all factors. There is a total of 19 students who are currently Esteemed Business School Student Scholars.
Born and raised in Florida, the daughter of an American mother and a Hispanic father, Sofia was attracted to the city of Denver for her education. An excellent student, she fielded many competitive offers from traditional universities but ultimately decided the University of Colorado Denver was the best fit for her. Because of her academic achievements, she started at CU Denver as a junior this fall.
The scholarship has afforded Sofia and many other high-achieving students like her the ability to attend the University of Colorado Denver Business School. Sofia stated, "Without my scholarships from both the Admissions Department and the Business School, I would not have been able to afford attendance at CU Denver as an out-of-state student. I am incredibly grateful for the opportunity to attend this institution!"
She also quotes CU Denver's urban campus and emphasis on experiential learning as important reasons for her decision to attend. "Not only have I worked since 16, but I also earned my Associate's Degree while in high school," Sofia said. "I understand the importance of real world experiences and getting the most out of your education."
Sofia is taking advantage of the opportunities afforded to her at the university, especially the real-world applications integrated into each of her classes. After graduating, she plans to utilize her degree within the nonprofit industry and is considering joining a corps like Teach for America.
She summarized the past few months in one experience by saying, "On my first day of classes, I walked out of the front doors of the Business School into downtown. I will never forget that feeling."
The 2017 Celebration of Success event will be held on April 20, 2017 and is Denver's premier fundraising event, bringing in world-class speakers, and raising more than $3.3 million in student scholarship funds. This year, our goal is to raise over $200,000 to put toward helping students advance their education—and we need your help. With tuition on the rise, we're calling on community leaders like you to help make college affordability possible by sponsoring the largest and most important fundraising event of the year. Enjoy an evening with Pulitzer Prize-winning author and renowned presidential historian, Doris Kearns Goodwin, who will provide an informed and enthralling analysis on current events, with remarkable insight into the lives of the leaders who have shaped the United States. Register for Celebration of Success today!
—————
[link-library categorylistoverride="1126″]