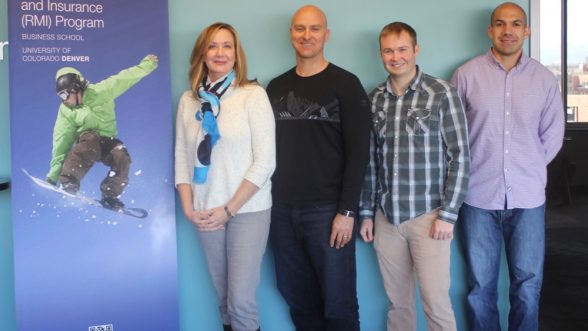 On Thursday Dec. 1, Adjunct Professor Yvette Connor and three graduate students participated in the Kaspersky Interactive Protection Simulation (KIPS), a live global competition between cybersecurity experts. Competing against over forty top security firms around the globe, the team placed eighth overall.
The two hour-long roleplaying game is a rare opportunity for professionals to respond to realistic cyber-attacks. The competition requires teams to manage a simulated company trying to accomplish its mission to produce and sell goods to customers, while dealing with and resolving a number of unexpected cyber events. Teams ran the same utility trying to outperform each other with the goal of maximizing enterprise revenue. To make decisions, the team had to analyze data, despite having unreliable information and limited resources. Each decision came with real-life trade-offs, balancing engineering, business, and security priorities against the cost of a realistic cyber-attack.
Yvette Connor, Adjunct Professor and Managing Director of Risk Management Advisory Services at Alvarez & Marsal (A&M), chose top performing students from her Cyber Risk and Cyber Warfare course to join her team. After establishing a team name, Team Kryptonite utilized Yvette's experience and skills and concepts from the course material to make informed decisions as they worked through the simulation.
Over the course of five rounds, the team performed very well and was in first place heading into the final round. At the end of the simulation, the winning team was interviewed, so other teams could understand the logic behind their decisions.
The students praised the simulation as a unique way to gain practical experience in the field of cybersecurity. Another added benefit was networking with other cybersecurity experts around the world. Mitchell Aist, a Kryptonite team member, said that the scenarios brought to life the causes of various cyber events and threat vectors.
"This experience felt like a real-world test of my education in cyber risk so far," Mitchell said. "If I decide to lead a business someday, I'll apply the scenario's mitigation strategies towards the protection of my organization and its clients."


This competition highlights the experiential nature of the Risk Management & Insurance (RMI) Program at the University of Colorado Denver Business School. Founded in 2011, the RMI program is one of the fastest growing within the Business School and the only program with undergraduate and graduate RMI degrees in the Rocky Mountain region. The program's holistic approach gives students ample opportunities to meet industry leaders before graduation. Because of its strong industry connections and established curriculum, the program boasts an impressive 100 percent job placement rate. Learn more about the program here.