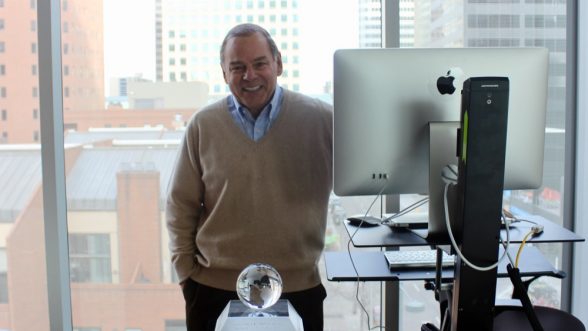 Distinguished Professor Wayne Cascio earned the World Federation of People Management Association's (WFPMA) Lifetime Achievement Award by a unanimous vote by the Board of Directors on Oct. 18, 2016 in London.
The WFPMA is an organization representing more than 600,000 people management professionals in over 90 national human resource management associations around the world. The WFPMA's "George Petitpas" award was established in the mid 1980s to recognize individuals who "have made outstanding contributions to the advance of the Human Resource profession at the international level and whose spirit and dedication have been inspirational to others."
The award was presented by Pieter Haen, Chair of the WFPMA Jury. Speaking to Cascio's accomplishments Haen said, "He is well known for his scholarship and has published countless books, chapters, and scholarly articles that have appeared in the top journals of his field. His material was groundbreaking and has been a valuable resource to both students and practitioners."
Cascio has spent 44 years in higher education, 36 of those years at the University of Colorado Denver as Professor and Robert H. Reynolds Chair in Global Leadership. As a thought leader in the HR profession, Cascio is sought after often to participate in scholarly and practitioner events around the world. He has been quoted regularly by the media over the past two decades and he has given hours of service by chairing and leading a variety of initiatives.
Beyond his impactful scholarship, Haen also praised Cascio as "quick to accept an invitation to help others and lead an effort to benefit others with his prominence and stature in the field."
Cascio's impact in the HR field has been widely recognized with countless awards, including three other lifetime achievement awards. At the event, Cascio was given the opportunity to interact with people who had been impacted by his research and writing. One such individual was a CEO from Mauritius, who approached Cascio to tell him how instrumental his books were for him during graduate school.
After the ceremony, Cascio reflected on the award. "It was an exclamation point on my career. It meant a lot to me, especially as I'm approaching the end of it. The award holds a lot of meaning, and I see it as a tangible expression of my legacy."