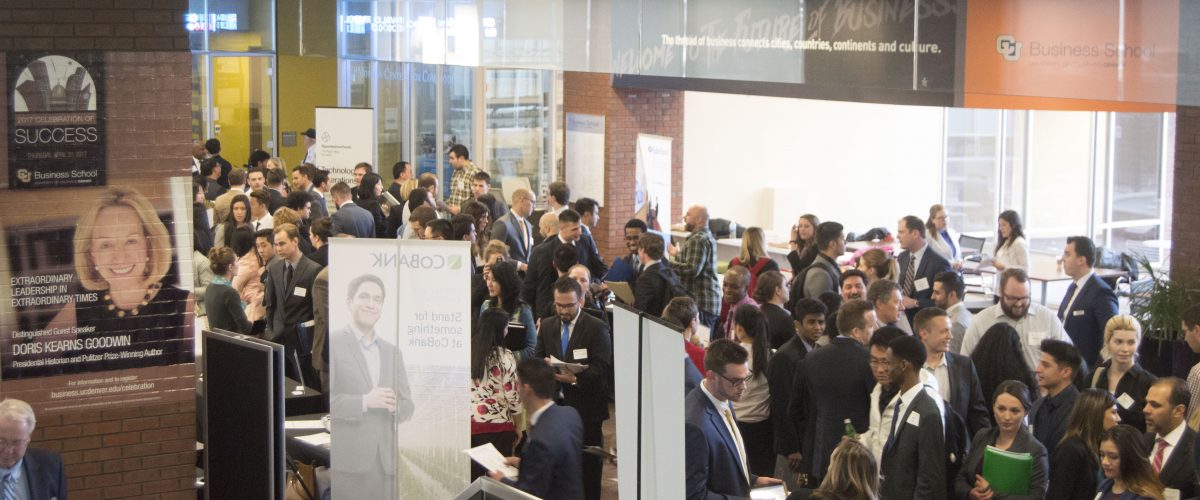 The Business Career Connections Spring 2017 Career Fair brought in 22 top-tier firms to the business school, and along with it, the event's largest turnout to date.
Electricity was in the air as late afternoon faded into evening, and the business school lobby transformed into a networking plaza, cholk-full of eager students and representatives alike. Moments before the fair was scheduled to begin, participants perused the provided spreadsheet of employers in attendance, formulating a game plan aimed at making the difficult decision of who to visit first. But not every student had trouble deciding on where to go first. In fact, a few had come to the Career Fair with the primary intention of getting to meet their dream employers in person, "I learned about tonight's fair through a friend at the BCC office, and got really excited about seeing FirstBank on list of participating firms. I've been interested in working with them ever since a counselor recommended them to me in high school," said a Finance undergraduate on his way to the company's table.
Another student decided to attend the fair after doing careful research into each firm. "I'll be graduating in May, so I've just started seriously looking for a full-time position. After learning about the Career Fair, I decided to attend because I really wanted to meet with Vertafore, especially after I learned of their plan to open an office in downtown Denver," said another Finance undergraduate student.
Awash with opportunity, the Career Fair provided a wide range of help to those who chose to attend. "I came to network with employers that I'd like to work with once I finish my Masters. I prefer to hear about their openings in person. It's so much more impactful and interesting than simply reading a job posting online," said a Health Administration student, new to the CU Denver Business School.
The students present weren't the only ones making major gains throughout the evening, however. Employers attending for the first time, as well as Career Fair veterans, found the event to be equally as beneficial. The theme for the evening seemed to be on the high caliber of students.
Catherine Pierce from Graebel chimed in saying,  "I've been in my current role for a year and have attended over 25 career fairs across the country. As a group, the CU Business students are the most engaged and well-prepared that I've met so far, and I know that the vast majority have the ability to be successful at Graebel.  As long as my schedule allows, I plan on attending next year."
Companies just couldn't hide it—they love hiring CU Denver students. A TIAA representative agreed saying, "Our relationship with the university is extremely valuable, especially as we look to grow our company here in Denver. We continue to come back year after year because we are consistently impressed with the caliber of CU Denver Business School students."
Erin Butler from Vertafore also spoke highly of the Career Fair. "The Career Fair was very well coordinated and executed.  The student team that came by to check in on us was phenomenal and they made sure employers were taken care of. We loved the number of students that we were able to see and that you limited the number of employers. This was an excellent use of our time and we had a great experience."
Miss the Career Fair or want to try to find yourself in the crowd? Check out our full photo gallery from the event: