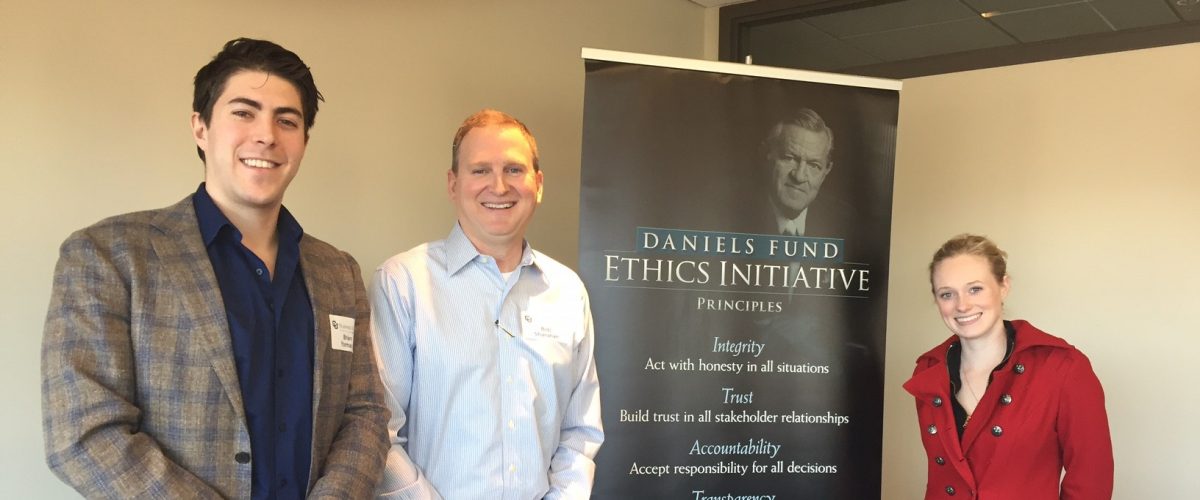 When we think about business ethics, corporations like Enron, Volkswagen and Audi immediately come to mind. In reality, ethical dilemmas in the workplace are common, and they're generally not the widely publicized scandals we see on the news.
The inaugural session of Lunch with Leaders, a new program presented by the Daniels Fund Ethics Initiative at the CU Denver Business School, took place on Wednesday, March 8, 2017. The session leader, CU Boulder graduate and former Apple executive, Bob Shanahan, shared stories of ethical challenges he has faced in the workplace.
According to Mr. Shanahan, acting ethically comes from within. "It's something that you either have, or you don't," he explained to the business school students who attended the intimate session. "Knowing the difference between right and wrong is something that we learn very early. But we all have different experiences, and some people lose sight of doing what's right," he continued.
Shanahan shared several stories of questionable or unethical behavior in the workplace. In one, his former superior asked him to facilitate a $5 million fraudulent transaction. After looking into the details, he felt uncomfortable and refused to comply. He was fired the next day. Many people would immediately panic about losing a high paying job, or even worse, comply with the request to act unethically. Bob said he never regretted taking a stand.
"You have to keep yourself grounded, and remain focused on doing the right thing," he elaborated.
Students were interested in learning about the best ways to handle ethical dilemmas in the workplace. The session ended with a question and answer period, which was so popular it ran 30 minutes longer than planned.
The next Lunch with Leaders is April 5, 2017 and features information technology expert, Chris Franks. Mr. Franks has spent the last 15 years starting, building and assisting technology and impact companies. He is a co-founder of RealGood Technologies, a political technology company that was acquired in 2014. If you'd like to attend, RSVP to megan.stribling@ucdenver.edu. Please note space is very limited and RSVP is required.
Learn more about the Daniels Fund Ethics Initiative at the University of Colorado Denver Business School.
L to R: Brian Yormack (student), Bob Shanahan, and Heidi Spurgeon (student)