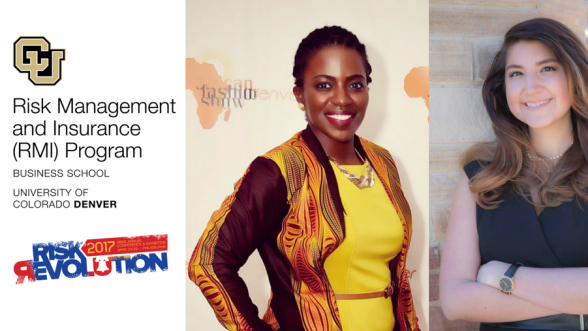 Each year the Risk Management Society (RIMS), a leading global nonprofit dedicated to educating, engaging, and advocating for those in the risk field, sponsors a handful of top Risk Management and Insurance (RMI) students to attend the organization's annual conference in Philadelphia, Pennsylvania. This year, CU Denver's RMI program will be sending two of its own students to the national event, both of whom won RIMS's prestigious Anita Benedetti Student Involvement Program sponsorships.
Started in 1987, the Student Involvement Program began as a small pilot designed to help top RMI students participate in one of the industry's most prominent gatherings. Due to its overwhelming success after the launch, the program expanded and has become a permanent part of the RIMS Annual Conference, awarding 30 student sponsorships per year. The program was given its current namesake in 1997 to honor the late Anita Benedetti, former Deputy Executive Director of the RIMS, President of the Spencer Educational Foundation, Inc., and influential figure in the field.
Now in its 20th year, the conference will have two more talented students in attendance, CU Denver RMI candidates Lolita Dukundane and Lisa Sullivan. Both Dukundane and Sullivan decided to apply for the sponsorship after Dr. John Daley called for interested applicants from his classes to submit a brief paper detailing why they should be nominated by the CU Denver RMI department for the Anita Benedetti program. After first learning of the program in 2012 through participation with the Rocky Mountain RIMS chapter, Dr. Daley has championed and encouraged his students to participate in it ever since. "Anita Benedetti scholars are recognized as being among the top risk management students in the nation. It's an excellent credential to have on one's resume," he said. And thanks to their hard work and dedication to RMI, Dukundane and Sullivan will both have the honor of displaying that credential.
Dukundane came to CU Denver for its Risk Management and Insurance program with a strong finance background. "My interest in RMI developed when I was looking for a specialization that can be used all around the world and that people will always need," she commented. She also saw RMI as an opportunity to help others. Dukundane expanded, "Managing risks can help people and companies save money and avoid potential incidents. I have always wanted work where I could help others in some way and contribute to their success." She also acknowledged how important her involvement in the school has been in helping her prepare for her future career. For example, the Career Fair was an opportunity to help prep her resume and get invaluable experience networking.
Sullivan had a different motivation for getting involved in the RMI program. Her experiences along with her study of the recent recession helped her recognize how valuable risk management proves to be in today's rapidly changing business environment. Sullivan is already preparing to take full advantage of her RIMS membership with plans to attend events both here in Denver and Virginia. "It's a great way to gain access to industry. Every month, students are invited to RIMS luncheons that are typically sponsored by various industry members," she explained.
The duo is already looking forward to attending the conference scheduled for late April. "I am most looking forward to connecting with industry members on the East Coast.  I live in Virginia, and will permanently live there upon graduation in May. I hope to find companies I can pursue professionally there," said Sullivan. Dukundane also hopes to use the opportunity to advance her career aspirations after graduation, in addition to learning more about all that the RMI field has to offer. "I'm excited to learn more about the insurance industry, especially risk management, through the sessions that will be going on. I'm also looking forward to networking with professionals, and meeting other students who are equally as passionate about RMI."
The Business School community congratulates Dukundane and Sullivan on their exceptional achievement.