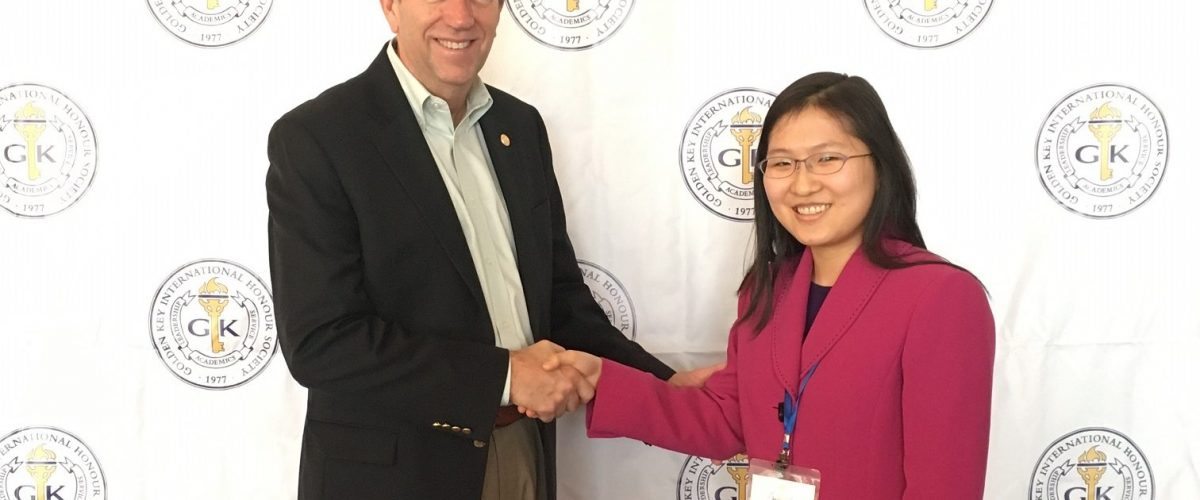 Two student organizations were guided this semester by one Finance and Accounting student, Irene Wang. An ambitious student both inside and outside the classroom, Irene saw an opportunity to grow her own personal interests, build her resume, and give back to the Business School as president to both the CU Denver Net Impact chapter and the CU Denver Golden Key Honor Society chapter.
Irene's motivation for starting Net Impact came with an observation of a seemingly discrete dichotomy of business: profits and social impact. She believes that business is core to societies and communities, driving economies and shaping individual and collective experiences. "Whereas companies nowadays are receiving heightened scrutiny and greater recognition for community engagement, there is still an opportunity gap when expertise is not being leveraged for maximum impact," she expanded.
Irene saw Net Impact as the ultimate platform for students passionate about using their skills and experiences to drive impact globally here at the Business School. "When I came to CU Denver, I looked into different student organizations that resonated with my passions and interests," she said. "What stood out to me the most was how there was not an organization on campus catered to students for social impact and civic engagement." She wanted to provide students a way to catalyze impact with the lessons learned in business today.
Already ahead of the game, Net Impact is hosting a panel featuring professionals discussing impact investing, microfinance, and corporate sustainability. The panel will be held in the Business School on Thursday April 27 from 6-8pm.
Her ambition for Net Impact is for its mission to become ingrained across the Business School by bringing nonprofit consulting and impact investing to CU Denver, for students of all ages, backgrounds, experiences, and disciplines.
But Irene's commitment doesn't end there. She also became chapter president of Golden Key to further lead the chapter to a new era as an avenue for students to serve the surrounding community and develop leadership skills. The core focus of Golden Key is to serve at-risk youth through SPARK, a service project that provides financial literacy education and empowerment.
Golden Key International Honor Society is the world's largest collegiate honor society, with members who are in the top 15 percent of their class, and high-achieving graduate students. Membership is by invitation only. The CU Denver Golden Key chapter was founded in 1985 and was recognized for outstanding achievement with Gold Chapter Standing for the 2015-2016 academic year. Many honor societies recognize outstanding student achievement, but few focus their mission on helping students stand out and make a positive impact in the community.
Golden Key membership is a lifelong distinction, signifying commitment to the pillars of academics, leadership, and service. A community of over two million, Golden Key provides networking opportunities, scholarships, and discounts to its members.
Irene's dedication to Golden Key was rewarded with a scholarship to attend the association's regional summit in Dallas, Texas on February 3-5. This summit brought together chapter leaders across the western region and included executive speakers, social activities, and various workshops on time management, mentorship, and being proactive, among others. The conference also allowed students leaders to network and learn from each other.
Her takeaways from the summits were grounded in the personal relationships she established with members around the globe from Houston to New Zealand to South Africa. She explained, "Excellence and success are defined uniquely for each individual. It was incredibly inspiring to meet so many talented Golden Key members and critical in expanding my worldview beyond the horizon of the Denver skyline."
Irene is a force to be reckoned with. If leading two organizations wasn't enough, she still makes time for her studies and other student organizations. She has also held leadership roles in Portfolio Management Group, Beta Alpha Psi, and Women in Business. She also serves as a tutor at the Learning Resources Center.
Her incentive to stay involved goes back to her initial mission—making an impact beyond herself. "It redefines one's worldview and perspective, particularly of one's personal responsibility to the greater community around oneself," she said. "Not only does involvement in various organizations at CU Denver provide a network and community, but it also hones leadership skills and instills the finesse of a honed skillset applicable to a successful career, both educational and professional."
Irene seeks to continue pursuing her passion for finance and accounting by refining her knowledge and skills. Her dedication to remain involved are to be commended and will add more than a couple lines to her resume. They will leave a positive and lasting impact on her peers, CU Denver, and the local community.